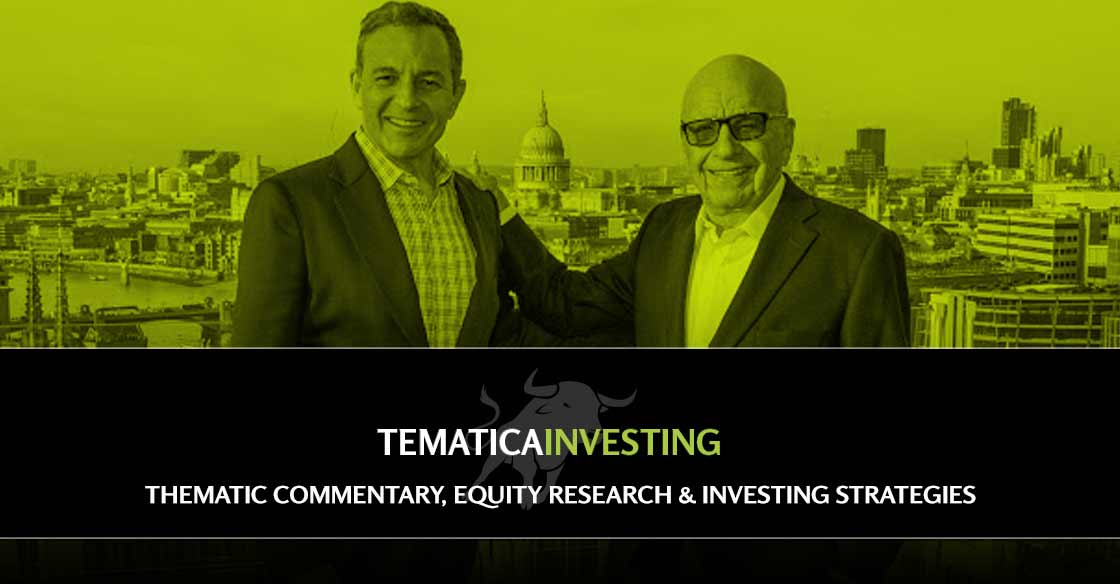 After days of speculation, Content is King champ Walt Disney (DIS) formally announced it was acquiring the film, television and international businesses of Twenty-First Century Fox Inc (FOXA) for $52.4 billion in stock. Viewed through our thematic lens, Disney is once again expanding its content library, which means that finally the X-Men and other characters will be reunited with their Marvel brethren under one roof. As the inner comic book geek in me sees it, perhaps we will know get the X-Men movie we deserve.
While I only half kid about the comic book potential of the deal, the reality is the transaction expands Disney's reach to include movies, TV production house, a 39% stake in Sky Plc, Star India, and a lineup of pay-TV channels that include FX, National Geographic and regional sports networks. Via a spinoff, Rupert Murdoch will continue to run Fox News Channel, the FS1 sports network and the Fox broadcast network in the U.S.
Viewing the combination through our Connected Society thematic lens, we see the move by Disney as solidifying not only its streaming content business but its streaming platform potential as well. Recently Disney shared that over the next few years it would launch its own streaming services, one for Disney content and one for ESPN, in order to better compete with frenemy Netflix (NFLX), Amazon (AMZN) and other streaming initiatives at Alphabet (GOOGL), Facebook (FB) and the burgeoning one at Apple (AAPL). Let's remember these streaming services are all embracing our Content is King investing theme as they bring their own proprietary content to market to lure new subscribers and keep existing ones. We have previously shared our view that we are in a content arms race, and acquiring these Fox assets certainly adds much to the Disney war chest once the deal is completed in the next 12-18 months.
The added Connected Society benefit to be had in acquiring Fox is it ups Disney to a controlling interest in streaming service Hulu, which has roughly 12 million streaming subscribers and 250,000 subscribers for its new live TV streaming offering — the online TV package that replicates a small cable bundle. Hulu used to have three different bosses — Disney, Fox, and Comcast (CMCSA) — each owning an equal stake. Following the Disney-Fox deal, odds are Comcast's role in Hulu will diminish and over time I would not be surprised to see Disney acquire that ownership piece as well. What this does is quickly lay a solid foundation for Disney's streaming service plans, and I would not be shocked to see Disney convert Hulu into its own branded streaming service once the Fox acquisition closes.
From a thematic investing perspective, the Disney-Fox combination is a win-win on several levels, even though Disney is spending quite a bit of capital to get it done. The reality is there is no better company at monetizing its content and squeezing dollars from consumer wallets and in the coming quarters, Disney will have two very strong thematic tailwinds behind it — a more solidified Content is King tailwind and a burgeoning Connected Society tailwind keeping its sails full.
Near-term, this weekend is the domestic opening of the next Star Wars movie – initial reviews are very positive and advance ticket sales indicate a $200 million opening weekend or better.
We continue to rate Disney (DIS) shares a Buy, and our long-term price target remains $125