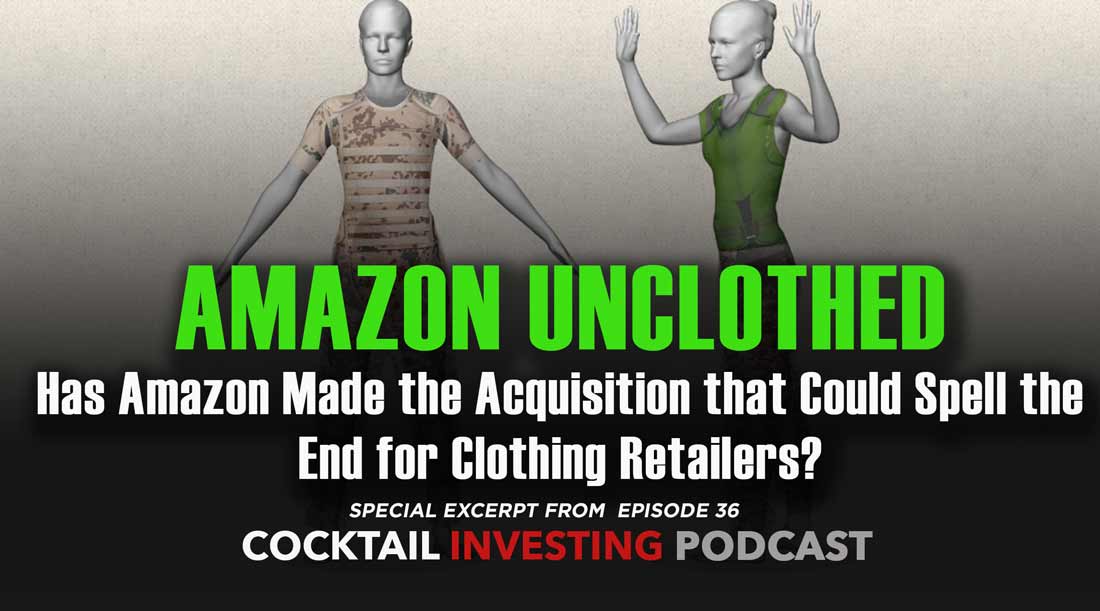 As discussed in the recent episode of the Cocktail Investing Podcast, last week TechCrunch reported:
 Amazon has acquired Body Labs, a company with a stated aim of creating true-to-life 3D body models to support various b2b software applications — such as virtually trying on clothes or photorealistic avatars for gaming.
Video demos on Body Labs' website show its tech being used to augment a human with digital content as the person moves around by cladding them in a full-body gaming avatar 'suit' or adding boxing gloves and bunny slippers to a dancing man.Body Labs also says its "SOMA Shape API" can be used to "accurately predict and measure the 3D shape of your customers using just a single image", suggesting this can power "custom apparel" or be used by fashion ecommerce retailers wanting to offer sizing recommendations.The company also suggests additional uses-cases for its 'fat and all' 3D body modeling tech in health and fitness tracking, and even equipment design and manufacturing.
Full Article: Amazon has acquired 3D body model startup, Body Labs, for $50M-$70M | TechCrunch
Tune in below for this quick excerpt from a recent episode of Cocktail Investing where Co-Hosts Chris Versace and Lenore Hawkins assess the impact of Amazon's acquisition and Chris challenges Lenore as to whether this could be the tipping point for Amazon to make significant inroads in apparel sales.  Hint: there is one more piece of the puzzle Lenore thinks Amazon needs to add.