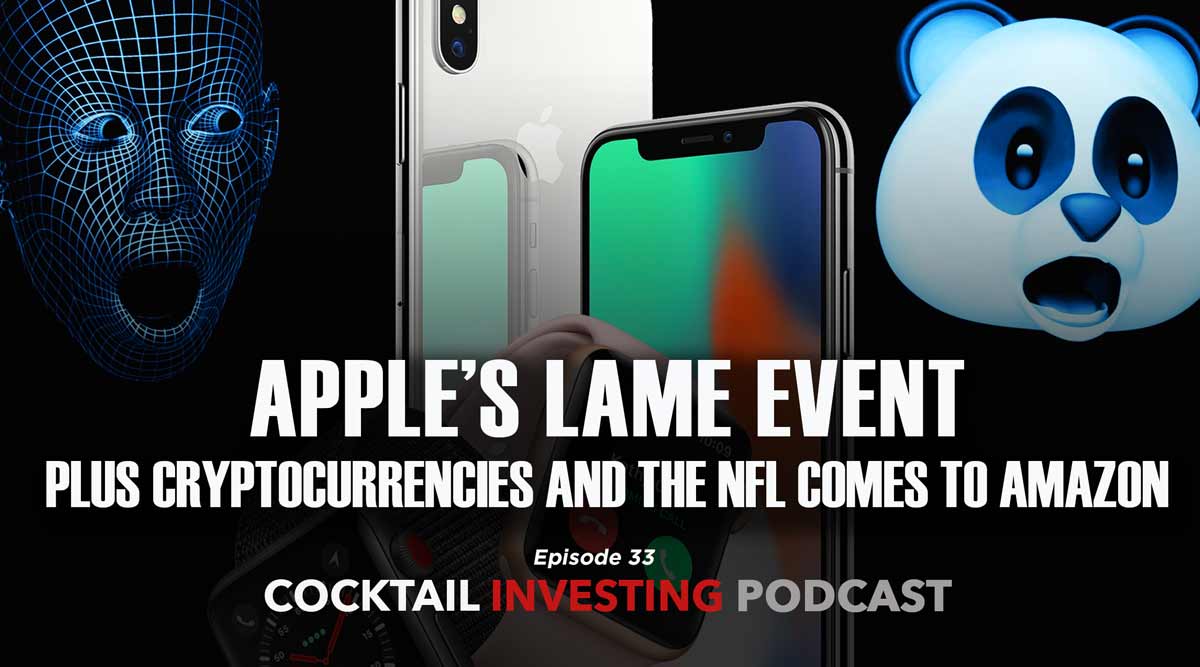 [podcast src="https://html5-player.libsyn.com/embed/episode/id/5739679/height/90/width/470/theme/custom/autonext/no/thumbnail/yes/autoplay/no/preload/no/no_addthis/no/direction/forward/render-playlist/no/custom-color/88AA3C/" height="90″ width="470″]
This week, Tematica's investing mixologists Chris Versace and Lenore Hawkins start off the podcast talking about one of the lamest presentations they've seen in a number of years. Yes, we're talking about Apple's September special event held on September 12th. Rather than spoil it for you here, all we'll say is we knew the event was headed downhill fast when the first thing mentioned about the new iPhone was the pretty colors it would come in. We share our takeaways and insights for that event as well as for the latest economic data and thematic signals that are the backbone of our thematic investing lens.
We share why we were nonplussed with Apple's new iPhones and other product updates as well as its one true surprise to come – wireless charging. Essentially, we see these efforts as just shoring up Apple's market position rather than breaking new ground. Looking at the Apple ecosystem, however, we see several companies that are poised to benefit from technologies being deployed in the new Apple Watch as well as the iPhone X. Chris shares his view on which companies are poised to benefit as these new products hit shelves in the coming weeks.
Much like Apple's shares that were climbing in anticipation of this week's reveal, the overall stock market has continued to move higher despite growing number of warning signs. We shared several market unnerving items earlier in the week and now we've added Euro junk bond yields falling below that for U.S Treasuries to the list. Yep, you heard us right, and Lenore explains why this is important.
With football season underway (that's American football, Lenore), we're already seeing broadcast viewership dropping like a bad fumble compared to last year. We explain how our Connected Society theme is at work, and what it means for broadcast networks as Facebook, Amazon and Google focus on content, including live sports.
We've been vocal about the "death of the mall," but team Tematica was pleasantly surprised by Nordstrom's new strategy to leverage services to fend off Amazon and others. Listen to our take on what this means and some speculation on our part as to what may follow.
Cryptocurrencies like Bitcoin are making headlines, but why is JPMorgan Chase CEO Jamie Dimon likening Bitcoin to tulip bulbs? Lenore digs into this and shares why we are just in the early innings of cryptocurrencies.
The latest JOLTS provided ample confirmation for our Tooling & Retooling investment theme. Barring some trade and immigration reform, the report also signaled the speed of the domestic economy is likely capped. We explain why that is as well as why the August PPI reading isn't helping the Fed meet its inflation target.
Over the coming week, we'll be eyeing several key economic reports, including August Retail Sales, as well as the Fed's September FOMC meeting on September 20. We expect Hurricane Harvey to show some disruption in the August Retail Sales Report, but it's the combined impact of Harvey and Irma that might have a more cautious tone coming out of the Fed next week.
Companies mentioned on this podcast
Alibaba (BABA)
Alphabet (GOOGL)
Amazon (AMZN)
Apple (AAPL)
Applied Materials (AMAT)
AT&T (T)
AXT Inc. (AXTI)
Comcast (CMCSA)
Costco Wholesale (COST)
CVS Health (CVS)
Equifax (EFX)
Facebook (FB)
Hulu
JPMorgan Chase (JPM)
Netflix (NFLX)
Nordstrom (JWN)
Qorvo (QRVO)
Skyworks Solutions (SWKS)
Universal Display (OLED)
Resources for this podcast:
Program's we're currently streaming: