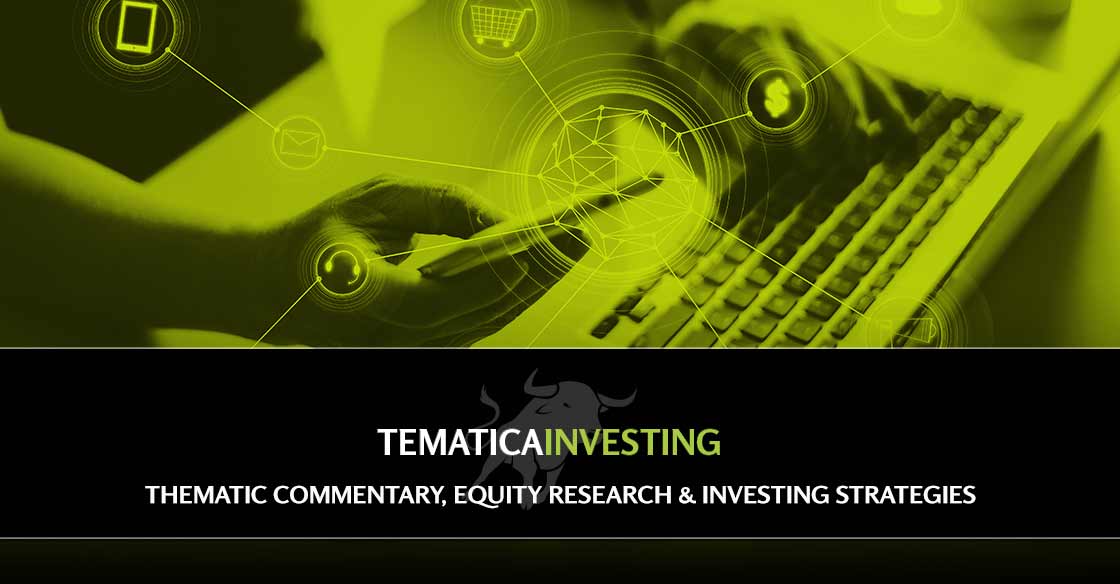 In our recently reconstituted Digital Lifestyle investment theme, we combined our former Connected Society, Content is King and Cashless Consumption themes to better reflect the increasingly connected and digital consumer. If you missed that post, click here to read the details.
Of course, much the way a car would be challenging to drive if there were no roads or a radio would only play static if there were no radio stations, there would be no Digital Lifestyle to live if the underlying high-speed data networks, increasing computing power, and falling storage costs that make it possible didn't exist, which is where our new theme, Digital Infrastructure, comes into play.
We define Digital Infrastructure as the foundational services and technologies that enable continuous access to information, commerce, communication, and entertainment that have become a daily fact of life for billions. These include mobile, cable and satellite networks, the equipment that comprise those networks, the companies that build the networks; data centers and the servers, racks, routers and other equipment that enable them; payment processing networks and their point of sale devices; chipsets and modems that allow devices to connect to these networks. But more simply, while the Digital Lifestyle investing theme focuses on the consumer aspect of the connected world, the Digital Infrastructure theme is the highway that connects these devices and carries the data traffic they create.
The Digital Landscape
Today, there are billions of connected mobile devices, more than 3.5 billion mobile broadband subscriptions, more than 1 billion fixed broadband subscriptions and some 5 billion Internet of Things devices. All of them connect to 1 billion websites and each one is expected to work anytime, anywhere. That is just the beginning. As internet-based technologies are implements in areas such as healthcare, education, and government services both in the developed countries as well as in emerging ones, access to digital services will only become more crucial in the years to come for individuals, businesses and other institutions.
According to Cisco Systems' most recent Visual Networking Index:
Globally, there will be 27.1 billion networked devices in 2021, up from 17.1 billion in 2016.
Globally, internet traffic will grow 3.2-fold from 2016 to 2021, a compound annual growth rate of 26%.
Globally, the average internet user will generate 57.0 Gigabytes of Internet traffic per month in 2021, up 139% from 23.9 Gigabytes per month in 2016, a CAGR of 19%.
In 2021, the gigabyte equivalent of all movies ever made will cross the Internet every 1 minutes.
That unquenchable thirst associated with our Digital Lifestyle investing theme periodically leads to network capacity constraints, which in turn leads to the building of new digital networks that expand capacity, improve data speeds and enable a host of new applications. That, in turn, leads to incremental network capacity additions over the ensuing years to alleviate bottlenecks and improve the user experience, and oftentimes creates an opportunity for players such as those in our Disruptive Technologies investment theme to step into the void.
Even as companies such as AT&T and Verizon are building out their next-generation 5G networks they continue to add incremental 4G network capacity to improve network coverage and performance. The same is true for Comcast as it builds out its Xfinity Gig-Speed internet offering that has come a long way from dial-up and DSL service.
For some historical perspective, let's remember mobile telephony was originally voice-based. That was until the rollout of 2G technology, which brought networks that allowed basic messaging and data services at data speeds up to 250 kilobits per second (Kbps). With a minimum consistent Internet speeds of 144Kbps, 3G was the first move into what was called "mobile broadband". Next up, of course, came 4G, which offered high speed, high quality and high capacity to users while improving security and lower the cost of voice and data services, multimedia, and internet over IP. The emergence of 4G, in turn, paved the way for mobile applications such as mobile web access, IP telephony, gaming services, high-definition mobile TV, video conferencing, and streaming services.
Moving beyond smartphones, as the cost of connectivity has fallen from both a chipset and service perspective, there has been an explosion in the types of connected devices in other aspects of our lives. Home appliances, door locks, security cameras, cars, wearables, vacuum cleaners, dog collars, and many other devices are getting connected. Gartner predicts that nearly 21 billion devices will be connected to the Internet by 2020.
With 5G technology, we are looking at another leapfrog in network capacity and data speeds that are expected to give rise to the Internet of Things, autonomous cars, virtual reality and other applications that will foster new network connections and demands as well. As 5G networks spread across the globe, we can expect the number of connected devices to explode even further, which of course will begin to bottleneck the 5G networks, necessitating further spending on infrastructure and technologies.  As you can see, the cycle goes on and on and on.
Making 5G a Reality
North America will likely be the first 5G market as AT&T, Verizon and T-Mobile US/Sprint look to launch those networks in 2019. The latest GSMA Intelligence report on 5G estimates that U.S. operators will spend about $100 billion (excluding spectrum acquisitions) between 2018 and 2020 upgrading their 4G LTE networks and investing in 5G. This should drive incremental revenue for mobile equipment companies Ericsson, Alcatel Lucent, Nokia and Cisco Systems, while also driving activity at those companies like, Dycom Industries, that build the physical networks. Over the longer-term 5G networks will launch in Western Europe and across the globe. Moor Insights & Strategy sees this driving massive IT hardware spending to the tune of $326 billion by 2025. This includes 5G data processing, storage and networking needs in the data center and edge computing, carrier network transformation projects, and 5G modems and IP.
Here's the thing, the buildout of these next-generation networks takes time as carriers obtain the necessary spectrum and then build the physical network. SNS Research estimates that by 2020, 5G networks will account for nearly 5% of all spending on wireless network infrastructure rising to more than 40% by the end of 2025. What this means is that mobile carriers will continue to spend on soon-to-be legacy 3G and 4G technologies in the interim as they buildout existing network capacity to accommodate demand associated with our Digital Lifestyle investing theme.
Then there is the incremental spending on various backhaul aspects of the network that include wireless solutions as well as fiber, microwave, carrier Ethernet and satellite that moves data to the network backbone to distribution points around the network.  According to Deloitte, without deeper fiber deployment, carriers will be unable to support the projected four-fold in mobile data traffic increase between 2016 and 2021. While a majority of Internet traffic terminates on a wireless device, nearly all of that traffic relies on WiFi access points, homespots, and hotspots connected to wireline broadband infrastructure services such as fiber, coax, or twisted-pair copper. Wireless networks only carry 11% of traffic, implying wireline networks support nearly 90% of total Internet traffic.
And let's not forget the chipsets needed to connect devices to these 5G networks – the 5G chipset market is expected to grow from $0.4 billion in 2016 to $2.03 billion in 2020 to $ 22.41 billion by 2026, a CAGR of 49% from 2020 to 2026. The primary driver of this will initially be smartphones, which are expected to reach 80-100 million units by 2021 up from 2 million in 2019.
As Hans Vestberg, CEO of Verizon, put it, "5G is an access technology" that will drive even greater data consumption as connected devices move past smartphones. This is expected to create demand for incremental data centers, cloud services, payment processing network capacity and the hardware that powers them. And that's just inside the US, a more global view that focuses on the global population likely means more consumers adopting our Digital Lifestyle as these connected devices and networks reach their shores.
Long-term, IDC expects spending on off-premises cloud IT infrastructure will grow at a five-year compound annual growth rate (CAGR) of 10.8 percent, reaching $55.7 billion in 2022.
The global data center deployment spending market is expected to reach $83.7 billion by the end of 2022 up from $44.3 billion in 2017. This reflects the growing number of small and medium enterprises who need servers and other hardware, the emergence of the Internet of Things (IoT) and big data, and surge in the number of smart devices that can be interconnected.
The bottom line is that if there is no Digital Infrastructure to carry mobile payments, online and mobile searching and shopping, stream audio and video content, to carry Tweets and emails as well as Facebook posts, there can be no Digital Lifestyle. As 5G and other new technologies are deployed, the number of data-creating connective devices will expand, eventually pressuring networks and require incremental capacity additions and the deployment of next-generation technologies. Recently Motorola and Verizon launched the world's first 5G capable smartphone, the Moto Z3, but it's not what it claims to be as not only are there no 5G capable mobile networks there are no 5G modems available as yet. What the Moto Z3 boasts is a modular and upgradeable structure for when both are available. While clearly intended as marketing to attract attention, it's a sobering reminder that the disruptive impact to be had with 5G cannot occur until the necessary infrastructure is in place.
Tematica's Digital Infrastructure investing theme and Dycom shares
Tematica's Digital Infrastructure investing theme focuses on those companies that will benefit from both the buildout of new and existing digital infrastructure from networks, base stations, data centers and related hardware to the chipsets and materials that power them and grant connectivity to a growing array of devices.   As we introduce this new theme, we are using specialty contractor and current Tematica Select List company Dycom Industries (DY) as a sample case study.
As a reminder, Dycom builds the physical networks for AT&T (T), Verizon (VZ), Comcast (CMCSA), CenturyLink, Charter Communications, Windstream Corp. and others. Those six named customers account for 82% of recent quarterly revenue with AT&T being the largest at just over 24%. Of note, while Verizon clocked in third place at just under 17%, that business grew substantially compared to 8.5% in the April 2017 quarter.
The combination of continued 4G mobile network spend, combined with the accelerating spending 5G and gigabit fiber networks across its customer base bodes well for Dycom in the coming quarters. While we acknowledge there have been some timing issues associated with the initial timing of 5G networks, as we've heard during the 2Q 2018 earnings season, network operators are shifting their capital spending to favor these new networks ahead of expected launches in the coming quarters.
Verizon expects to launch its fixed 5G service "by the end of '18" and in May Samsung received FCC approval for the first 5G router. Along with its 5G launch, Verizon is reportedly looking to deliver bundled TV service in partnership with either Apple and Alphabet. AT&T plans to launch its 5G service in a dozen US markets before the end of 2018 alongside its construction of FirstNet, the country's nationwide public safety broadband platform dedicated to first responders. Rounding out Dycom's top three customers, Comcast continues to invest in line extensions to reach more business and residential customer addresses as well as other network investments including the buildout of its gigabit fiber offering.
That pick up in spending is expected to drive a 23% increase in revenue during the second half of 2018 compared to the first half with further growth in 2019 as 5G network building continues. As building activity for these new networks escalates, Dycom's margins should benefit from greater absorption of labor and field costs as well as SG&A costs that drives favorable incremental operating margins and Eps generation.
Dissecting Dycom's most recently quarterly earnings and revised outlook that calls for EPS of $1.78-$1.93 in the first half 2018, to hit its new full year 2018 target EPS of $4.26-$5.15, it means delivering EPS of $2.98-$3.22 in the back half of the year. In other words, a pronounced pick up in business activity that reflects network buildout activity from its customers. As that activity continues in 2019, consensus expectations have Dycom earnings nearly $6.50 per share, up from $3.88 per share in 2017. Our $125 price target equates to roughly 19x 2019 EPS expectations.
Dycom's business tends to be seasonal in nature given the impact of weather, particularly winter weather on construction conditions. This can result in work disruptions and timing issues, which is one of the reasons that we prefer to look at Dycom on a multi-quarter basis.
As we introduce our Digital Infrastructure investing theme, we are reiterating our $125 price target on shares of Dycom Industries (DY) as we reclassify the company in this new theme.
Examples of other companies riding the Digital Infrastructure investment theme tailwind:
Adtran (ADTN)
Alcatel Lucent (ALU)
Alphabet/Google (GOOGL)
Amazon (AMZN)
Applied Optoelectronics (AAOI)
ARRIS International (ARRS)
AT&T (T)
Broadcom (AVGO)
CenturyLink (CTL)
Cisco Systems (CSCO)
CommScope (COMM)
Corning (GLW)
Digital Realty Trust (DLR)
Dycom Industries (DY)
Encore Wire (WIRE)
Equinix (EQIX)
Ericsson (ERIC)
Harmonic (HLIT)
Intel (INTC)
Lumentum Holdings (LTE)
MasterCard (MA)
Maxlinear (MXL)
Motorola Solutions (MSI)
Nokia (NOK)
Nvidia (NVDA)
Power Integration (POWI)
Qualcomm (QCOM)
Skyworks Solutions (SWKS)
STMicroelectronics (STM)