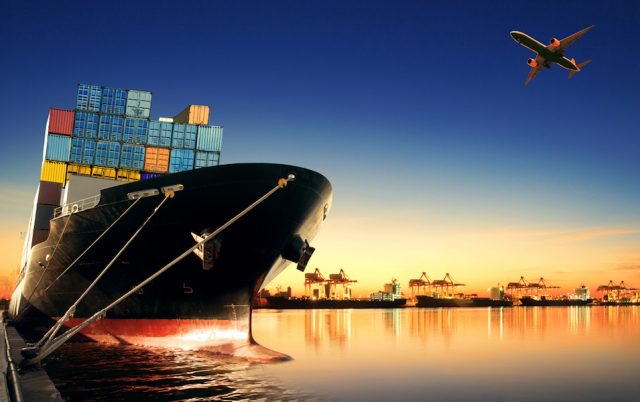 This morning the U.S. Import and Export price data from the Bureau of Labor Statistics continued the trend of minimal inflation. U.S. Import Prices fell for the second consecutive month in June, down 0.2 percent, driven in large part by falling fuel prices. Prices fell 0.1 percent in May.
Import prices peaked in February at a 4.7 percent 12-month rate of change, and have been falling consistently since then. Call us crazy, but this chart doesn't tell us a story of upward pricing pressures.
If we exclude fuel, import prices have dropped from 0.3 percent month over month increase in April to flat in May to 0.1 percent in June. For the 12-months from June 2016 through June 2017, import prices excluding fuel rose just 1 percent.
Export prices also declined, dropping 0.2 percent in June, driven by agricultural prices, after having dropped 0.5 percent in May.
Export prices peaked in March at a 3.4 percent 12-month rate of change and have also been declining ever since. Much the same with exports as it is with imports – no accelerating upward pricing pressure to be seen.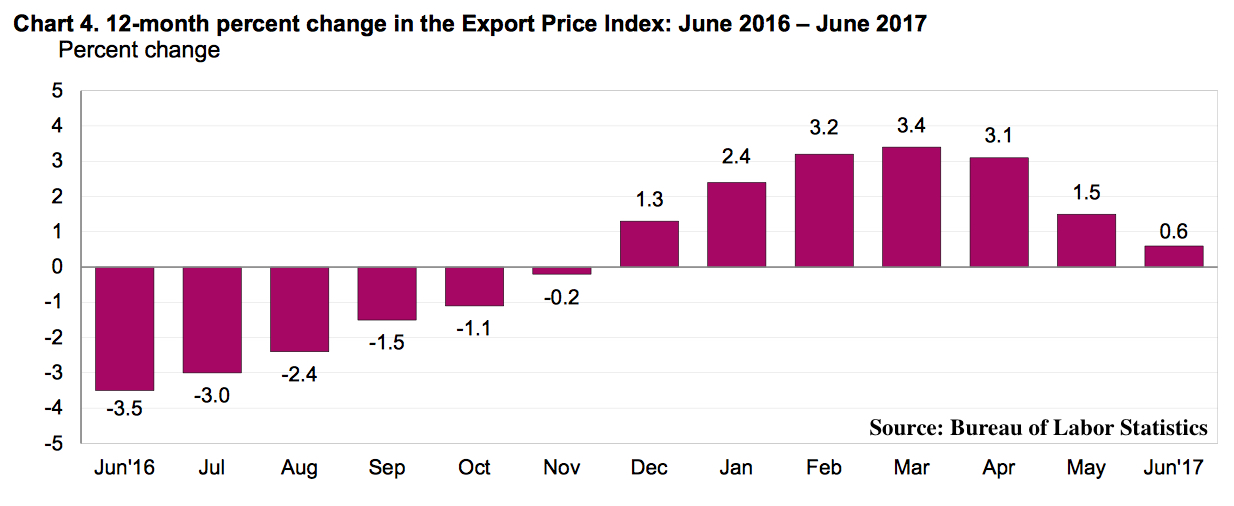 Excluding agriculture, export prices saw no change in March, a 0.3 percent increase in April, a 0.4 percent decline in May and were flat in June. For the 12 months from June 2016 through June 2017, export price increases excluding agriculture mirrored imports, rising just 1.1 percent.
Neither imports nor exports are showing much in the way of price inflation, even removing fuel and agricultural products. This is just one more data series that contradicts the prevailing narrative from the start of the year that the economy was to accelerate with a resurgence of inflationary pressures. The likelihood of many more Fed rate hikes is decidedly declining.
On top of this, the Republicans' attempt to repeal and replace Obamacare has basically been declared DOA after being unable to garner enough votes. The push now is to simply repeal the Affordable Care Act. I'm sure this will go more smoothly given the congenial tone throughout much of Washington.
The Republicans' failure calls into question even more of the prevailing narrative that expected the economy to accelerate in 2017, particularly in the second half, thanks to the perceived pro-business Trump agenda that would cut taxes and regulation while increasing infrastructure spending. Any tax cuts have been deemed dependent on the repeal/replace generating sufficient gains to cover (at least in some part) the costs expected from any tax cuts.
Bottom Line
The market will need a new story, and given where valuations are today, it better be credible and powerful. The likelihood of that happening… well, things can always change but today that looks to be about as likely as me giving up chocolate and red wine. (Then again a baboon did take out power to tens of thousands of people in Zambia and lived to tell his buddies the tale, so you never do know!) If a new narrative isn't quickly forthcoming, then those valuations look even more stretched.