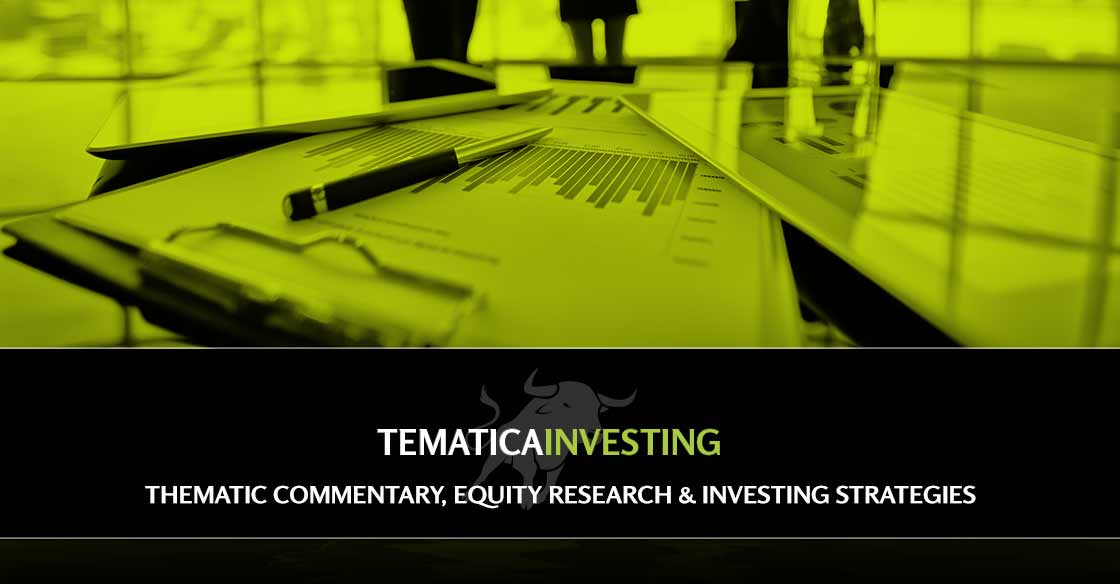 Tags:

$KO, AAPL, AAXN, Alibaba, Alphabet, AMN, AMN Healthcare, Apple, Axon Enterprises, BABA, Chipotle Mexican Grill, CMG, Coca-Cola, COST, Costco Wholesale, Del Frisco's, DFRG, DIS, Disney, DY, Dycom Industries, GOOGL, McCormick & Co., MKC, netflix, NFLX, OLED, PEP, Pepsico, Universal Display, USA Technologies, USAT
note: no comments
Several weeks ago began the arduous task of recasting our investment themes, shrinking them down to 10 from the prior 17 in the process. This has resulted in a more streamlined and cohesive investment mosaic. As part of that recasting, we've also established a full complement of thematic positions, adding ones, such as Chipotle Mexican Grill (CMG) and Altria (MO) in themes that have been underrepresented on the Select List. The result is a stronghold of thematic positions with each crystalizing and embodying their respective thematic tailwinds.
This culmination of these efforts is leading us to christen those 10 new Buy or rechristened Buy positions as what are calling The Thematic Leaders:
By now you've probably heard me or Tematica's Chief Macro Strategist Lenore Hawkins mention how Amazon (AMZN) is the poster child of thematic investing given that it touches on nearly all of the 10 investing themes. That's true, and that is why we are adding Amazon to the Thematic Leaders in the 11th slot. Not quite a baker's dozen, but 11 strong thematic positions.
One question that you'll likely have, and it's a logical and fare one, is what does this mean for the Select List?
We wouldn't give up on companies like Apple (AAPL), Alphabet (GOOGL), Disney (DIS), McCormick & Co. (MKC) and several other well-positioned thematic businesses that are on the Select List. So, we are keeping both with the Thematic Leaders as the ones that offer the most compelling risk-to-reward tradeoff and the greater benefit from the thematic tailwinds. When we have to make an adjustment to the list of Thematic Leaders, a company may be moved to the Select List in a move that resembles a move to a Hold from a Buy as it is replaced with a company that offers better thematic prospects and share price appreciation. Unlike Wall Street research, however, our Hold means keeping the position in intact to capture any and all additional upside.
Another way to look at it, is if asked today, which are the best thematically positioned stocks to buy today, we'd point to the Thematic Leaders list, while the Select List includes those companies that still have strong tailwinds behind their business model but for one reason or another might not be where we'd deploy additional capital. A great example is Netflix vs. Apple, both are riding the Digital Lifestyle tailwind, but at the current share price, Netflix offers far greater upside than Apple shares, which are hovering near our $225 price target.
After Apple's Apple Watch and iPhone event last week, which in several respects underwhelmed relative to expectations despite setting up an iPhone portfolio at various price points, odds are the iPhone upgrade cycle won't accelerate until the one for 5G. The question is will that be in 2019 or 2020? Given that 5G networks will begin next year, odds are we only see modest 5G smartphone volumes industry-wide in 2019 with accelerating volumes in 2020. Given Apple's history, it likely means we should expect a 5G iPhone in 2020. Between now and then there are several looming positives, including its growing Services business and the much discussed but yet to be formally announced streaming video business. I continue to suspect the latter will be subscription based.  That timing fits with our long-term investing style, and as I've said before, we're patient investors so I see no need to jettison AAPL shares at this time.
The bottom line is given the upside to be had, Netflix shares are on the Thematic Leaders list, while Apple shares remain on the Select List. The incremental adoption by Apple of the organic light emitting diode display technology in two of its three new iPhone models bodes rather well for shares of Universal Display (OLED), which have a $150 price target.
Other questions…
Will we revisit companies on the Select List? Absolutely. As we are seeing with Apple's Services business as well as moves by companies like PepsiCo (PEP) and Coca-Cola (KO) that are tapping acquisitions to ride our Clean Living investing tailwind, businesses can morph over time. In some cases, it means the addition of a thematic tailwind or two can jumpstart a company's business, while in other cases, like with Disney's pending launch of its own streaming service, it can lead to a makeover in how investors should value its business(es).
Will companies fall off the Select List?
Sadly, yes, it will happen from time to time. When that does happen it will be due to changes in the company's business such that its no longer riding a thematic tailwind or other circumstances emerge that make the risk to reward tradeoff untenable. One such example was had when we removed shares of Digital Infrastructure company USA Technologies (USAT) from the Select List to the uncertainties that could arise from a Board investigation into the company's accounting practices and missed 10-K filing date.
For the full list of both the Thematic Leaders and the Select List, click here
To recap, I see this as an evolution of what we've been doing that more fully reflects the power of all of our investing themes. In many ways, we're just getting started and this is the next step…. Hang on, I think you'll love the ride as team Tematica and I continue to bring insight through our Thematic Signals, our Cocktail Investing podcast and Lenore's Weekly Wrap.