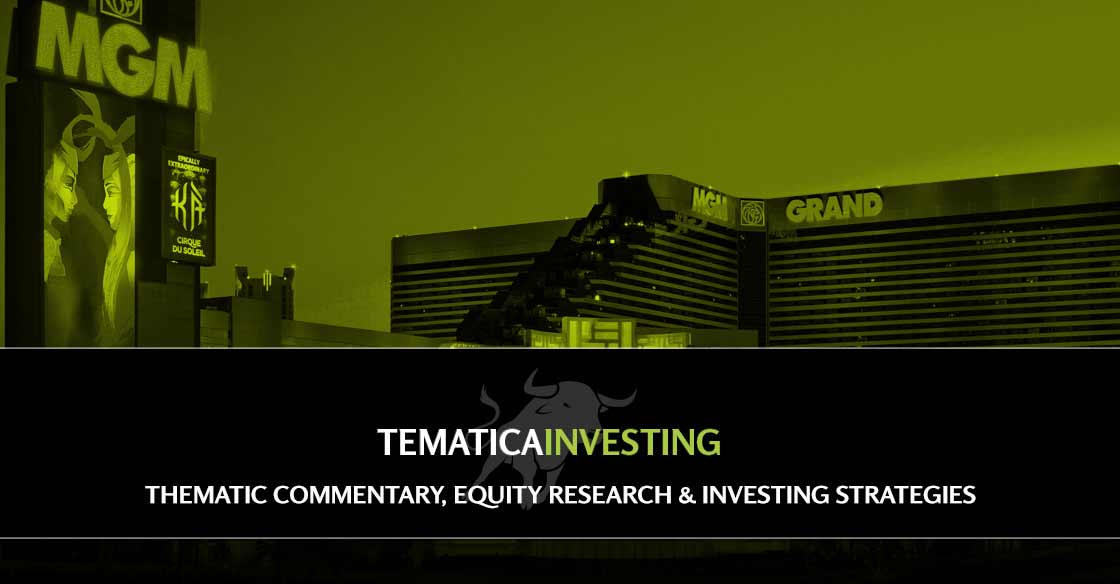 While many eyes have been focused the build up to today's Apple (AAPL) event, Guilty Pleasure company MGM Resorts (MGM) has made some interesting moves. Recently the company adopted a $1 billion stock repurchase plan and announced it will sell the real estate of its National Harbor property to MGM Growth Properties (MGP), a real estate investment trust (REIT) that focuses on destination entertainment and leisure resorts. That property sale is estimated at $1.19 billion and should provide ample firepower for the new stock buyback plan at MGM Resorts.
Two quick observations – first, we see this piece of financial engineering as bringing added flexibility to MGM Resorts, while also adding some extra capital to the balance sheet. Second, generally speaking, we like stock buyback programs as they tend to increase our comfort level with a company hitting EPS expectations provided the company actually executes its stock repurchase plan. This morning MGM Resorts flexed its new buyback program by sharing it plans to buy 10 million shares from Tracinda, private investment corporation owned by the late Kirk Kerkorian and a significant owner of MGM shares. The transaction, which is expected to close later this week will shrink the outstanding share count by roughly 2%. Following the transaction, Tracinda's position will be reduced to 8.3% of MGM's outstanding shares and MGM will have roughly $627 million in buyback power remaining under this new authorization.
We see this as a solid start on executing this new buyback program. Should the company eventually complete this program at or near the current share price, it would shrink the outstanding share count by another 19 million shares or just over 3%.
We'd note this engineering falls below the company's operating line, and as beneficial as they may be to the bottom line, as investors we still have to focus on the fundamentals. Our next set of monthly gaming revenue updates from Nevada as well as Macau will tell us how both the Mayweather vs. McGregor bout and Typhoon Hato helped or hindered things in August.
Ahead of those next updates, our price target on MGM Resorts remains $37, which offers just under 14% upside from current levels factoring in the current dividend yield of 1.3%.