Tematica Investing PRO Service
A Fast Turn Approach to Thematic Investing
Tematica Pro utilizes the same thematic lens we apply to all our publications; however while the Tematica Investing newsletter takes a long-view approach, this Pro service is designed for experience investors with a higher risk tolerance.
For most investors, the long investing approach we use in Tematica Investing is a great way to take advantage of an emerging thematics like the Cash Strapped Consumer, Aging of the Population, Connected Society, Rise & Fall of the Middle Class and others.
But some investors — perhaps those with more experience trading as well as a higher risk-tolerance — are looking for ways to boost their risk-to-reward ratio. And that's what we do in Tematica Pro.
In the faster-paced Tematica Pro service, Chief Investment Officer Chris Versace pairs his  thematic view of the market with a more aggressive approach to explore shorter-term investment ideas and strategies utilizing:
Long / Short pair trades, combining a stock riding the wave of a thematic (long) with a short investment in a stock identified as the "loser" of a thematic trend.
When appropriate, call option recommendations as a way to potentially "turbo charge" returns. These recommendations include entry points, target prices and exit alerts from each call.
Each Tematica Pro Subscription Includes:
TEMATICA INVESTING PRO HOTLINES
These hotline alerts come straight from Chief Investment Officer Chris Versace and his team, and contains in-depth information on emerging thematic conditions that can be leveraged through either an ETF trade, an option call, or a short position in an equity position. These alerts provide the justification for the trade, as well as details on exactly how investors can execute the trade should they decide to.
TEMATICA INVESTING
A $249 value, each Tematica Pro subscription also includes the Tematica Investing newsletter. The centerpiece offering from Tematica Research, Tematica Investing provides subscribers with investment ideas and strategies based upon the proprietary thematic investing framework Chief Investment Officer Chris Versace has developed over the past 20+ years as a equity analyst, portfolio manager and market commentator.
MONDAY MORNING KICKOFF
To help investors get ready for the trading days ahead, the Monday Morning Kickoff traces the key happenings of the previous week and looks ahead to the coming economic and earnings calendars for the new week. Utilizing its thematic lens, the Tematica Team identifies key catalysts that are bound to shape the market in the near-term and beyond.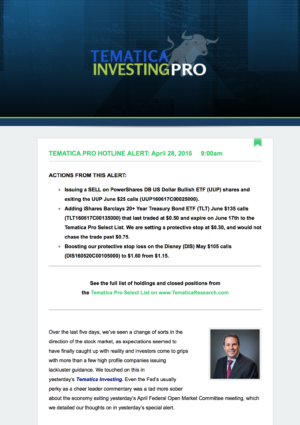 Strategies Utilized in Tematica PRO

Exchange Traded Funds

Option Trading

Short-Selling
Using the same thematic investment approach, Tematica Pro utilizes more aggressive techniques for executing investments, including short-term trades in ETFs, Option Calls, and Short-Selling of equities.
Get Started with a 14-day Free Trial!

SUBSCRIBE TODAY!
Put the thematic approach to use today to help you achieve more success in investing.  Click below to subscribe
– SPECIAL LIMITED TIME OFFER –
Try Tematica Pro Free for 14 Days
Experience everything Tematica Pro has to offer for two weeks before committing
Right now, we're providing new subscribers with an opportunity to try Tematica Pro FREE for 14 days. You'll get access to the full list of recommendations, the archives, and receive all the alerts and updates current subscribers receive like the Costco one listed below. Plus, Tematica Pro subscribers receive a complimentary subscription to Tematica Investing, so you will receive those issues and updates as well during your trial period. 
Here's how it works:
Sign up today for our annual auto-billing plan at a reduced rate of just $999 per year (discounted from the normal $1,200 per year published price). You won't be charged anything today. 
At the end of your 14-day free trial period you do nothing if you want to keep with it. Your card will be billed $999, and then every twelve months it will be charged another $999 for as long as you subscribe. You can cancel at any time.
If you find Tematica Pro is just not for you, all you need to do is login to your account before the end of your free trial period (like day 12 or 13) and cancel the subscription. Simple as that — no numbers to call, sales people to hassle with, etc. Just login and cancel before day 14 and you won't be charged anything.
To take advantage of this unique offer, just click here to subscribe.
TEMATICA PRO SUBSCRIPTIONSNo matter how you'd like to pay, we have a package for you . . . monthly, quarterly, or annually
TematicaPro Monthly
$99 / mo
Weekly action alerts along with trading guidelines
Access to subscriber-only sections of website
Complimentary subscription to Tematica Investing
Free subscription to Monday Morning Kickoff eLetter
Automatically monthly billing
Cancel at any time
Most Popular
TematicaPro Annual
SALE: $999 / per year
LIST PRICE: $1,200 every 12 months
Our annual membership is the most cost-effective plan for joining TematicaPro. The published annual rate for Tematica Pro is $1,299 per year.
Subscribe today at our auto-renew annual subscription rate* and receive our Web-Only special offer of $999 every 12 months.
Plus, get a free 14-day free trial*. Sign-up now, pay nothing today, and just cancel before the billing day in 14 days.
That's a savings of 23%, or $300 per year for as long as you maintain an active subscription.
TematicaPro Quarterly
$275 / per quarter
Weekly action alerts along with trading guidelines
Access to subscriber-only sections of website
Complimentary subscription to Tematica Investing
Free subscription to Monday Morning Kickoff eLetter
Automatically billed every 3 months
Cancel at any time