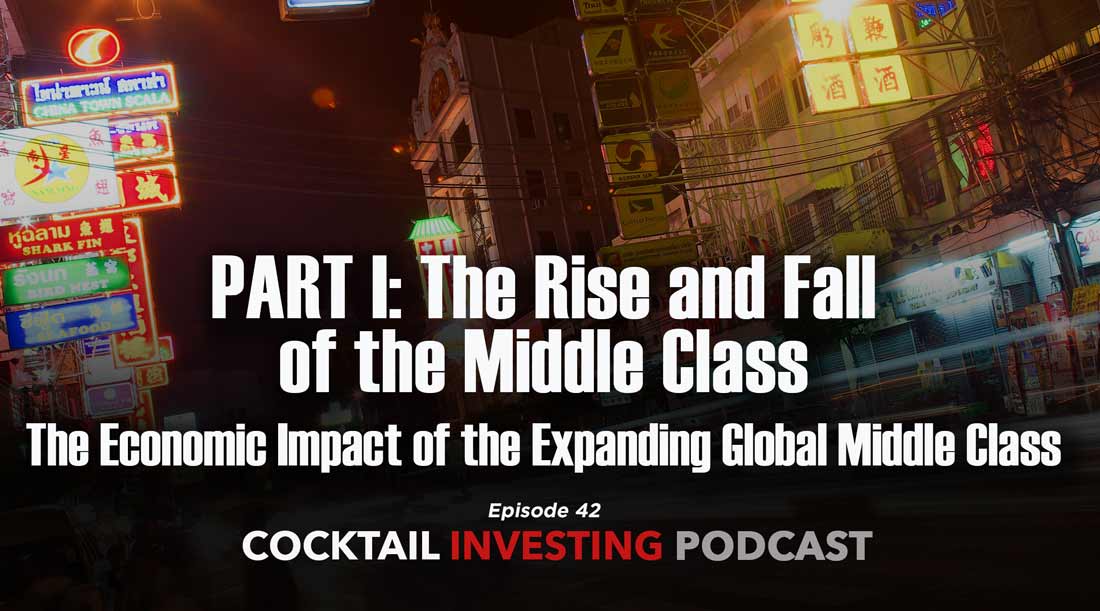 The Economic Impact of the Expanding Global Middle Class
This week, Tematica's investing mixologists Chris Versace and Lenore Hawkins walk through the global impacts of the Rise and Fall of the Middle Class, focusing in Part I of this series on the Rise portion of this investing theme. The expanding global middle class will account for nearly half of all consumption in the coming years, but as we discuss the where and why behind this new middle-class is reshaping industries and business models at Amazon (AMZN) and General Motors (GM) to McCormick & Co. (MKC) and many, many more.
For over 90% of the past two millennia, China and India dominated the global economy, generating over half of the world's GDP in terms of real purchasing power. The end of the 17th century saw a seismic change with the start of Europe's Industrial Revolution, which later spread to the New World. From 1820 to 1950 Asia's share of GDP plunged from just under 60% to 16 percent and by the middle of the 20th century the West had come to dominate global growth with the United States generating over a third of world GDP by the end of World War II and when combined with Western Europe, accounted for nearly 60% of global GDP. However, this would not be permanent.
Asia's return to its multi-millennial dominant role began in the 1950s and started accelerating in the 1980s to rise from 16% to over 30% by 2000. Today Asia's share of global GDP, excluding the Middle East, has reached a 160-year high of 43%. During that time, the share of the United States and Western Europe has fallen to a 166-year low of 33%, with the U.S. share cut to half its mid-20th peak and Western Europe losing nearly one-third of its share just since the start of the 21st century — all part of the story behind the Rise portion of our Rise and Fall of the Middle Class as the west loses its dominance while emerging economies come into their own.
The incredible volume of sales generated by Alibaba (BABA) over the weekend for Singles' Day illustrates the reemergence of that economic power and the convergence of our Rise and Fall of the Middle Class with the Connected Society as a stunning 90% of the transactions were done via mobile, which we discussed here earlier in the week. As the center of gravity for middle class households shifts from west to east, it will open up new opportunities for those companies that adjust their strategies accordingly, generating tailwinds for growth. Those that miss this tectonic shift will face challenging headwinds.
Along the way, our mixologists talk about which sectors and companies are poised to prosper from the emerging middle class in the East as well as giving an assessment of the recent moves in the markets.
Companies mentioned on this podcast
Alphabet (GOOGL)
Amazon (AMZN)
Apple (AAPL)
Ford Motor (F)
General Motors (GM)
Home Depot (HD)
McCormick & Co (MKC)
Samsung (SSNGY)
Target (TGT)
Wal-Mart (WMT)
Whirlpool (WHR)
Resources for this podcast:
Books we're currently reading: