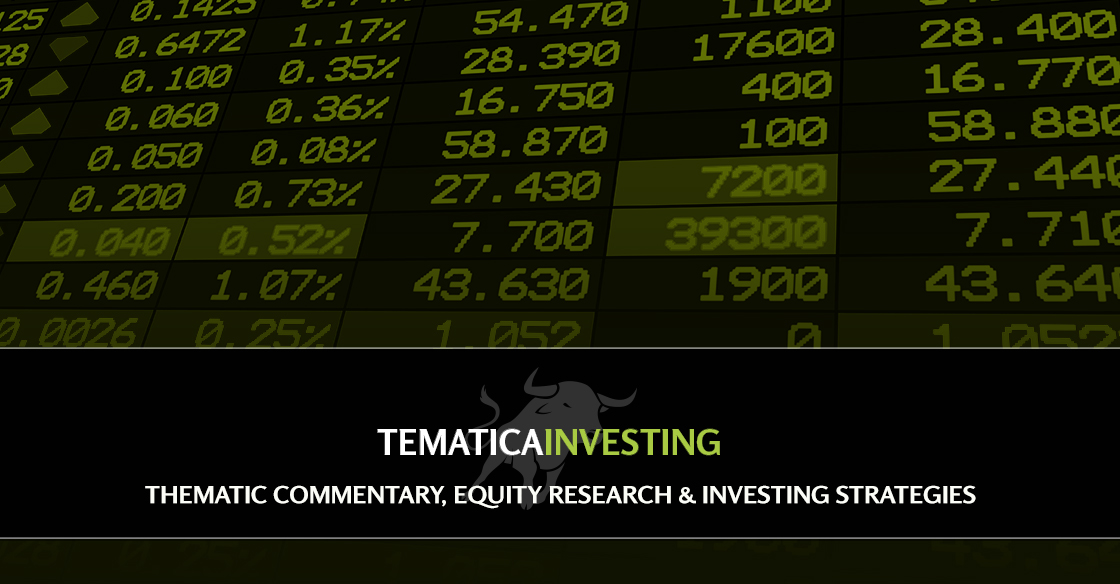 Tags:

AAPL, AAXN, Amazon, AMZN, Apple, APRN, AT&T, Axon Enterprises, Blue Apron, Bon-Ton Stores, British Airways, Chipotle, CMG, Darden, Del Frisco's Restaurant Group, DFRG, DIS, Disney, DRI, DY, Dycom, Earnings, Facebook, FB, GOOGL, Google, Hulu, JPM, JPMorgan, MAR, Marriott, netflix, NFLX, S&P500, T, Verizon, VZ
note: no comments
Key Points Inside this Issue:
Last Friday's favorable December Employment Report showed the domestic economy is not falling off a cliff and comments by Fed Chair Jay Powell reflected that the central bank will be patient with monetary policy as it watches how the economy performs. Those two things kicked the market off on its most recent three-day winning streak as of last night's close. In many ways, Powell gave the market what it was looking for when he shared the Fed will remain data dependent when it looks at the economy and its next step with monetary policy.
Taking a few steps back, we've all experienced the market volatility over the last several weeks as it contends with a host of issues that we here at Tematica have laid out through much of the December quarter. These include:
U.S.-China trade issues
The slowing economy
A Fed that could boost rates twice in 2019 and continues to unwind its balance sheet
Brexit and political uncertainty in the Eurozone
And more recently the government shutdown.
These factors have led investors to question growth prospects for the global as well as the domestic economy and earnings in 2019.
Powell's comments potentially take one of those issues off the table at least in the short-term. If the economy continues to deliver job creation as we saw in December, with some of the best year-over-year wage gains we've seen in years, before too long the Fed-related conversation could very well turn from two rate hikes to three.
Currently, that isn't what the market is expecting.
The reason it isn't is that outside of the December jobs report, data from ISM and IHS Markit continued to show a decelerating global and U.S. economy. With new orders and backlog levels falling, as well as pricing-related data, it likely means we won't see a pronounced pickup in the January data. The JPMorgan Global Composite Output Index for December delivered its lowest reading since September 2016 due principally to the slowdown in the eurozone. Rates of expansion slowed in Germany (66-month low) and Spain (three-month low), while Italy stagnated. China, the UK, and Brazil all saw modest growth accelerations.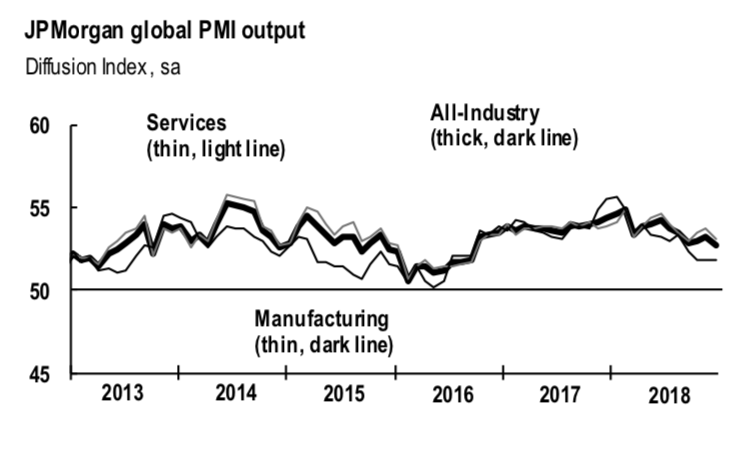 Despite the month over month declines in the December data for the US, it was the best performer on a relative basis even though the IHS Markit Composite PMI reading for the month hit a 15-month low. A more sobering view was shared by Chris Williamson, Chief Business Economist at IHS Markit who said:
"Manufacturers reported a weakened pace of expansion at the end of 2018, and grew less upbeat about prospects for 2019. Output and order books grew at the slowest rates for over a year and optimism about the outlook slumped to its gloomiest for over two years."
That should give the Fed some room to hold off boosting rates, but it also confirms the economy is decelerating, which will likely have revenue and earnings guidance repercussions in the upcoming December-quarter earnings season.
There are several catalysts that could drive both the economy and the stock market higher in the coming months. These include a "good deal" resolution to the U.S.-China trade situation and forward movement in Washington on infrastructure spending. This week, the US and China have met on trade and it appears those conversations have paved the way for further discussions in the coming weeks. A modest positive that has helped drive the stock market higher this week, but thus far concrete details remain scant.
Such details are not likely to emerge for at least several weeks, which means the next major catalyst for the stock market will be the upcoming December quarter earnings season that begins in nine trading days.
Earnings expectations are being revised lower
Facing a number of risks and uncertainties over the last several weeks, investors have once again questioned growth prospects for both the economy and earnings growth for 2019. The following two charts – one of the Citibank Economic Surprise Index and one showing the aggregate profit margin for the S&P 500 companies – depict what investors are grappling with weaker than expected economic data at a time when corporate operating margins have hit the highest levels in over 20 years.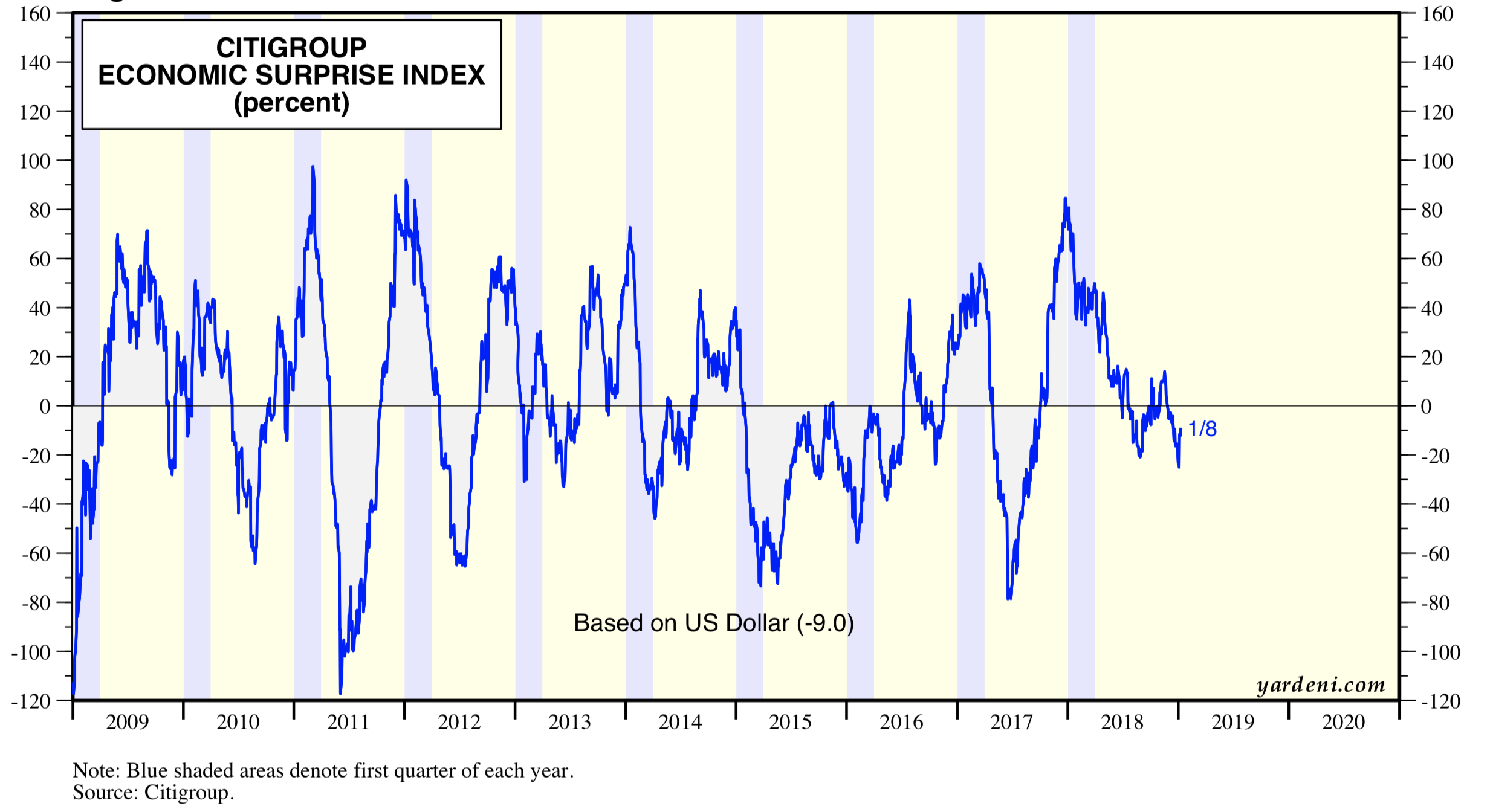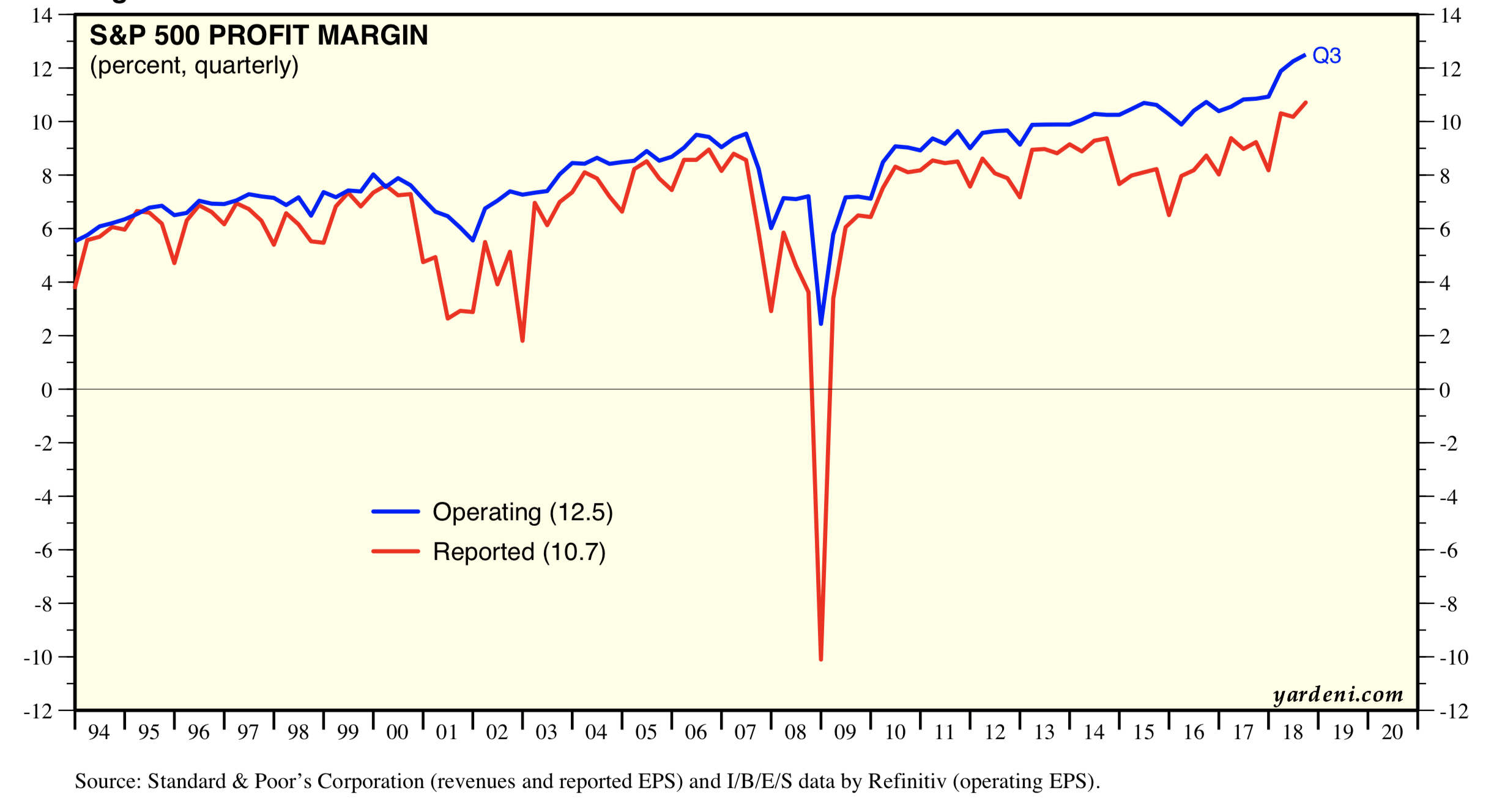 While expectations for growth in both the domestic economy and earnings for the S&P 500 have come in compared to forecasts from just a few months ago, the current view per The Wall Street Journal's Economic Forecasting Survey calls for 2019 GDP near 2.3% (down from 3.0% in 2018) with the S&P 500 group of companies growing their collective EPS by 7.4% year over year in 2019.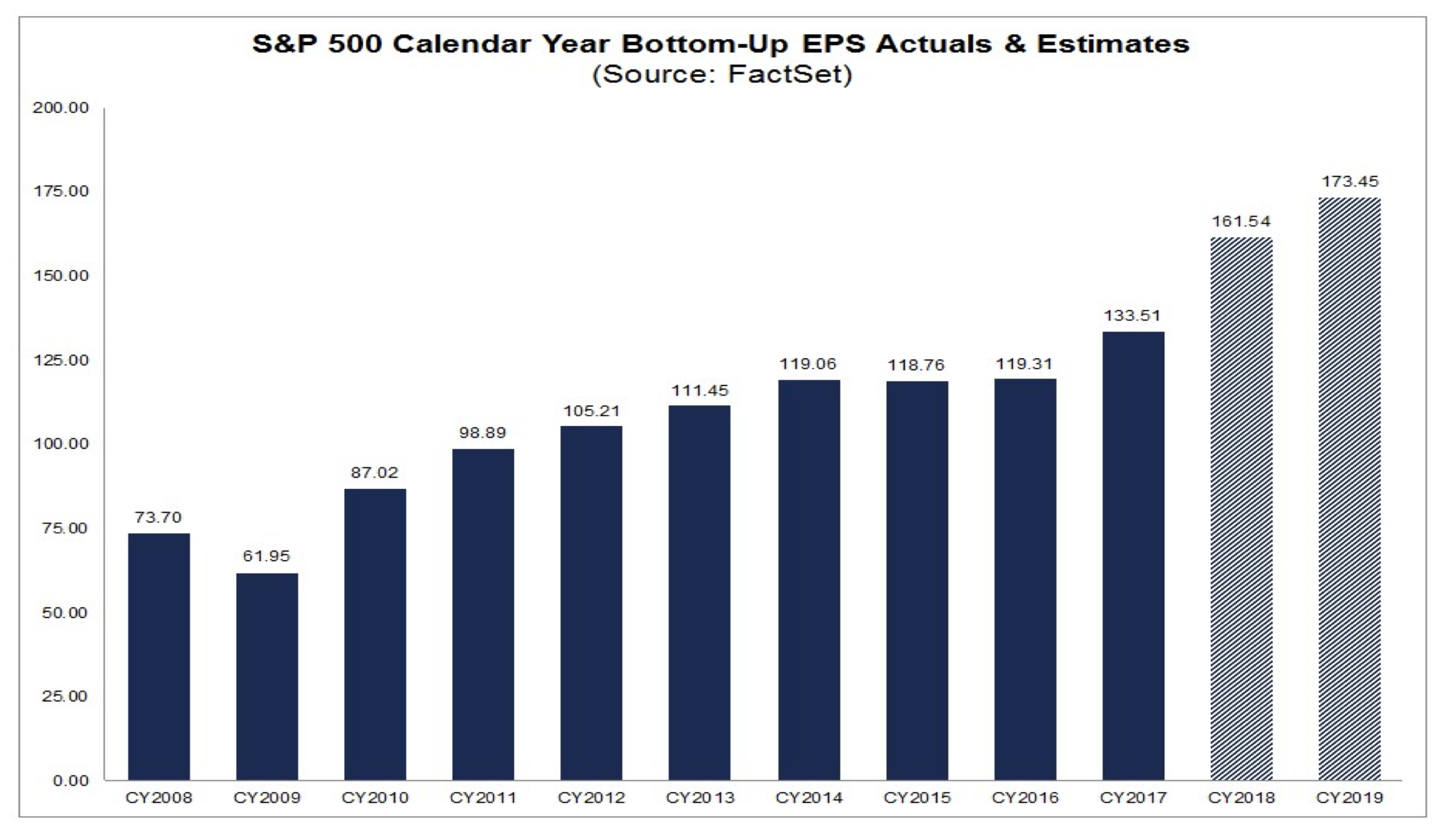 Here's the thing, in recent weeks, analysts lowered their earnings estimates for companies in the S&P 500 for the December quarter by roughly 4% to $40.93. The Q4 bottom-up EPS estimate (which is an aggregation of the median EPS estimates of all the companies in the index) dropped by 4.5% to $40.63. In the chart below, you can see this means quarter over quarter, December quarter earnings are expected to drop breaking the typical pattern of earnings growth into the last quarter of the year. What you can't see is that marks the largest cut to quarterly S&P 500 EPS estimates in over a year.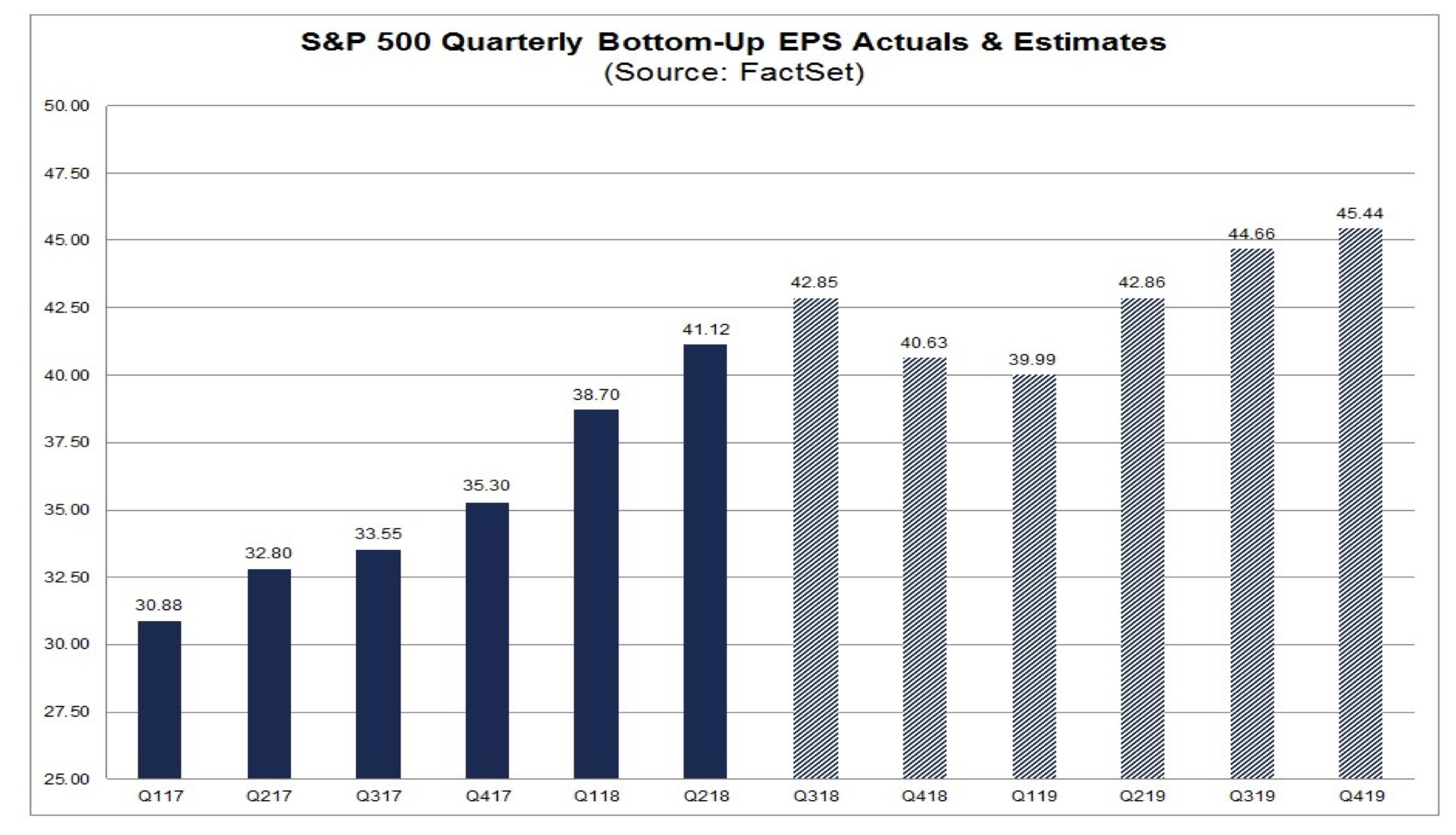 Getting back to that 7.4% rate of earnings growth that is currently forecasted for 2019, I'd call out that it too has been revised down from 9% earlier in the December quarter. That new earnings forecast is a far cry from 21.7% in 2018, which was in part fueled by a stronger economy as well as the benefits of tax reform that was passed in late 2017. As we all know, there that was a one-time bump to corporate bottom lines that will not be repeated this year or in subsequent ones. The conundrum that investors are facing is with the market barometer that is the S&P 500 currently trading at 15.9x consensus 2018 EPS of $161.54, the factors listed above have investors asking what the right market multiple based on 2019's consensus EPS of $173.45 should be?
And while most investors don't "buy the market," its valuation and earnings growth are a yardstick by which investors judge individual stocks.
Thematic tailwinds will continue to drive profits and stock prices
One of the key principles to valuing stocks is that companies delivering stronger EPS growth warrant a premium valuation. Of course, in today's stock buyback rampant world, that means ferreting out those companies that are growing their net income. My preference has been to zero in on what is going on with a company's operating profit and operating margins given that their vector and velocity are the prime drivers of earnings. That was especially needed last year given the widespread bottom-line benefits of tax reform.
At the heart of it, the question is what is driving the business?
As I've shared before, sector classifications don't speak to that as they are a grouping of companies by certain characteristics rather than the catalysts that are driving their businesses. As we've seen before, some companies, such as Amazon (AMZN) or Apple (AAPL) capitalize on those catalysts, while others fail to do so in a timely manner if at all. Sears (SHLD), JC Penney (JCP) are easy call outs, but so are Toys R Us, Bon-Ton Stores, Sports Authority, Blue Apron (APRN), and Snap (SNAP) to name just over a handful.
Very different, and we can see the difference in comparing revenue and profit growth as well as stock prices. The ones that are performing are responding to the changing landscapes across the economic, demographic, psychographic, technological, regulatory and other playing fields they face. In short, they are riding the thematic tailwinds that we here at Tematica have identified. As a reminder those themes are:
As we move into 2019, I continue to see the tailwinds associated with those themes continuing to blow hard. Despite all the vain attempts to fight it temporarily, there is no slowing down the aging process. Consumers continue to flock to better for you alternatives, and as you'll see below that has led Thematic Leader Chipotle Mexican Grill (CMG) to bring a new offering to market.
As we saw this past holiday shopping season, consumers are flocking more and more to digital shopping while hours spent streaming content continue to thwart broadcast TV and the box office. This year 5G networks and devices will become a reality as AT&T (T), Verizon (VZ) and others launch those commercial networks. The legalization of cannabis continues, and consumers continue to consume chocolate, alcohol and other Guilty Pleasures.
Whether you are Marriott International (MAR), Facebook (FB), British Airways or the Bridgeport School System, cyber threats continue to grow and as we saw last night during the presidential address and Democratic response, border security be it through a wall, technology or other means is a pain point that needs to be addressed. While the last two monthly Employment Reports have shown some of the best wage gains in years, Middle-class Squeeze consumers continue to face a combination of higher debt and interest rates as well as rising healthcare costs and the need to save for their golden years that will weigh on the ability to spend.
Like any set of winds, there will be times when some blow harder than others. For example, as we peer into the coming year the launch of 5G networks and gigabit ethernet will likely see the Digital Infrastructure tailwind accelerate in the first half of the year as network and data center operators utilize the services of companies like Thematic Leader Dycom Industries (DY) to build the physical networks. Some tailwinds, such as those associated with Aging of the Population, Clean Living and Middle-class Squeeze are likely to be more persistent over the coming year. Other tailwinds will gust hard at times almost seemingly out of nowhere reminding that they have been there all along. Given the nature of high profile cyber attacks and other threats, that's likely to once again be the case with Safety & Security.
The bottom line is this – the impact to be had of the tailwinds associated with our 10 investment themes will continue to be felt in 2019. They will continue to influence consumer and business behavior, altering the playing field and forcing companies to either respond or not. The ones that are capitalizing on that changing playing field and are delivering pronounced profit growth are the ones investors should be focusing on.
TEMATICA INVESTING 
Scaling into AAXN, and updates on NFLX, CMG, and DFRG
As I discussed above, the December quarter was one of the most challenging periods for the stock market in some time. Even though we are just over a handful of days into 2019, we're seeing the thematic tailwinds blow again on the Thematic Leaders with 9 of the 11 positions ahead of the S&P 500. Yes, we're looking pretty good so far but it's too early in the year to start patting our backs, especially with the upcoming earnings season. Odds are Apple's (AAPL) negative preannouncement last week won't be the only sign of misery to be had, and that's why I'm keeping the ProShares Short S&P 500 ETF (SH) active for the time being. As I shared with you last week, while Apple and others are contending with a maturing smartphone market, I continue to like the long-term Digital Lifestyle aspects as it moves into streaming content and subscription-related businesses.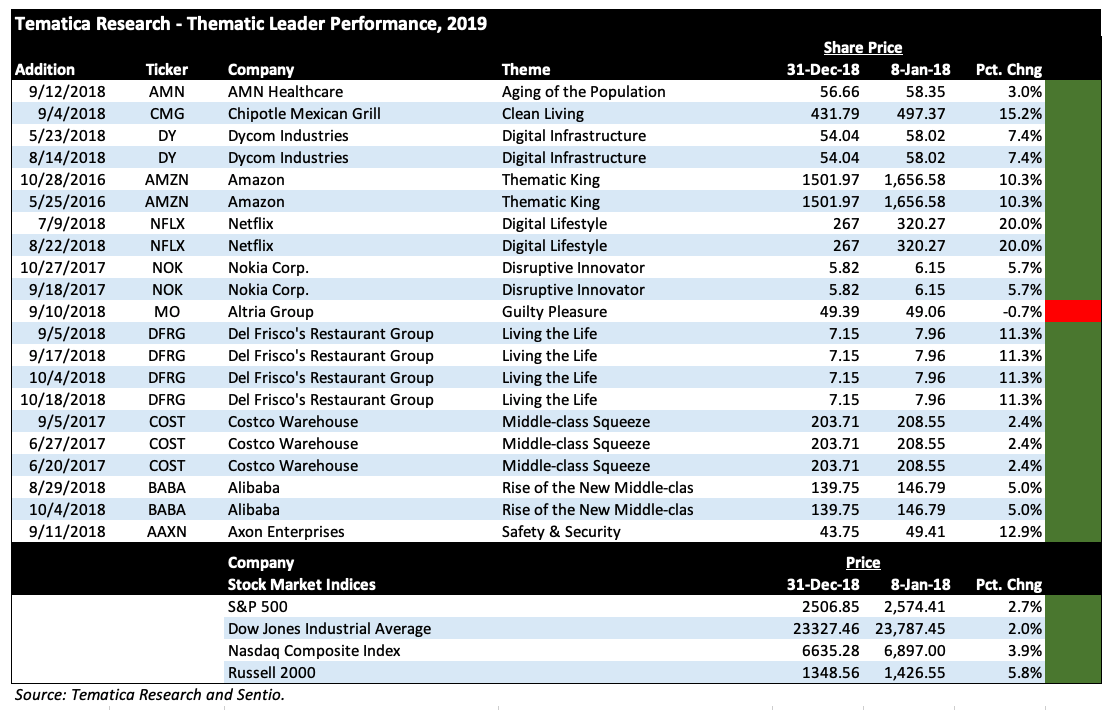 Of those 9 companies that are ahead of the S&P 500, as you can see in the table above, there are several that are significantly outperforming the market in the brief time that is 2019. These include Netflix (NFLX) shares, Axon Enterprises (AAXN), and Chipotle Mexican Grill (CMG)  as well as Del Frisco's (DFRG).
After falling just over 28% in the December quarter as investors gave up on the FANG stocks, as of last night's market close Netflix shares are up 20% so far for the new year. Spurring them along have been favorable comments and a few upgrades from the likes of Piper Jaffray, Barclays, Sun Trust, and several other investment banks. From my perspective, even though Netflix will face a more competitive landscape as AT&T (T), Disney (DIS), Hulu, Amazon (AMZN), Google (GOOGL), Facebook (FB), and Apple (AAPL), it has a substantial lead in the original content race over the likes of Facebook, Apple, Google and Amazon.
Candidly, only AT&T given its acquisition of Time Warner, and Disney, especially once it formally acquires with the movie, TV and other content from 21stCentury Fox (FOXA), will be streaming content contenders in the near term. And Disney is starting from scratch while AT&T lags meaningfully behind Netflix in terms of not only overall subscribers but domestic ones as well. For now, the digital streaming horse to play remains Netflix, especially as it brings more content to its service for both the US and international markets, which should drive its global subscriber base higher.
New bowls at Chipotle signal the Big Fix continues
Since its beginnings, Chipotle has been at the forefront of our Clean Living investing theme, but last week it took another step to attract those who are aiming to eat healthier when it introduced a line of Lifestyle Bowls. These included Keto, Paleo, Whole30, and Double Protein versions are only available through the company's mobile app and the Chipotle website. Clearly, the new management team that arrived last year understands the powerful tailwind associated with our Digital Lifestyle investing theme. More on those new bowls can be found here, and we expect to hear more on the management team's Big Fix initiatives when the company presents at the ICR Conference on Jan. 15.
Adding to Axon Enterprises as EPS expectations move higher
When we added shares of Axon Enterprises to the Thematic Leaders for the Safety & Security slot, we noted the company's long reach into US police departments and other venues that should drive adoption of its newer Taser units but more importantly its body cameras and digital storage businesses. In the company's November earnings report we saw that positive impact as its Axon Cloud revenue rose 47% year over year to $24 million, roughly $24 million or 23% of revenue vs. 18% in the year-ago quarter. Even better, the gross margin associated with that business has been running in the mid 70% range over the last few quarters, well above the corporate gross margin average of 36%-37%. Over the last 90 days, we've seen Wall Street boost its EPS forecasts for the company to $0.77 for 2018, up from $0.52, and to $0.92 for 2019 up from $0.73.
Even though we AAXN shares are on a roll thus far in 2019, the position is still in the red since joining the Thematic Leaders. Against the favorable tailwind of our Safety & Security investing theme and rising EPS expectations, we will scale into AAXN shares at current levels, which will drop our cost basis to around $61 from just under $73. Our $90 price target remains intact.
We are scaling into shares of Safety & Security Thematic Leader Axon Enterprises (AXON) at current levels, which will dramatically improve our cost basis. Our $90 price target remains intact.
Del Frisco's shares jump on takeout speculation
Over the last few weeks, there has a sizable rebound in the shares of high-end restaurant name Del Frisco's Restaurant Group. Ahead of the year-end 2018 holidays, the company's board of directors was the recipient of activist investor action from Engaged Capital. During the holiday weeks, the company shared it has hired investment firm Piper Jaffray to "review and consider a full range of options focused on maximizing shareholder value, including a possible sale of the Company or any of its dining concepts."
In other words, Del Frisco's is putting itself in play. Often this can result in a company being taken out either by strategic investors, private equity or a combination of the two. There is also the chance a company going through this process is not acquired due primarily to a mismatch between the potential buyer(s) and the board on price as well as underlying financing.
From my perspective, 2018 was a challenging year for Del Frisco's as it repositioned its branded portfolio. This included the sale of Sullivan's Steakhouse and the acquisition of Barteca Restaurant Group, the parent of both Bartaco and Barcelona restaurants.
Transitions such as these can be challenging, and in some cases, the benefits of the transformation may take longer to emerge than planned. That said, given the data we've discussed previously on the recession-resistant nature of high-end dining, such as at Del Frisco's core Double Eagle Steakhouse and Grille, we do think the company would be a feather in the cap for another restaurant group. As we noted when we added DFRG shares to the Thematic Leaders, there are very few standalone public steakhouse companies left — the vast majority of them have been scooped up by names such as Landry's or Darden Restaurants (DRI).
From a fundamental perspective, the reasons why we are bullish on Del Frisco's are the same ones that make it a takeout candidate. While we wait and see what emerges on the bid front, I'll be looking over other positions to fill DFRG's slot on the Thematic Leaders should a viable bid emerge.  Given the company's restaurant portfolio, the continued spending on high-end dining and its recession-resistant nature, odds are rather high of that happening.
Our price target on Del Frisco's Restaurant Group (DFRG) remains $14.