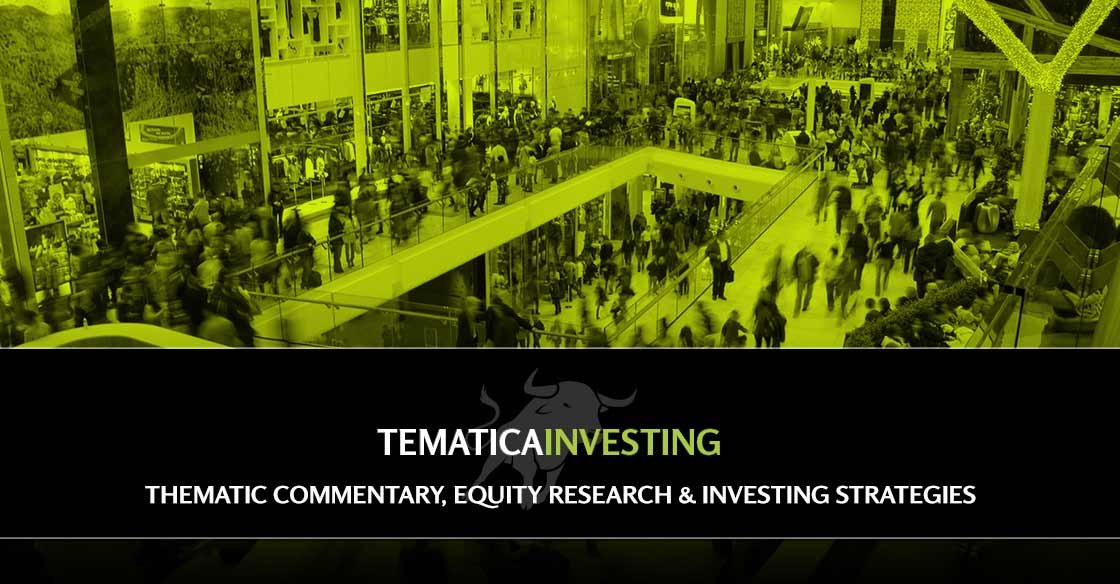 KEY POINTS FROM THIS ISSUE:
Our price target on Amazon (AMZN) shares remains $1,750
Our price target on United Parcel Service (UPS) remains $130
Our price target on Costco Wholesale (COST) remains $210.
Our price target on Habit Restaurant (HABT) shares remains $11.50
Our price target on Applied Materials (AMAT) shares remains $65.
Our price target on Apple (AAPL) shares remains $200.
Yesterday, we received the latest monthly Retail Sales report and it once again confirmed not only several of our investing themes, but also several of our Tematica Investing Select List holdings as well. While I and others at Team Tematica put these and other such reports through the grinder to ensure we understand what the data is telling us, I have to say some reports are more of a pleasure to read than others. In this case, it was a great read. First, let's dig into the actual report and then follow up with some thematic insight and commentary. 
April Retail Sales – the data and comments
Per the Census Bureau, April total Retail Sales & Food Services rose 4.7% year over year, with the core Retail Sales ex-auto parts and food services up 4.8% compared to April 2017. A modest downtick compared to the year over year growth registered in March, but a tad higher than the February comparison.
Subscribers will not be bowled over to learn the two key retail drivers were gas stations (up 11.7% year over year) followed by Nonstore retailers (9.6%). The two categories that have been a drag on the overall retail comparisons – Sporting goods, hobby, book & music stores and Department Stores – continued to do the same in April falling  1.1% and 1.6%, respectively. Scanning the last few months, the data tells us things have gotten tougher for those two categories as the last three months have happened.
With gas stations sales up nearly 11% over the last three months compared to 2017, real hourly earning's barely up per the latest from the Bureau of Labor Statistics and consumer debt up to 26% of average disposable income (vs. 22% during the financial crisis per the latest LendingTree Consumer Debt Outlook) there's no way to sugar coat it – something had to give and those two continue to take the brunt of the pain. As gas prices look to move even higher as we switch over to more costly summer gas blends and interest rates poised to move higher, it means consumers will continue to see discretionary spending dollars under pressure.
In keeping with our Connected Society and Cash-strapped consumer investing themes, consumers are turning to digital shopping to hunt down bargains and deals, while also saving a few extra bucks by not heading to the mall. That is, of course, positive confirmation for our position in Amazon (AMZN) shares as well as United Parcel Service (UPS) shares, which have had a quiet resurgence thus far in 2018. That move serves to remind us that connecting the dots can lead to some very profitable investments, and as I like to say – no matter what you order from Amazon or other online shopping locations, the goods still need to get to you or the person for which they are intended. I continue to see UPS as a natural beneficiary of the accelerating shift toward digital commerce.
Our price target on Amazon (AMZN) shares remains $1,750
Our price target on United Parcel Service (UPS) remains $130
April retail sales confirms our bullish stance on Costco
Costco Wholesale (COST) shares have been on a tear since their February bottom, and in my view each month we get a positive confirmation when Costco reports its monthly sales data as increasingly Cash-strapped Consumers look to stretch their disposable dollars was had in Costco Wholesale's (COST) April same-store-sales report. For the month, Costco's US sales excluding gas and foreign exchange rose 7.9%, once again showing the company continues to take consumer wallet share. As for the critics over how, late Costco had been to digital commerce, over the last few months its e-commerce sales have been up 31%-41% each month. While still an overall small part of Costco's revenue stream, the management team continues to expand its digital offerings putting it ahead of many traditional brick & mortar focused retailers.
Finally, we need to touch on one of the key profit generators at Costco – membership fee revenue, which is tied to new warehouse openings.  If we look at the company's recent quarterly earnings report we find that 73% of its operating profit is tied to that line item. As part of its monthly sale report, Costco provides an updated warehouse location count as well. Exiting April Costco operated 749 warehouse locations around the globe, the bulk of which are in the U.S. and that compares to 729 warehouses exiting April 2017. That number should climb by another 17 new locations by the end of August and paves the way for continued EPS growth in the coming quarters.
Our price target on Costco Wholesale (COST) remains $210.
Two favorable data points for recently added Habit Restaurant shares
Last week, we added shares of Habit Restaurant (HABT) to the Tematica Investing Select List with an $11.50 price target. Since then, we've had two positive data points, including one found in yesterday's Retail Sales report. The first data point was from TDn2K, a firm that closely watches monthly restaurant sales. For the month of April, TDN2K reported same-store sales for the month rose 1.5%, the best showing in over 30 months. The April Retail Sales report showed year over year April retail sales at Food services & drinking places rose 3.8%, bringing the trailing 3-month total to up 3.6% on a year over year basis.
While our investment thesis on HABT centers on the company's geographic expansion, these data points point to an improving business for its existing locations. Paired with the pending menu price increase, we see this data pointing a stronger operating environment in the coming quarters.
Our price target on Habit Restaurant (HABT) shares remains $11.50
Gearing up for earnings from Applied Materials
After tomorrow night's close Disruptive Technologies company Applied Materials (AMAT) will report its quarterly earnings. Expectations call for it to deliver EPS of $1.14 on revenue of $4.45 billion. For those at home keeping score, those figures are up 44% and 26%, respectively, on a year over year basis.
As the current earnings season got underway, we heard very positive commentary on the semiconductor capital equipment market from several competitors, including Lam Research (LRCX). This lays the groundwork for an upbeat report despite the softness we are seeing in the organic light emitting diode display market. With more smartphone models poised to adopt that display technology, including more favorably priced ones from Apple (AAPL), Applied's outlook for its Display business tomorrow night could be the canary in the coal mine for shares of Universal Display (OLED).
With regard to the core semiconductor capital equipment business, I continue to see longer-term opportunities for it associated with a number of emerging technologies and applications (growing memory demand, 5G chips sets, 3D sensing, smarter automobiles and homes, and augmented reality to virtual reality and the Internet of Things) that will drive incremental chip demand in the coming years. I'm also hearing that China's state-backed semiconductor fund, The National Integrated Circuitry Investment Fund, is closing in on an upsized 300 billion-yuan fund ($47.4 billion) fund vs. the expected 120 billion-yuan ($18.98 billion) to support the domestic chip sector. This buildout was one of my focal points behind adding AMAT shares to the Select List over a year ago.
Since then AMAT shares are up more than 50%, and this upsized demand from China is poised to drive them even higher in my view. Before that can happen, however, the semiconductor industry has taken a leading role in the current U.S.-China trade conflict. This means I'll continue to monitor this development closely.
As we get ready for the upcoming earnings report, let's also remember Applied buyback program. I suspect the company was in buying shares during the April lows. We'll get a better sense when we compare year over year share counts once I have the earnings report in my hands.
Our price target on Applied Materials (AMAT) shares remains $65.
Tim Cook confirms Apple's move into original content
Apple's move into original content has to be one of the worst-kept secrets in some time. There have been hiring's of key people for key roles as well as content partners that have spilled the beans, but now Apple CEO Tim Cook quietly confirmed the move while appearing on "The David Rubenstein Show: Peer-to-Peer Conversations" on Bloomberg Television by saying
"We are very interested in the content business. We will be playing in a way that is consistent with our brand," Cook told Bloomberg. "We're not ready to give any details on it yet. But it's clearly an area of interest."
A summary of that conversation can be found here, and my $0.02 on this is Apple will be looking to leverage original content to increase the sticky factor for its devices as well as attract new customers for those devices. This is similar to the strategy behind its services business that includes iCloud, Apple Music, Apple Pay and other offerings. We could hear more of this in a few weeks at Apple's 2018 World Wide Developer Conference but given the expectation for its content to roll out after March 2019 odds are we won't hear much just yet.
Our price target on Apple (AAPL) shares remains $200.