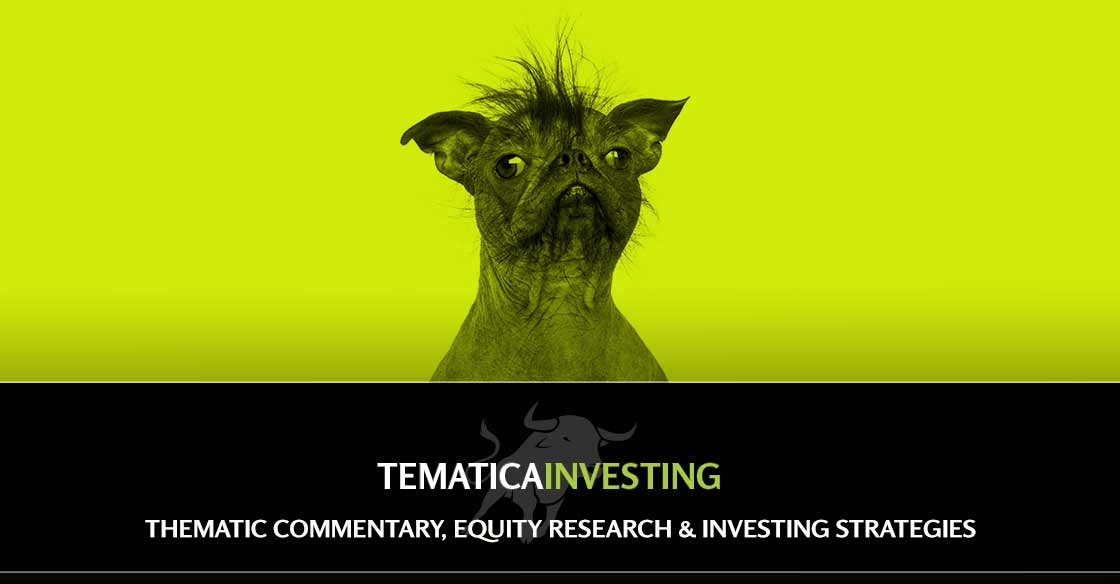 Today is the day that we here at Tematica, and other investors as well, have been waiting for to make some semblance of the recent stock market volatility. Earlier this morning we received the January Consumer Price Index (CPI), one of the closely watched measures of that now dirty word – inflation. As a quick reminder, the market swings over the last two weeks were ignited by the headline wage data in the January Employment Report, as well as other signs, such as rising freight costs that led us to add shares of Paccar (PCAR) to the Tematica Investing Select List earlier this week. This topic of resetting inflation expectations and what it may mean for the Fed and interest rates has been a topic of conversation on recent Cocktail Investing Podcast between Tematica's Chief Macro Strategist Lenore Hawkins and myself.
What the January CPI Report Showed and Its Impact on AMZN, COST and UPS
The headline figures from the January CPI report showed the CPI rose 0.5% month over month in January, which equates to a 2.1% increase year over year. Keeping in sync with the headline figure, which includes all categories, the consensus expectation was for a 0.3% month over month increase. The driver of the hotter than expected headline print was the energy index rose, which climbed 3.0% in January, and we've witnessed this first hand in the gasoline price jump of late. Excluding the volatile food and energy components, the "core" CPI index was up 0.3% month over month in January, coming in a bit ahead of the expected 0.2% increase. On a year over year basis, that core figure rose 1.8%, which is in keeping with the 1.7%-1.8% over the last eight months. Month over month gas and fuel prices were up 5.7% and 9.5%, respectively.
Late yesterday, the American Petroleum Institute released data showing a 3.9 million barrel increase in crude stockpiles for the week ended Feb. 9, along with a 4.6 million barrel rise in gasoline stocks and a 1.1 million barrel build in distillates. With crude inventories once again on the rise as US oil production has risen in response to the recent surge in oil prices from September to late January, we've seen oil prices retreat to December levels and odds there is more relief to come.
As we wait for others, who if you've seen the whipsaw in stock market futures today are simply reacting to the January headline CPI figure, to get some clearer heads about themselves and digest the internals of the report, I'll share our thoughts on the January Retail Sales report that was also published this morning.
Staring with the headline figure, January Retail Sales came in at -0.3% month over month, falling short of the 0.2% consensus forecast. Excluding auto and food, January core retail sales fell 0.3% month over month; on a year over year basis, retail sales rose 3.9% with nonstore sales leading the way (up 10.2%) followed by gas stations sales (up 9.0% year over year), which is of little surprise given our January CPI conversation above. We do see that nonstore figure as further confirmation for not only our Amazon (AMZN) and United Parcel Service (UPS) shares, but also our Costco Wholesale (COST) ones as it continues to embrace our Connected Society theme.
Our price target on Amazon (AMZN) shares remains $1,750
Our price target on Costco Wholesale (COST) shares remains $200
See my comments below for my latest thoughts on UPS shares
Market's Knee-Jerk Reaction to January Retail Sales Offered Opportunity in PCAR, Not BGFV
Despite the 3.9% year over year January Retail Sales print, the market is focusing on the month over month drop, which was one of the weakest prints in some time. Here's the thing, we here at Tematica have been talking about the escalating level of debt that consumers have been taking on as a headwind to consumer spending and despite the post-holiday sales, consumers tend to ramp spending down after the holidays. Odds are these two factors led to that month over month decline, but even so up 3.9% year over year is good EXCEPT for the fact that gas station sales are bound to fall as gas prices decline.
If we look at these two reports, my take on it is a skittish stock market is once again knee-jerk reacting to the headline figures rather than understanding what is really going on. The initial reaction saw Dow stock market futures fall from +150 to -225 or so before rebounding to -125. As data digestion occurs, odds are concerns stoked by the initial reactions will fade as well
With market anxiety still running higher compared to this time last year or even just six months ago, I expect the market to cue off the major economic data points to be had in the coming weeks building to the Fed's next FOMC meeting on March 20-21. As I pointed out on this week's podcast, at that meeting we'll get the Fed's updated economic forecast and I expect that will have chins wagging over the prospects of three or four rate hikes to be had in 2018.
In the meantime, I'll continue to look for opportunities like I saw with Paccar (PCAR) shares on Monday, and avoid pitfalls like the one I mentioned yesterday with Big Five Sporting Goods (BGFV). And for those wondering, per the January Retail Sales Report, sporting goods sales 7.1% in January. Ouch! And yes, I always love it when the data confirms my thesis.
Our price target on Paccar (PCAR) shares remains $85
Waiting on Applied Materials Earnings Announcement
After today's market close, Applied Materials (AMAT) will share its latest quarterly results, and update its outlook. As crucial as those figures are, in recent weeks we've heard positive things from semi-cap competitors, which strongly suggests Applied should deliver yet another good quarter and a solid outlook. Buried inside those comments, we'll get a better sense as to the vector and velocity for its products, both for chips as well as display equipment.
Those comments on the display business will also serve as an update for the currently capacity constrained organic light emitting diode market, one that we watch closely given the position in Universal Display (OLED) shares on the Tematica Investing Select List. I see this morning's announcement by Universal that it successfully extended its agreement with Samsung though year-end 2022 with an optional 2-year extension as reminding investors of Universal's position in the rapidly growing technology. With adoption poised to expand dramatically in 2018, 2019 and 2020, I continue to see OLED shares as a core Disruptive Technologies investment theme holding.
Our price target on Applied Materials (AMAT) shares remains $70
Our price target on Universal Display (OLED) shares remains $225
Should We Be Concerned About UPS Amid Amazon Announcement?
Several paragraphs above I mentioned United Parcel Service (UPS) shares, and as one might expect the headline reception to the January Retail Sales Report has them coming under further pressure this morning. That adds to the recent news that our own Amazon (AMZN) would be stepping up its business to business logistics offering and competing with both UPS and FedEx (FDX). Of course, this will take time to unfold, but these days the market shoots first and asks questions later. At the same time, we are entering into a seasonally slower time of year for UPS, and while yes consumers will continue to shift toward digital shopping as we saw in today's retail sales report, the seasonal leverage to be had from the year-end holidays is now over.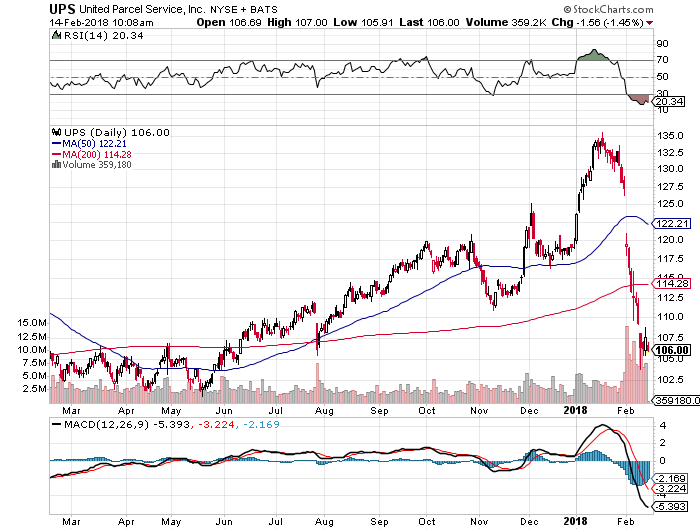 While it may sound like we are getting ready to give UPS shares the ol' heave ho', along with the February market gyrations, it's been a quick ride to the $106 level from $130 for UPS shares, and this has placed them into the oversold category. From a share price perspective, the shares are back to levels last seen BEFORE both the 2017 Back to School and year-end holiday shopping seasons. With prospects for digital shopping to account for an even greater portion of consumer wallets in 2018 and 2019 vs. 2017, we're going to be patient with UPS shares in the coming months as we wait for the next seasonal shopping surge to hit.
Our long-term price target on UPS shares remains $130.