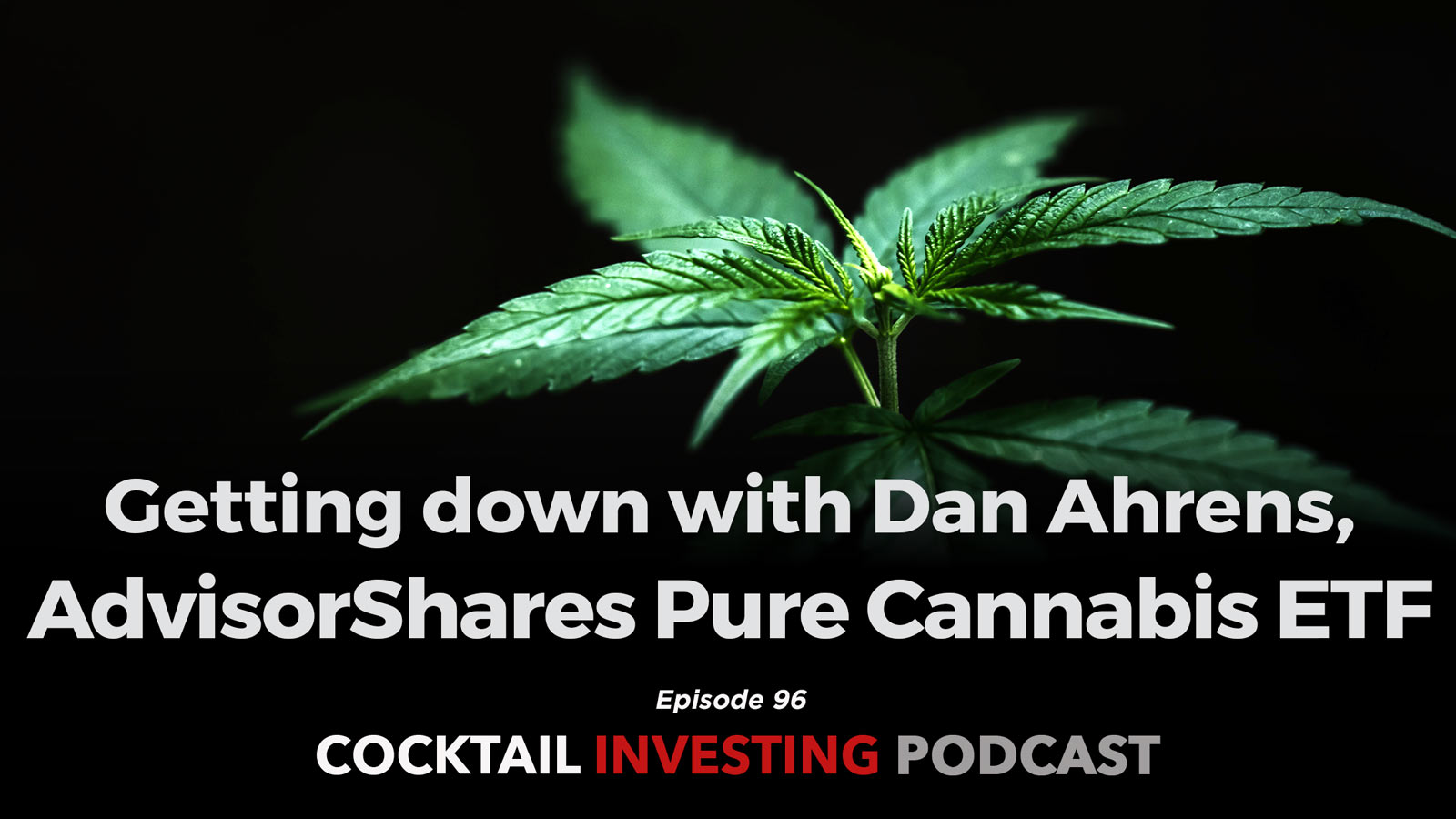 Tags:

(ACB) AURORA CANNABIS INC, (ALEF) ALEAFIA HEALTH INC, (APHA) APHRIA INC, (ARNA) ARENA PHARMACEUTICALS INC, (CARA) CARA THERAPEUTICS INC, (CGC) CANOPY GROWTH CORP, (CRBP) CORBUS PHARMACEUTICALS HOLDINGS, (CTST) CANNTRUST HOLDINGS INC, (EMH) EMERALD HEALTH THERAPEUTICS, (FIRE) SUPREME CANNABIS CO INC, (GNLN) GREENLANE HOLDINGS, (HEXO) HEXO CORP, (IIPR) INNOVATIVE INDUSTRIAL PROPERTIES, (KHRN) KHIRON LIFE SCIENCES CORP, (NEPT) NEPTUNE WELLNESS SOLUTIONS, (NTEC) INTEC PHARMA LTD, (OGI) ORGANIGRAM HOLDINGS INC, (RIV) CANOPY RIVERS INC, (TGOD) GREEN ORGANIC DUTCHMAN HOLDINGS, (TLRY) TILRAY INC, (VFF) VILLAGE FARMS INTERNATIONAL, (WMD) WEEDMD INC
note: no comments
On today's podcast, we sit down with Dan Ahrens, the portfolio manager of the AdvisorShares Pure Cannabis ETF (YOLO), the first actively managed ETF with a dedicated cannabis investment mandate domiciled in the United States. Dan is no stranger to the investing in vice stocks (tobacco, gaming, alcohol) and he is bringing that experience and due diligence acumen to this Cannabis focused ETF. Unlike most ETFs, Pure Cannabis is actively managed, and Dan explains the reasons for that as well as the benefits it can bring to an ETF. During the podcast, Dan talks not only several of the ETF's top holdings, but also how he sees the long game playing in the cannabis opportunity.
Have a topic or a conversation you think we should tackle on the podcast, email me at cversace@tematicaresearch.com
And don't forget to subscribe to the Cocktail Investing Podcast on iTunes!
Resources for this podcast:
PURE CANNABIS ETF (YOLO) HOLDINGS AS OF MAY 8, 2019
(OGI) ORGANIGRAM HOLDINGS INC, (TGOD) GREEN ORGANIC DUTCHMAN HOLDINGS, (APHA) APHRIA INC, (CTST) CANNTRUST HOLDINGS INC, (IIPR) INNOVATIVE INDUSTRIAL PROPERTIES, (HEXO) HEXO CORP, (CARA) CARA THERAPEUTICS INC, (CGC) CANOPY GROWTH CORP, (ACB) AURORA CANNABIS INC, (VFF) VILLAGE FARMS INTERNATIONAL, (NEPT) NEPTUNE WELLNESS SOLUTIONS, (TLRY) TILRAY INC, (EMH) EMERALD HEALTH THERAPEUTICS, (CRBP) CORBUS PHARMACEUTICALS HOLDINGS, (ALEF) ALEAFIA HEALTH INC, (FIRE) SUPREME CANNABIS CO INC, (,) GREENLANE HOLDINGS, (WMD) WEEDMD INC, (ARNA) ARENA PHARMACEUTICALS INC, (KHRN) KHIRON LIFE SCIENCES CORP, (NTEC) INTEC PHARMA LTD, (RIV) CANOPY RIVERS INC, (ZYNE) ZYNERBA PHARMACEUTICALS INC