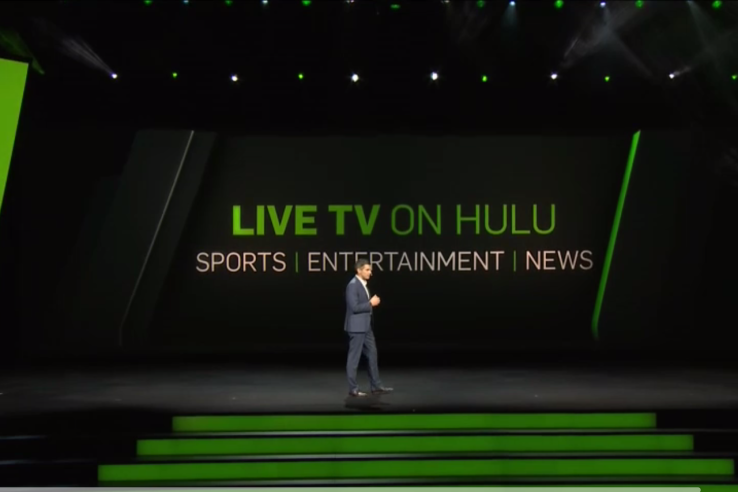 Tags:

$MA, ABC Television, AT&T, DirecTV, DirecTV Now, DIS, Disney, ESPN, Fox, FOXA, Hulu, T, Time Warner, TWX
note: no comments

The race to replace broadcast TV with streaming services has become even more competitive with Hulu tossing it's hat in the ring alongside the soon to be launched DirecTV Now from AT&T that is likely to benefit from the announced Time Warner acquisition. To drive viewers, it's all about the content and increasingly proprietary content like we're increasingly finding at Netflix and Amazon. While the Disney relationship brings ESPN into its fold, it sounds to us like Hulu needs to get that balance sheet going.
Hulu said today it has partnered with Disney and 21st Century Fox for its upcoming live TV streaming service, launching next year. The deals involve Fox's news, entertainment, sports, and other properties, along with Disney's portfolio of networks from is ABC Television Group and ESPN, among other things. In total, the two agreements will bring more than 35 TV networks to Hulu's live TV service.What this means for consumers who are considering cutting the cord with pay TV is that they'll gain access to two of the top broadcast networks, Fox and ABC, on Hulu's new streaming platform.In terms of sports, the two deals will include Fox Sports networks (Fox Sports 1 and 2), BTN, ESPN networks, including ESPN1, ESPN2, ESPN3, ESPNU, ESPN-SEC, and Fox's regional sports networks in dozens of markets. Meanwhile, other popular cable TV channels will also be included, like Disney Channel, Disney XD, Disney Junior, Fox News, Fox Business, Freeform, FX, FXX, FXM, National Geographic and Nat Geo Wild.
Source: Hulu's live TV streaming service will have channels from Fox & Disney, including ABC, ESPN & more | TechCrunch