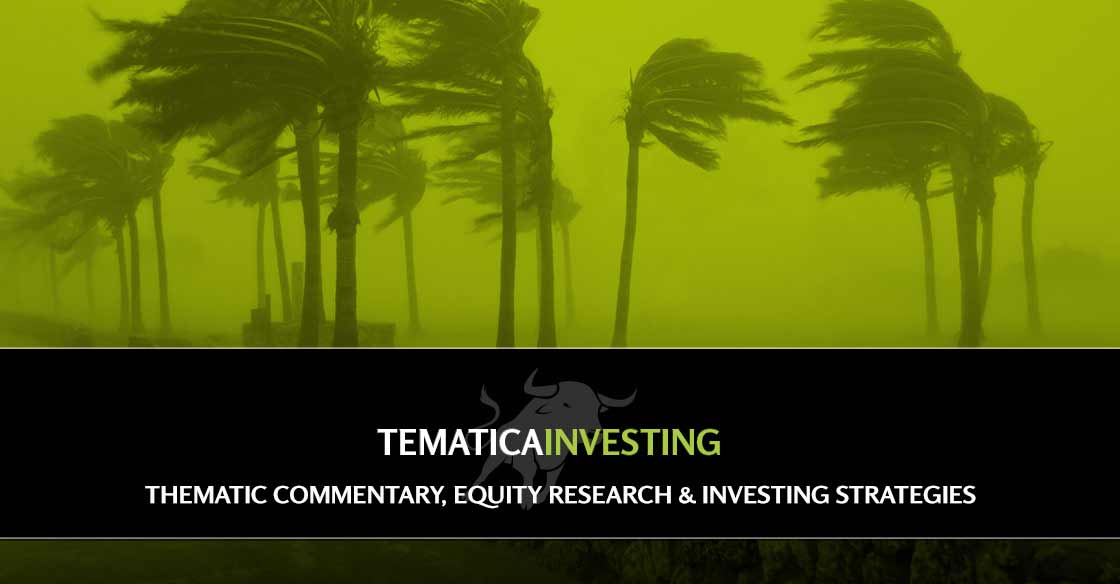 Alright, alright, alright! Welcome back from the last bit of summer vacation, and it's back to business for companies and stocks. We've moved from sleepy August to September, historically one of the most volatile months for stocks. Over the last few weeks, we've chin-wagged quite a bit over the items that could disrupt the market, but as happens from time to time, something appears out of thin air that is an unexpected disruptor. Last week that was the damage done by Hurricane Harvey, and now we have not just one but potentially two more hurricanes to contend with – Irma and Jose. Also adding to the news mix was the return of North Korea, following its nuclear test over the holiday weekend.
WE KNOW ONE THING SEPTEMBER WILL BRING . . . DRAMA
Normally after the Labor Day weekend, we see trading volume return to normal and the "B-team" that was covering trading desks replaced by the A-team. As they return, those players pore over data and happenings over the last few weeks that they've been away. This helps explain why September tends to be one of the more volatile months for stocks.
Another reason for the September volatility spikes is that in the coming days we're going to see a return of investor conferences, and companies presenting at these events will give their first update since reporting 2Q 2017 earnings back in July. These updates will shape the tone of the second half of the year, and as we've shared previously, expectations call for meaningful EPS growth compared to the first half. In the coming days, we'll start to see if those forecasts are as aggressive as we think they are given the speed of the economy.
We already know that Harvey and Irma will be and near-term economic shock to the system, likely resulting in a meaningful hit to GDP in the current quarter. In the coming days and weeks, we expect to hear retailers, restaurants, insurers, and others that have been impacted by Harvey reset expectations, and that is likely to weigh on the market near-term.  Eventually, we'll see a snap back as rebuilding occurs in the coming months, but that will benefit a different set of companies than those affected. With that in mind, yesterday, we posted our thoughts on what the fallout could mean from the Harvey-Irma combination and shared a who's who of stocks that are likely beneficiaries. With Jose being added to the mix, things could be even brighter for that list of companies we're scoping out.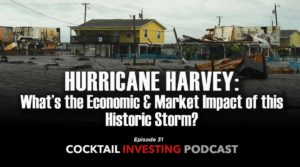 As we wait to see the incremental impact to be had from both Irma and Jose, let's remember something we called out on last week's Harvey focused podcast – the rebuilding effort, including federal relief, could trigger a sooner than expected debt ceiling coverage. Now we're getting wind that the Republican Freedom Caucus is opposed to attaching a funding request for Hurricane Harvey aid to a debt limit increase and on the news that President Trump ended the Deferred Action for Childhood Arrivals (DACA) program. There has been no shortage of DC drama these last several weeks, and as we noted a few weeks ago, and with the debt ceiling discussion and tax reform taking center stage that DC drama is likely to extend its current run in the center ring.
We see this a one drama replacing another, with the one replaced being the Fed's expected September balance sheet unwinding. In our view, following the near-term economic impact by Harvey and potentially the other hurricanes odds are the Fed will hold off with its balance sheet unwinding for a few more months. Even Federal Reserve Governor Lael Brainard argued this week the economic effects of Hurricane Harvey "raise uncertainties about the economic outlook for the remainder of the year" and argued for "a wait-and-see approach" before raising rates again. We've already seen another push out in rate hike expectations, and as balance sheet unwinding slips closer to the end of the year we'll likely see yet another push out for the next Fed rate hike as well.
Putting these pieces together – hurricanes and the GDP impact, ongoing DC drama, and companies poised to reset guidance – it's no surprise we've seen the Volatility Index perk up yesterday. Again, as the A-team on Wall Street has returned to their saddles. Most likely this means a thorough going over with an extra eye on risk management, as the herd looks to lock in profits.
We'll be doing the same – revisiting thematic data points that reside in our own Thematic Signals and elsewhere – to do a review of positions on the Tematica Select List. As you saw with our recent exit of Dycom (DY) shares, we're not ones to fall in love with the positions, but as you saw yesterday when we added to Costco (COST) shares when we see a mismatch between fundamentals and stock price performance, we'll take action.
Thematic Data points this week — Apple & Universal Display
We have no companies reporting earnings this week, but we will be looking at thematic data points found in results from Safety & Security company American Outdoor Brands (AOBC), Cashless Consumption contender VeriFone (PAY) and Affordable Luxury company Restoration Hardware (RH). Next Tuesday, September 12th, Apple (AAPL) is set to take the wraps off its next iPhone iteration and this means we'll finally get the official word on Apple's use of organic light emitting diode displays. As we recently cautioned, there tends to be much build up ahead of these Apple events, and there is a history in the post-Steve Jobs era of them underwhelming. If that happens, we could see shares of Disruptive Technology position Universal Display (OLED) come under some pressure. Given the accelerating adoption of the technology across a variety of applications beyond smartphones, we would view any pullback as an opportunity.
At current levels, subscribers should "Hold" Universal Display (OLED) shares rather than commit fresh capital.
Our price target remains $135, but given expanding market applications for its products and licensing business, we're inclined to be owners of the shares for the medium to longer term.
Be sure to check the website as well as your email for updates and other alerts as we share more thematic insights and actions during the week.