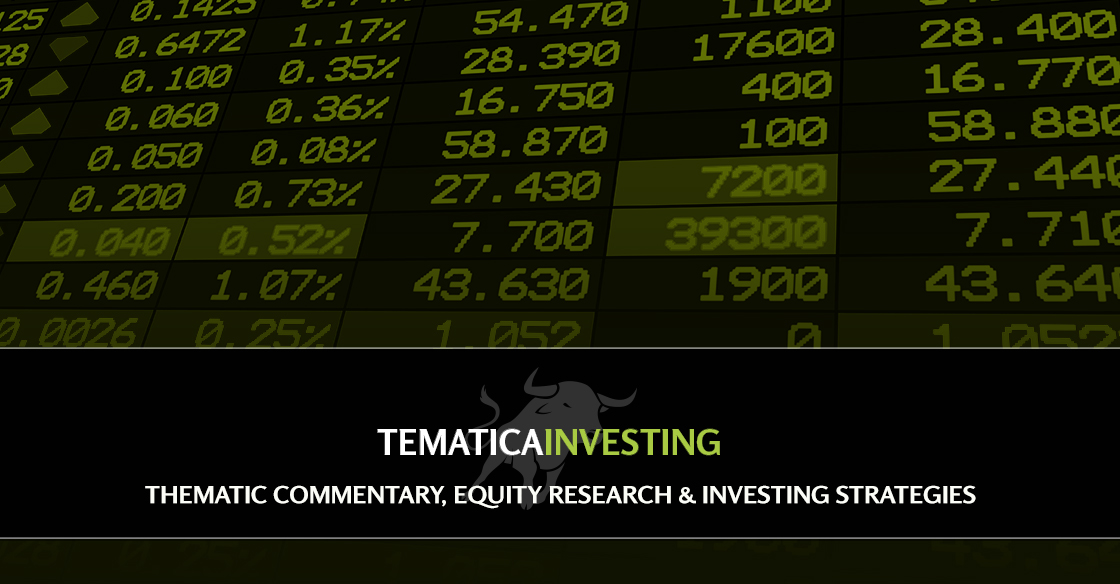 To say the last several days have been the roughest in recent memory is somewhat of an understatement. This is what happens when we have a wide swing in investor sentiment due to a confluence of concerns. We've talked about them over the last several weeks —  from signs of a slowing US economy to the impact of rising Treasury yields; growing signs of inflation that is questioning the Fed's velocity of rate hikes, what that may mean for both consumer and corporate borrowings, and subsequent spending; more pain at the gas pump to what looks to be even more escalation in tariffs between the US and China, and Italy-Eurozone concerns – and they are coming home to roost just as we step into the meaty part of the September quarter earnings season.
The question that is likely crossing most investors' mind is "What will all of this mean when companies issue their outlooks for the December quarter in the coming days and weeks?"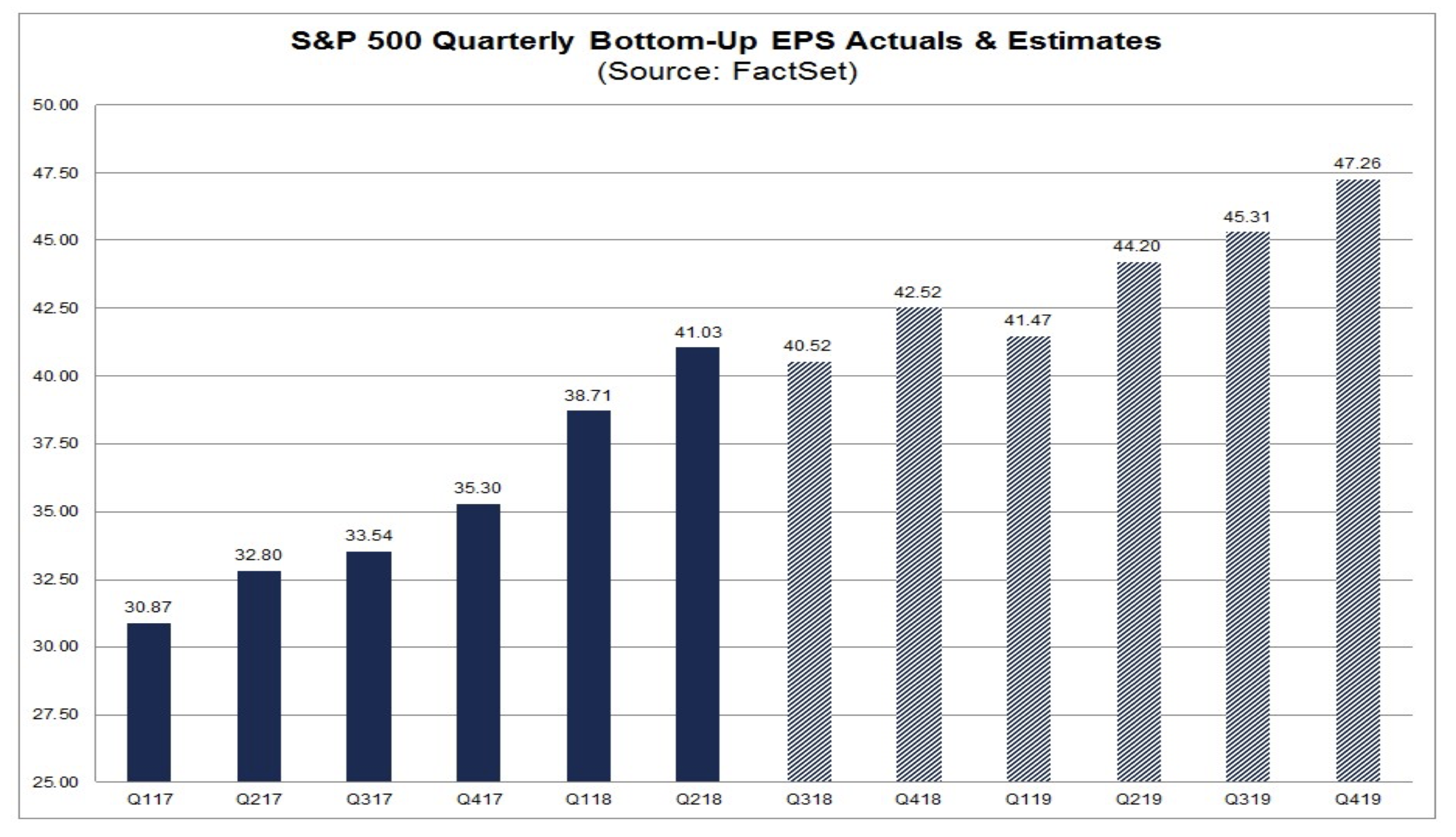 The concern that I've voiced is these factors — such as rising input costs and higher freight costs — are likely to lead companies to issue more cautious guidance than the market had been expecting, which called for more than 20% EPS growth year over year in the December quarter. As investors put pencil to paper (or these days, fingers to keys working Excel spreadsheets), they will be adjusting forecasts as comments on demand, input costs and interest costs are had.
We are seeing this weigh on stocks almost across the board, but especially on those like Facebook (FB), Apple (AAPL), Netflix (NFLX) and Alphabet (GOOGL), better known as the FANG stocks, and other high-flying growth stocks like them. Compounding matters is the fact that we are in the blackout period for stock buyback programs, which means companies are not able to step in and repurchase shares, which tends to add some support to stock prices. Also, not helping is the modest level of cash on the sidelines of institutional investors, which stood at 5.1% in September according to the most recent Bank of America Merrill Lynch's monthly fund manager survey.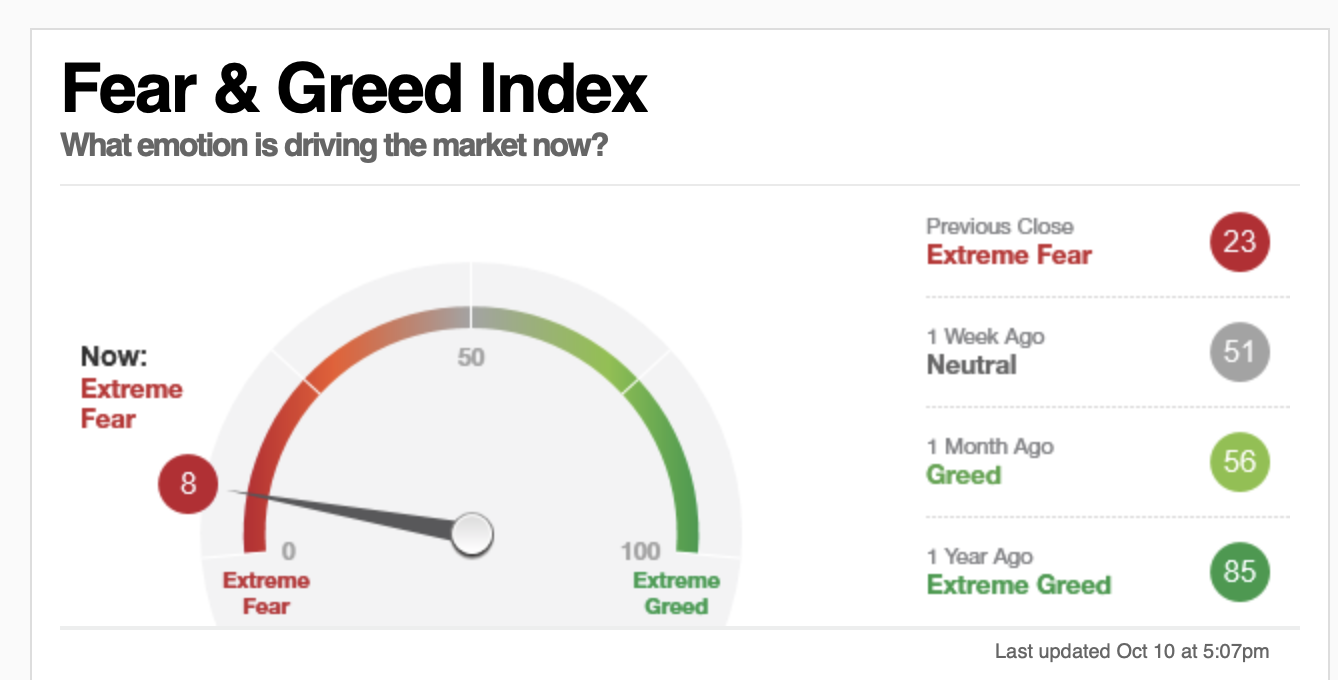 The sharp selloff of the last few days has stoked investor fears, marked by the CNN Money Fear & Greed Index hitting 8 (Extreme Fear) vs. 56 (Greed) a month ago. When we see such pronounced shifts to the negative with investor behavior more often than not we get a "shoot first, ask questions later." Fun times, and yes that was sarcasm.
To sum up, we have a number of concerns hitting the market that is causing investors to question prior expectations at a time when backstops to falling share prices are limited. Odds are this is going to play out over at least the next several days as corporate earnings get hot and heavy, and the market trades on the next economic data point. Today we say the domestic stock market futures recover on a tame relative to expectations September CPI report, but yesterday's September PPI report that once again showed core PPI prices were up 2.9% year over year fueled the Wednesday selloff.
What's Our Thematic Strategy?
For now, our strategy will be to sit on the sidelines building our shopping list and listening to a wide swath of corporate earnings as well as new thematic data points to update our investing mosaic as we wait for less turbulent waters. This also means looking for opportunistic price points to improve our positions on both the Thematic Leaders as well as the Select List. I'll continue to focus on those companies that are riding the might of thematic tailwinds, asking questions like "Where will the company's business be in 12-18 months as these tailwinds and its own maneuverings play out?"
A great example is Amazon (AMZN), which as you know continues to benefit from the Digital Lifestyle investment theme primarily and the shift to digital shopping, as well as cloud adoption, which is part of our Digital Infrastructure theme. And before too long, Amazon will own online pharmacy PillPack and become a key player in our Aging of the Population theme. Amid the market selloff, however, the company continues to improve its thematic position. First, a home insurance partnership with insurance company Travelers (TRV) should help spur sales of Amazon Echo speakers and security devices. This follows a similar partnering with ADT (ADT), and both arrangements mean Amazon is indeed focused on improving its position in our Safety & Security investing theme. Second, Bloomberg is reporting that Amazon Web Services has inked a total of $1 billion in new cloud deals with SAP (SAP) and Symantec (SYMC). That's a hefty shot in the arm for the Amazon business that is a central part of our Digital Infrastructure theme and is one that delivered revenue of $6.1 billion and roughly half of the Amazon's overall profits in the June 2018 quarter.
At almost the same time, Alphabet/Google (GOOGL) announced it has dropped out of the bidding for the $10 billion cloud computing contract with the Department of Defense. Google cited concerns over the use of Artificial Intelligence as well as certain aspects of the contract being out of the scope of its current government certifications. This move likely cements the view that Amazon Web Services is the front-runner for the Joint Enterprise Defense Infrastructure cloud (JEDI), but we can't rule our Microsoft or others as yet. I'll continue to monitor these developments in the coming days and weeks, but winning that contract would mean Wall Street will have to adjust its expectations for one of Amazon's most profitable businesses higher.
Those are a number of positives for Amazon that will play out not in the next few days but in the coming 12-18+ months. It's those kinds of signals that I'll be focused on even more so in the coming days and weeks.
Tomorrow we will see several banks report their September quarter results, and they will offer ample insight into not only the economy and demand for capital but default rates and other warning indicators. Odds are they will also share their views on interest rates and prospects for forthcoming action by the Fed. As I digest those insights, I'll also be reading Tematica Research's ® Chief Macro Strategist Lenore Hawkins' latest global macro thoughts and market insights. If I think it's a must read, my suggestion is you should be reading it as well. Also, on this week's podcast, which will be published shortly, Lenore and I talk about all of this so if you're looking for a more in-depth discussion and a few laughs along the way, I'd recommend you check it out.