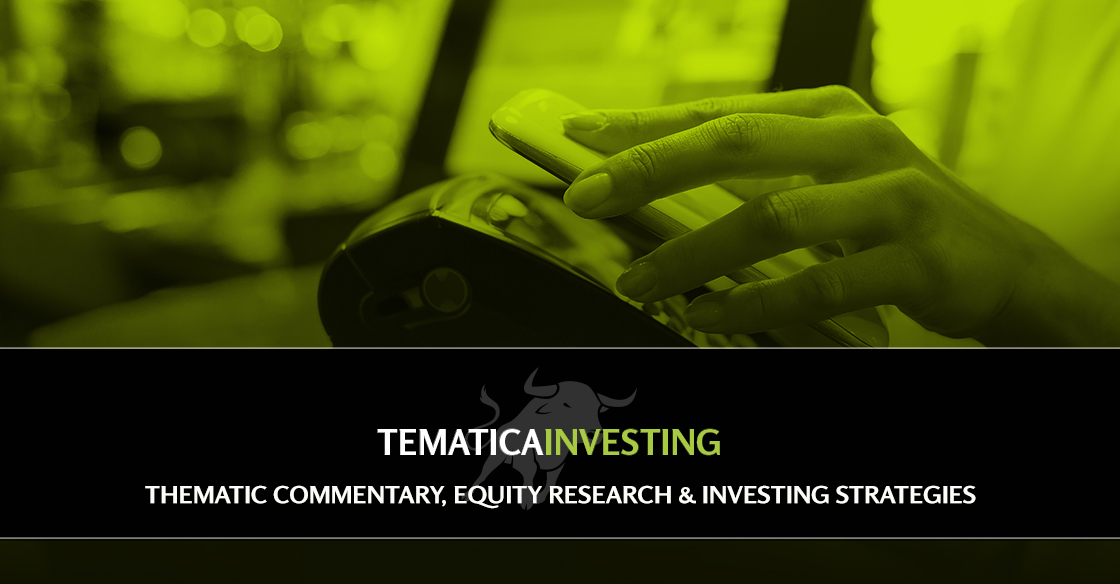 in: Aging of the Population,Digital Infrastructure,Digital Lifestyle,Disruptive Innovators,Guilty Pleasures,Tematica Investing

Tags:

Altria, Amazon, AMN, AMN Healthcare, AMZN, Chipotle Mexican Grill, CMG, JUUL, Juul Labs, MO, netflix, NFLX, USA Technologies, USAT
note: no comments
Key points inside this issue
Despite the stock market's year to date gains, concerns remain for December quarter earnings season
Thematic M&A was rampant in 2018
Our price targets on AMN Healthcare (AMN), Chipotle Mexican Grill (CMG) and Netflix (NFLX) remain $75, $550 and $500, respectively.
Putting shares of Guilty Pleasure thematic leader Altria (MO) on watch
We are issuing a Buy on and adding back shares of Digital Infrastructure company, USA Technologies (USAT), to the Tematica Select List with a price target of $10.
Despite the stock market's year to date gains, concerns remain for December quarter earnings season
Over the last week, stocks continued to move higher placing all the major domestic stock market averages higher. Quite the turn from what we saw in much of the December quarter that evaporated all of 2018's gains. Part of the rebound reflects the harsh beating that many stocks received as investors came to grips with the various factors that I've been discussing here over the last two months. The down and dirty summation of those factors is this: the global economy continues to slow and it is raising questions over not only GDP prospects for the coming year but also earnings.
Stoking those earnings growth concerns were negative pre-announcements from Apple (AAPL), Samsung, LG, Macy's (M), Target (TGT) and Kohl's (KSS) over the last two weeks. That combination points to slower smartphone demand, but I continue to see it picking up in the coming quarters as the Disruptive Innovation that is 5G ripples its way across our Digital Infrastructure and Digital Lifestyle investing themes.  This week we can add Delta Airlines (DAL), Dialog Semiconductor (DLGNF), Nordstrom (JWN), Electronics for Imaging (EFII), Sherwin Williams (SHW) and Ford Motor Company (F) to that list as well as earnings misses from Wells Fargo (WFC), BlackRock (BLK) and others. Not exactly a vote of confidence for the December quarter earnings season.
Adding fuel to the uncertainty, this morning rail company Genesee & Wyoming (GWR) reported traffic volumes for December fell 4.8% year over year. That piles on the limited data we are getting, which included the January reading for the Empire State Manufacturing Survey General Business Conditions Index that fell to 3.9 from 11.5 in December. That drop was led by a deceleration in new orders, inventories, and the number of employees. The survey's six-month outlook also dropped, falling to 17.8 from 30.6 last month. These data points fit the view that there is a slowdown in manufacturing activity, which has piqued concerns about a broader slowdown in economic activity unfolding in 2019.
On top of that, yesterday Sen. Chuck Grassley said U.S. Trade Representative Robert Lighthizer saw little progress on "structural issues" in last week's talks with China. These issues include intellectual property, stealing trade secrets, and putting pressure on corporations to share information with the Chinese government and industries. These issues are the very ones I was concerned about in terms of the trade negotiations. With China cutting its growth forecast some days ago to 6% from 6.5% and more data pointing to that economy cooling, there is likely room for the trade talks to include those issues, but my concern remains the ticking timeline until tariffs jump further. If that comes to pass, it would be another headwind to the global economy and corporate earnings for the coming quarters.
Given all of that, I remain concerned with the December quarter earnings season that will kick into gear next week and what it could do for the stock market's recent rebound. We'll continue to keep the long position in ProShares Short S&P 500 (SH) in play as we watch and listen to the thematic signals we see. One great thematic signal this week for our Guilty Pleasures investing theme is that Pizza Hut, owned by Yum Brands (YUM) is expanding beer delivery to 300 restaurants across seven states later this month. Amazing to think that only now Pizza Hut is realizing one of the great culinary pairings of Pizza and beer as it looks to offer customer one-stop shopping as well as capture that incremental revenue and profits. Odds are there will be some element of our Digital Lifestyle theme at play, given the push toward mobile orders we are seeing across the restaurant industry. Now to see what beer they offer… hopefully, it will be more than just the big brand beers like Budweiser.
Another signal that points to the bleeding over of our Digital Lifestyle, Disruptive Innovators and Aging of the Population themes is the partnering between Walgreens Boots Alliance (WBA) and Microsoft (MSFT). Over the next several years, the two will research and develop new methods of delivering healthcare services through digital devices, including virtually connecting people with Walgreens stores.
We at Tematica see thematic signals for our 10 investing themes practically everywhere… and that means we will continue using them to build and refine our investing mosaic in the days, weeks and months ahead. As we navigate the next few weeks, we may have a change or two on the Thematic Leaders and a few companies that make it onto the Contender List for when the stock market finds its footing.
Thematic M&A was rampant in 2018
Over the last two weeks, we here at Tematica have been reviewing the thematic database of more than 2,400 stocks that we've ranked based on their exposure to our 10 investment themes. That was no small project let me tell you, and it was a key initiative for 2018. In looking back over that body of work, I noticed more than a dozen companies that were in the database at the start of last year had been acquired during the second half of 2018. Here's a short list of what I'm talking about:

As you can see, the acquisition activity was spread across a number of our themes and included both strategic and financial buyers. In each case, the buyer looked to fill a competitive hole be it a product, market or technology. That's the classic finance take on it, but we know those buyers were looking to solidify their exposure to the thematic tailwinds that are powering their businesses or in some cases expose themselves to another one.
Are we likely to see more thematically based M&A in the coming months?
My view is yes, particularly as the global economy slows and companies look to deliver top and bottom line growth be it on an organic or acquired basis.
Adding back shares of Digital Infrastructure company USA Technologies
Today I am calling shares of mobile payments company, USA Technologies (USAT),  back onto the Tematica Select List following news earlier this week about the results of an internal investigation into its accounting practices. You may recall that last year, USAT shares were a high flyer for the Select List. However, upon learning that the USAT board would conduct an internal investigation into the accounting of certain of its present and past contractual arrangements and its financial reporting controls and would miss filing the company's 10-K, we smartly jettisoned the shares near $10.25 last September.
We had been trimming the position at higher levels near $14 in the preceding months, but in light of those developments we "got out of Dodge", so to speak, and did not stick around for the free fall to $3.44 by early December. While we continued to see growing adoption of mobile payments, especially at USAT's core market of vending machines and unattended retail, we also saw the stock price pain associated with these investigations and potential financial restatements. "No thanks" was my thinking.
The company on Monday announced both the findings of its internal investigation and remedial actions to be implemented by the board. It also shared that it is working to file its 10-K as soon as possible and disclosed the departures of both its chief financial officer (CFO) and chief services officer (CSO). In tandem with those announcements, USAT also shared it is in negotiations for a new CFO.
In terms of the investigation and the planned responses, the company's Audit Committee found that, for certain transactions, USAT had prematurely recognized revenue and, in some cases, the reported number of connections associated with the transactions under review. The committee went on to recommend the company enhance its internal controls and its compliance and legal functions; expand its public disclosures; and consider appropriate employment actions related to certain employees as well as splitting the roles of chairman and CEO.
These measures, along with the departure of the CFO and CSO, are not surprising, but they do put USAT on the path to restoring investor confidence in its reporting. While this investigation was happening the market for mobile payments continued to be on a tear as companies such as PepsiCo (PEP) inked a new five-year agreement with USAT.
Clearly, there is more work to be completed, and there is the risk that we are re-entering these shares on the early side. However, as we have seen in the past, as these clouds lift investors will focus on the tailwinds of the business, which in this case are centered on mobile payments and are improving. Therefore, we will resume ownership of USAT shares and look to scale on potential stock price weakness when the company formally restates its revenue and other key metrics. Better a bit early than too late is my thinking on this one.
Our previous price target on USAT shares was $16. However, we should prudently assume that several of the underlying financial metrics will be restated lower. Consequently, I'm taking a haircut relative to our prior target and putting out a new price target of $10. As the company releases its updated financials, I'll look to fine-tune that price target as needed
We are issuing a Buy on and adding back shares of Digital Infrastructure company, USA Technologies (USAT), to the Tematica Select List with a price target of $10.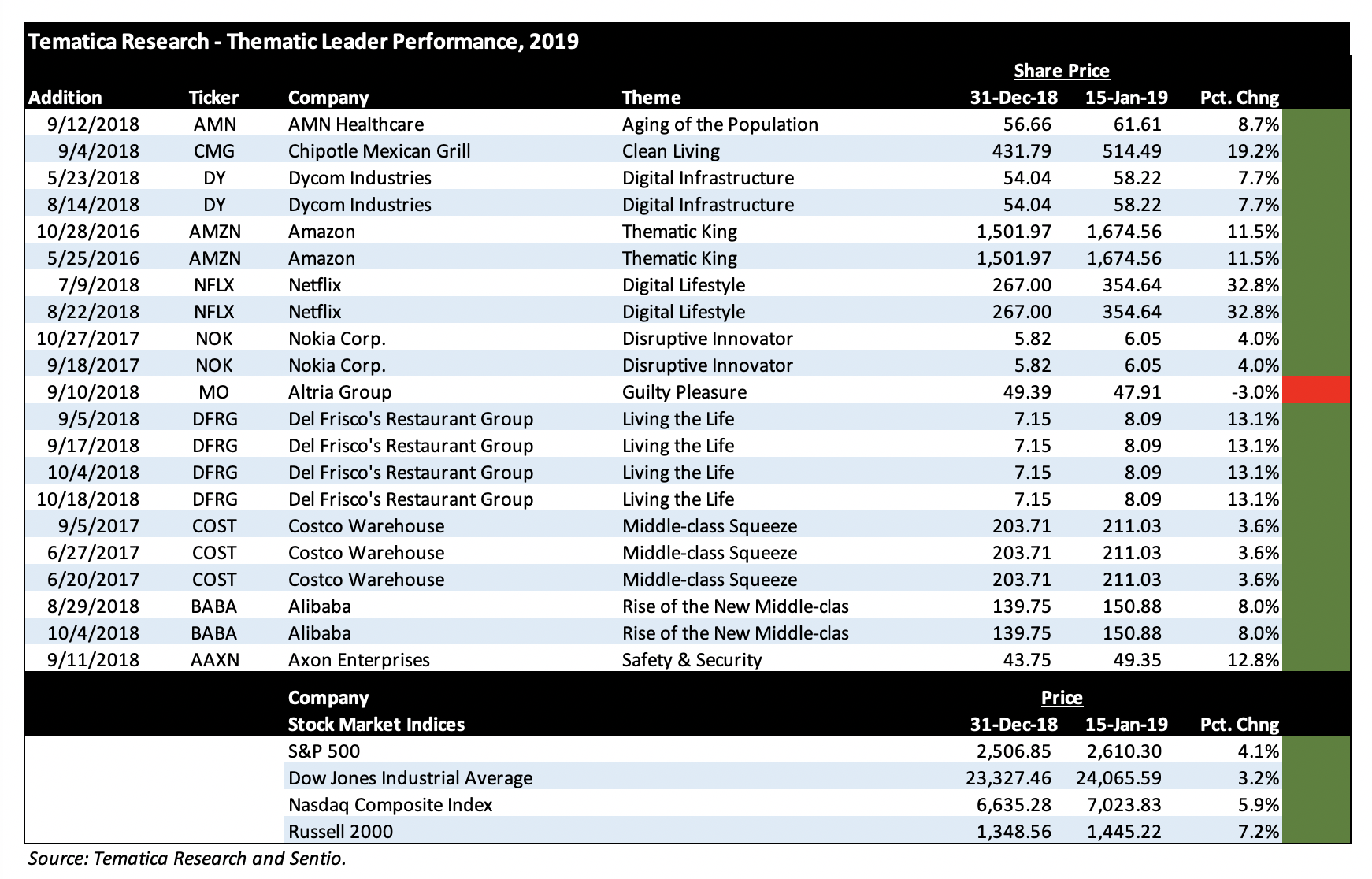 The Thematic Leaders
As the stock market moved higher week over week as of last night's close, we saw several Thematic Leaders move higher. These included Aging of the Population leader AMN Healthcare (AMN), and Clean Living leader Chipotle Mexican Grill (CMG) as well as Thematic King Amazon (AMZN). The big winner, however, was Digital Lifestyle leader Netflix (NFLX), which yesterday announced it would boost prices for its monthly memberships by 13% to 18%. This marks the company's biggest price increase and I suspect was well thought out by the management team, given the increasingly competitive playing field. That price increase should drive Wall Street's revenue expectations higher and improve its ability to not only spend on proprietary content but also its ability to service its quarterly debt costs.
Our price targets on AMN Healthcare (AMN), Chipotle Mexican Grill (CMG) and Netflix (NFLX) remain $75, $550 and $500, respectively.
Putting Altria shares on watch
Even though we're just a few weeks into 2019, shares of Guilty Pleasure leader Altria have been underperforming on both an absolute basis and a relative one compared to the S&P 500. Weighing the shares down are questions over its ability to recoup the $12.8 billion investment for a 35% stake, in e-vapor market leader Juul Labs (JUUL). While this is part of the company's efforts to reposition itself, given prospects for continued declines in its core tobacco market, complicating things is the FDA's move to stub out youth access to e-vapor and flavored cigarettes.
Odds are this will take several years to come about but it raises questions as to whether Altria is trading one shrinking market for another. Candidly, I would have preferred Altria take that $12.5 billion and spread it across several cannabis investments. I'll continue to be patient for now with this thematic leader, however, I'll be looking at several in the coming days that could offer a far better risk to return tradeoff.