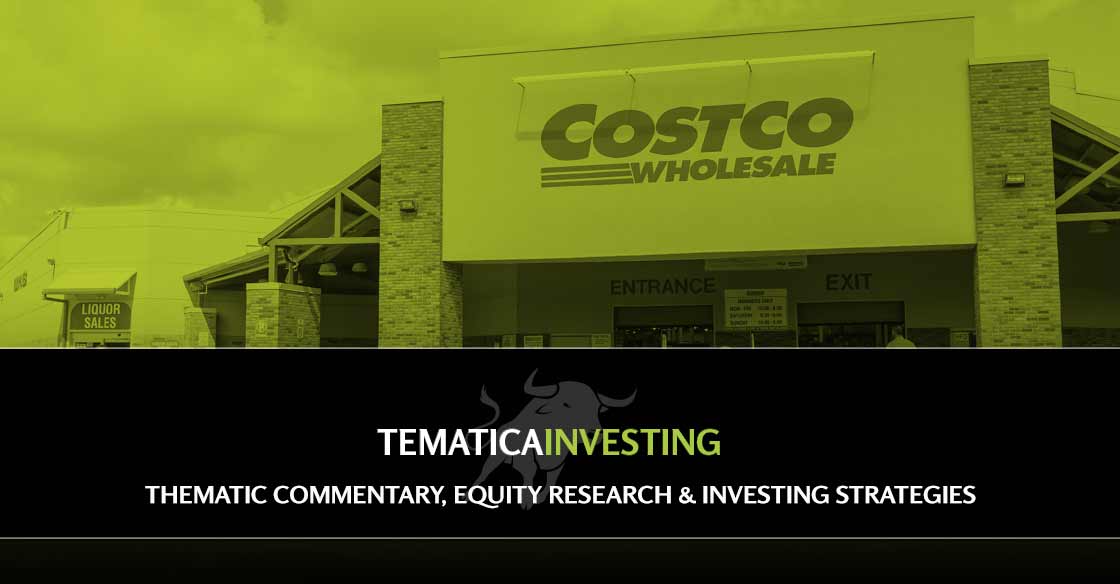 Tags:

Alibaba, Amazon, Apple, Axon Enterprises, AXXN, BABA, China, Chipotle Mexican Grill, CMG, Congress, Costco, Del Frisco's, Disney, ETFs, Hulu, InsideETF, Lending Tree, LendingClub, netflix, Trade
note: no comments
Key points inside this issue
Stocks continue to melt higher on hopes, but details will matter in the end
Our price target on Middle-Class Squeeze company Costco Wholesale (COST) remains $250.
Netflix: Mark your calendars for Apple and Disney events
Taking a look at LendingClub (LC) shares as consumer debt climbs
Sorry, we're a day late with your weekly issue. I'm just back from InsideETFs 2019, the industry event for the exchange-traded (ETF) industry. This isn't the first time I've attended the event, and attendees continue to hear about the uptake of ETFs, as well as the growing number of differentiated strategies to be had. Some, in my opinion, are faddish in nature, looking to capture assets even though their strategies may not be ones that survive more than a few years. We've got a long issue this week, so I'll suffice to say that such ETFs are not thematic investing, but rather trend investing and we're already starting to see several of those older trend products being repositioned to something else.
As we close out this week, we'll be halfway through the first quarter of 2019. Hard to believe, as we have yet to go through the swarm earnings reports from retailers, but it's true. Given what appears to be the rollbacking of items that weighed on the stock market during the last few months of 2018, we've seen all the major stock market indices rebound hard, even though the global economy continues to slow. Once again, this has made the US the best house in the neighborhood, which has likely bid up assets and made the dollar a headwind to multinational companies in the process. As we are fonding of saying, the devil is in the details and that includes any would be progress on US-China trade and Congress with immigration reform. We remain cautiously optimistic, especially on the China trade front, but recognize that more time is likely to be needed until a Trump-sized "big deal" can be reached.
As we get set for the second half of the quarter, we here at Tematica will continue to not only watch the data and our Thematic Signals to assess what's the next likely step for the market from here, but also the happenings in Washington on trade and infrastructure.
Tematica Investing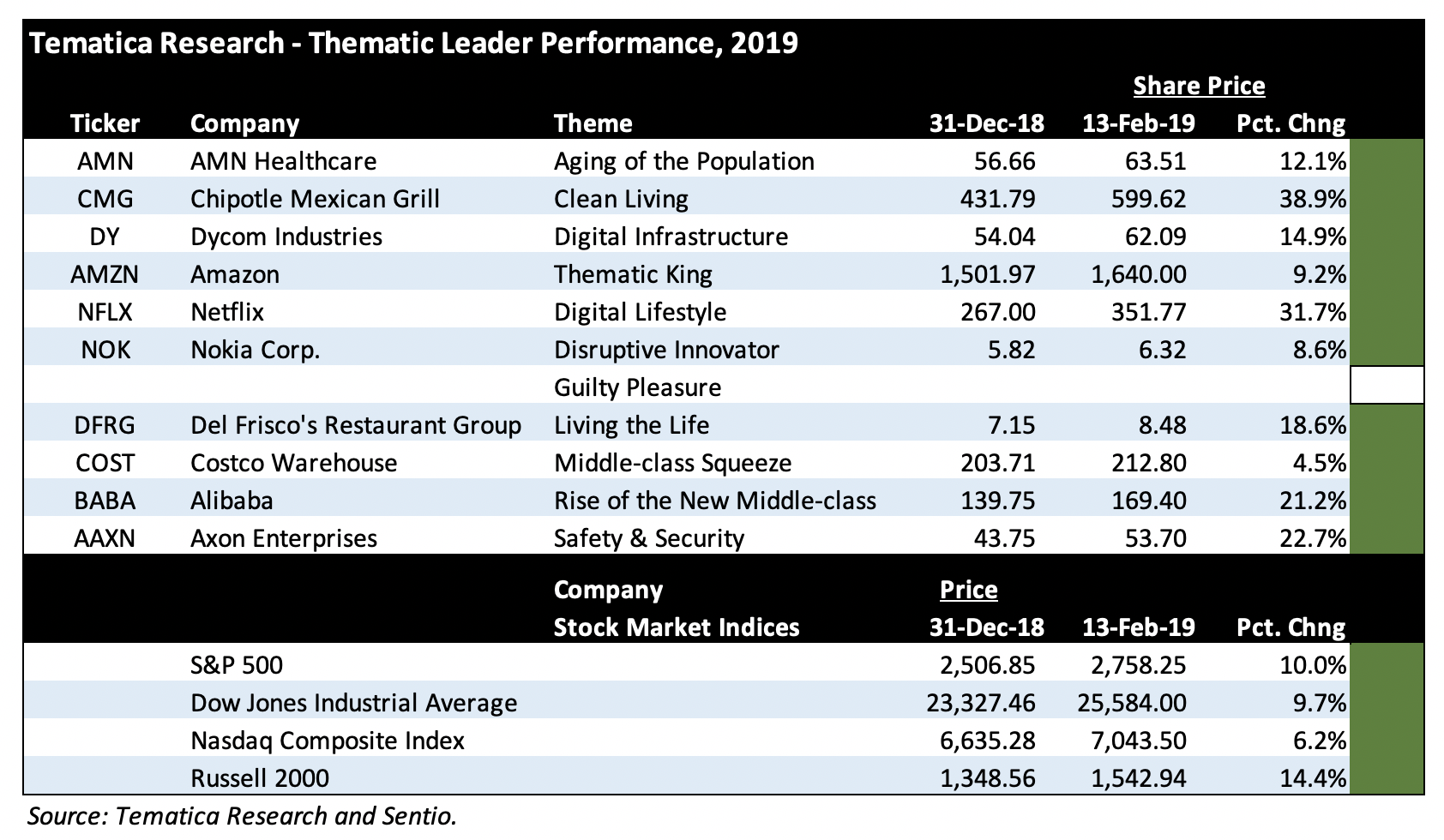 Odds are, the Thematic Leaders have seen some lift from the sharp rebound in the market thus far in 2019. As we can see in the chart above, several of them are going gangbusters, including Chipotle Mexican Grill (CMG), Netflix (NFLX), Alibaba (BABA) and Axon Enterprises (AXXN). This morning we'll get the first Retail Sales report since before the federal government shutdown, and in my view, it will more than likely continue to show what it did during all of 2018 – digital shopping taking share and Middle-Class Squeeze leader Costco Warehouse (COST) continuing to win consumer wallet share.
On a reported basis, Costco's January same-store sales rose 6.6% (7.3% excluding the impact of gasoline prices and foreign exchange). Exiting the month, Costco operated 768 warehouse locations vs. 746 this time last year, a 3% year over year, which reflects its stated path to open more locations in 2019, allowing for the steady growth of its high margin membership fee revenue stream. In my view, this lays the groundwork for a favorable earnings report from Costco on March 7, which is also when it will publish its February sales results.
Our price target on Middle-Class Squeeze company Costco Wholesale (COST) remains $250.
Netflix: Mark your calendars for Apple and Disney
While we have our calendars out and are marking them for that upcoming Costco date I mentioned early, let's also circle March 25th, which is the rumored date of Apple's next event. Per the Apple rumor mill, the company will not only showcase its new news subscription service (say that three times), but also unveil its video service as well. This video service falls into the category of one of the best, worst kept secrets, given the number of deals it has inked for original shows and movies. The news subscription service, which is expected to be called Apple News Magazines, comes after Apple acquired Texture, the would-be Netflix (NFLX) of magazines last year.
While we could see a new device or two, this event will be focused primarily on Apple's Services business, which it is using to further its position inside our Digital Lifestyle investing theme.  Much like Proctor & Gamble's (PG) Gillette razor blade business, I would not be surprised if Apple adopts a similar mindset with its devices being the razor that gets replaced periodically, while its far more profitable Services business is the one that people consume on a frequent basis.
Soon after Apple's event, Disney will hold its annual Investor Day on April 11th at which it is expected to unveil its much discussed, but yet to be seen Disney streaming service dubbed Disney+. Given its robust library of films, content, and characters, Disney should not be underestimated on this front, and in my view much like Apple and its Services business, success with Disney+ could change the way Wall Street values DIS shares. Key items to watch will be the Disney+ price point, original content rollout, and subscriber growth.
Stepping back, if one were to argue that we are on the path to a crowd of streaming services between Netflix, Amazon (AMZN), Hulu, CBS, NBC, AT&T (T), and now Apple and Disney, I would have to agree. In many ways, we're heading for cable-TV without the cable box, but on an ala carte basis. While we've argued that consumers will go to where there is great content, the more streaming services there are the more likely we see the proliferation of good or not so good content. The risk they run is that just like cable channels that need to be filled with content, so too will their streaming services. Also too, one unknown is how many services will a person subscribe to? Past a certain point, consumers will balk, especially if all they've succeeded in doing is replicating that high cable bill they sought to originally sought to escape.
Needless to say, I'll be watching the unveiling and uptake of these new services from Apple and Disney with an eye for what it may mean for Digital Lifestyle company Netflix (NFLX). One interesting item to watch will be to see what is actually included in the Disney and Apple services at launch and over time. Both companies are rumored to be working on streaming gaming services as are Microsoft (MSFT) and Alphabet (GOOGL), which to date is something Netflix has resisted at least publicly. If Apple were to bundle a gaming, video and news service along with Apple Music into one digital content bundle, that would offer some consumer wallet leverage over other single, stand-alone services.
Taking a look at LendingClub shares
Earlier this week, Tematica's Chief Macro Strategist Lenore Hawkins posted a Thematic Signal for our Middle-Class Squeeze investing theme following the news that a record 7 million Americans are 90 days or more behind on their auto loan payments. Lenore went on to show some additional data that consumer loans from banks are in contraction mode, which as we know is a sign the US economy is not going gangbusters.
What we are seeing is the consumer looking to get their financial house in order, most likely after ringing up credit card, auto loan and student debt over the last several quarters. A new report from LendingTree (TREE) points to total credit card debt having climbed to more than $1 trillion in under five years, with more people using personal loans to manage existing debt. This has led the amount owed on personal loans to double what it was five years ago and the number of outstanding loans to rise some 50% in the last three years. According to the report's findings, managing existing debt was the most popular reason for a personal loan, representing 61% of all loan requests in 2018. Of that percentage, 39% of borrowers plan to use their loans to consolidate debt, while 22% planned to use it to refinance credit cards.
From a stock detective's point of view, the question to ask is what company is poised to benefit from this aspect of our Middle-Class Squeeze investing theme?
One candidate is LendingClub (LC), which operates an online credit marketplace that connects borrowers and investors in the US. It went public a few years ago and was heralded as a disruptive business for consumers and businesses to obtain credit based on its digital product offering. That marketplace facilitates various types of loan products for consumers and small businesses, including unsecured personal loans, unsecured education and patient finance loans, auto refinance loans, and unsecured small business loans. The company also provides an opportunity to the investor to invest in a range of loans based on term and credit.
Last year 78% of its $575 million in revenue was derived from loan origination transaction fees derived from its platform's role in accepting and deciding on applications on behalf of the company's bank partners. More than 50 banks—ranging in total assets of less than $100 million to more than $100 billion—have taken advantage of LendingClub's partnership program.
LendingClub's second largest revenue stream is derived from investors fees, which include servicing fees for various services, including servicing and collection efforts and matching available loans with capital and management fees from investment funds and other managed accounts, gains on sales of whole loans, interest income earned and fair value gains/losses from loans held on the company's balance sheet.
In the past LendingClub was tainted with uncertainty given several investigations, but in mid-December, it settled with the SEC and DOJ, with the SEC stating:
"The SEC's Enforcement Division determined not to recommend charges against LendingClub Corporation, which promptly self-reported its executives' misconduct following a review initiated by its board of directors, thoroughly remediated, and provided extraordinary cooperation with the agency's investigation."
The SEC's comments are a positive affirmation of the company's internal procedures and policies, which also helps reduce the potential negative impact from the still-remaining Federal Trade Commission complaint. The FTC's complaint against LendingClub charged it has misled consumers and has been deducting hidden fees from loan proceeds issued to borrowers.
Those recent developments have improved the company's risk profile at a time when its core business has been growing given Middle-Class Squeeze pains being felt by more consumers. According to data TransUnion, subprime personal loan balances have been climbing since 2014 and are forecast to increase 20% this year to a record $156.3 billion.
Here's the thing, the year-end shopping season isn't just for shopping,  it's also the seasonally strongest time of year for subprime loan originations, which according to TransUnion rose to 5 million loans at the end of 2018. That sets up what is likely to be a favorable December quarter earnings report from LendingClub when it issues those results next week (Tuesday, Feb. 19). The thing is I continue to see far more upside to be had with Middle-Class Squeeze Thematic Leader Costco Wholesale, which is not only growing its very profitable membership fee income stream the company is also a dividend payer.