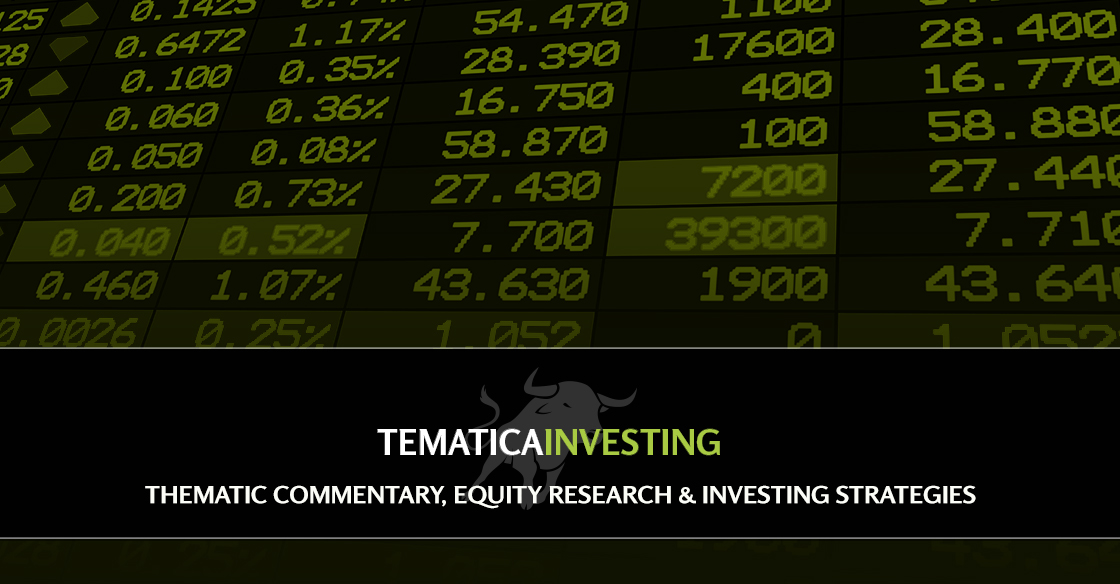 Tags:

AAPL, Alphabet, Amazon, AMZN, Apple, corning, Earnings, GLW, GOOGL, Google, iPhone X, mobile, netflix, NFLX, OLED, search, United Parcel Service, Universal Display, UPS
note: no comments
We have quite the bonanza of corporate earnings for holdings on the Tematica Investing Select List. It all kicks off tomorrow with Corning (GLW) and picks up steam on Wednesday with Facebook (FB). The velocity goes into over drive on Thursday with United Parcel Service (UPS) in the morning followed by Amazon (AMZN), Alphabet/Google (GOOGL) and Apple (AAPL). Generally speaking, we expect solid results to be had as each of these companies issues and discuss their respective December quarter financials and operating performances.
Given the recent melt-up in the market that has been fueled in part by favorable fundamentals and 2018 tax rate adjustments, we expect to hear similar commentary from these Tematica Select List companies over the coming days. The is likely to be one of degree, and by that I mean is the degree of tax-related benefits matching what the Wall Street herd has been formulating over the last few weeks? Clearly, companies that skew their geographic presence to the domestic market should see a greater benefit. The more difficult ones to pin down will be Facebook, Apple, Amazon and Google, which makes these upcoming reports all the more crucial in determining the near-term direction of those stocks.
We are long-term investors that can be opportunistic, provided the underlying investment thesis and thematic tailwinds are still intact. Heading into these reports, the thematic signals that we collect here at Tematica tell me those respective thematic tailwinds continue to blow.
As we await those results, we continue to hear more stories over Apple slashing iPhone X production levels as well as bringing a number of new iPhone models to market in 2018. These reports cite comments from key suppliers, and we'll begin to hear from some of them tomorrow when Corning reports its quarterly results. We'll get more clarity following Apple's unusual tight-lipped commentary on Thursday, and even if production levels are indeed moving lower for the iPhone X we have to remember that Apple's older models have been delivering for the company in the emerging markets. Moreover, the company could unveil a dividend hike or upsized repurchase program or perhaps even both as it shares the impact to be had from tax reform. As I shared last week, there are other reasons that keep us bullish on Apple over the long-term and our strategy will be to use any post-earnings pullback in the shares to improve our cost basis.
In digesting Apple's guidance as well as that offered by other suppliers this week and next we'll be keeping tabs on Universal Display (OLED), which is once again trading lower amid iPhone X production rumors. As I pointed out last week, Apple is but one customer amid the growing number of devices that are adopting organic light emitting diode displays. We remain long-term bullish on that adoption and on OLED shares.
We've received and shared a number of data points for the accelerating shift toward digital shopping in 2017 and in particular the 2017 holiday shopping season. We see that setting the stage for favorable December quarter results from United Parcel Service and Amazon later this week. We expect both companies to raise expectations due to a combination of upbeat fundamentals as well as tax reform benefits. With Amazon, some key metrics to watch will be margins at Amazon Web Services (AWS) as well as investment spending at the overall company in the coming quarters. As we have shared previously, Amazon can surprise Wall Street with its investment spending, and while we see this as a positive in the long-term there are those that are less than enamored with the company's lumpy spending.
In Alphabet/Google's results, we'll be looking at the desktop/mobile metrics, but also at advertising for both the core Search business as well as YouTube. Sticking with YouTube, we'll be looking for an update on YouTube TV as well as its own proprietary content initiatives as it goes head to head with Netflix (NFLX), Amazon, Hulu and Apple as well as traditional broadcast content generators.
In terms of consensus expectations for the December quarter, here's what we're looking at for these six holdings:
Tuesday, JANUARY 30, 2018
Corning (GLW)
Consensus EPS: $0.47
Consensus Revenue: $2.65 billion
Wednesday, January 31, 2018
Facebook (FB)
Consensus EPS: $1.95
Consensus Revenue: $12.54 billion
Thursday, FEBRUARY 1, 2018
United Parcel Service (UPS)
Consensus EPS: $1.66
Consensus Revenue: $18.19 billion
Alphabet/Google (GOOGL)
Consensus EPS: $10.00
Consensus Revenue: $31.86 billion
Amazon (AMZN)
Consensus EPS: $1.84
Consensus Revenue: $59.83 billion
Apple (AAPL)
Consensus EPS: $3.81
Consensus Revenue: $86.75 billion