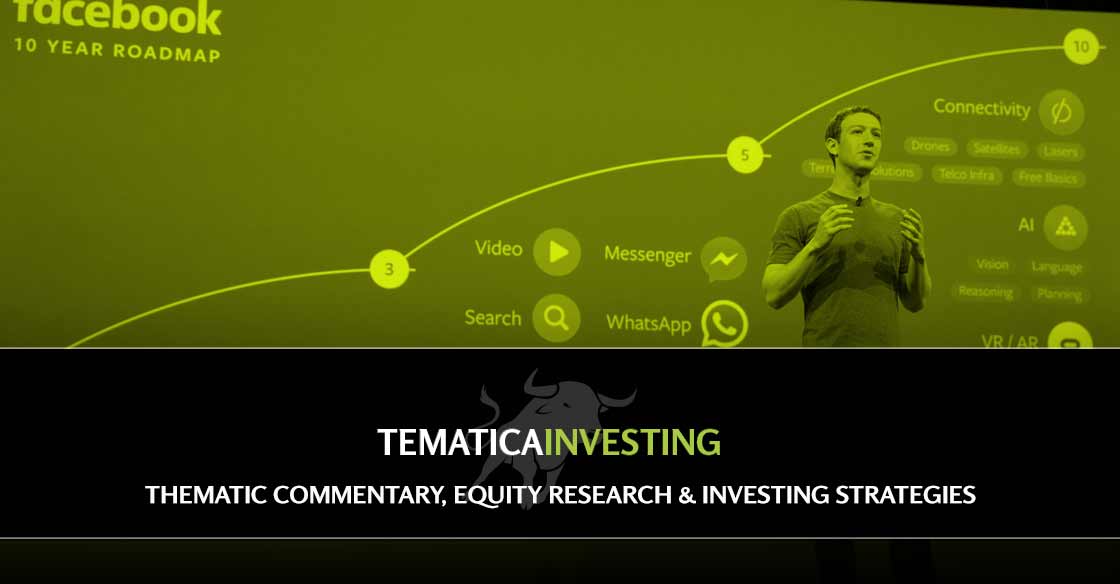 Last night Connected Society investment theme and social media platform company Facebook (FB) reported December quarter results that simply smashed expectations on a number of fronts. Of course, the market responded by trading the shares down roughly 5% in the aftermarket. Why? Well on the earnings call the management team talked changes that would impact time spent on Facebook — at least in the near term — as they focus more on "connecting people" and "healthy interaction" than the amount of time people spend on Facebook.
I see this announced strategy as part of the company's response to criticism in the second half of 2017 over "fake news" and populist backlash, as well as part of its strategy to lure back users, particularly in the US and Canada where it reported a drop in daily active users for the first time. These changes led to a 5% reduction in average user time spent on Facebook in the December quarter and that revelation in the earnings press release sent FB shares lower in aftermarket trading last night.
Then came the earnings conference call, where the above pivot in strategy was reiterated, but Zuckerberg and crew also shared that ad impressions continue to grow and more importantly advertising pricing on the company's platforms continues to climb. Also, on the call Facebook once again guided for a large uptick in spending, something we've heard several times before and yet it never seems to get in the way of Facebook meeting or beating bottom-line expectations.
As a reminder, the company is more than just the Facebook app and website and looking at the metrics across the company's various social media platforms we are reminded of its growing presence in the advertising market. At Facebook proper, even though average daily active users (ADAU) dipping sequentially by 1 million to 184 million in the US and Canada in the December quarter, solid growth for that metric was had in Asia-Pacific and Rest of the World. Baked into the geographic figures are the 300 million daily average users at Facebook-owned Instagram vs. 178 million at Snap (SNAP) and 1.5 billion monthly active users at WhatsApp. As I look at those growth figures, I am rather nonplussed about the modest dip in Facebook average daily users.
Despite the dip in the US and Canada, revenue for the geography rose 27% quarter over quarter, which in our view solidifies the argument that growing advertising volume and pricing will more than offset short-term disruptions in average daily active users and usage. Outside of the US and Canada, Facebook continues to make solid progress in monetizing other geographies, with solid gains in Europe (31% quarter over quarter) as well as Asia-Pacific and Rest of World.
I see all of this reflected in Facebook's overall average revenue per user (ARPU) that rose 22% sequentially (28% year over year) to $6.18. As Facebook looks to further monetize its various platforms, we continue to see further revenue and earnings growth ahead as advertisers look to be seen by buyers. As these platforms embrace video as part of our Content is King investing theme, we suspect Facebook will be a key beneficiary from the shift away from TV advertising and we are only in the early innings of that. In other words, the company remains well positioned as a Connected Society company.
Our price target on Facebook (FB) shares remains $225.