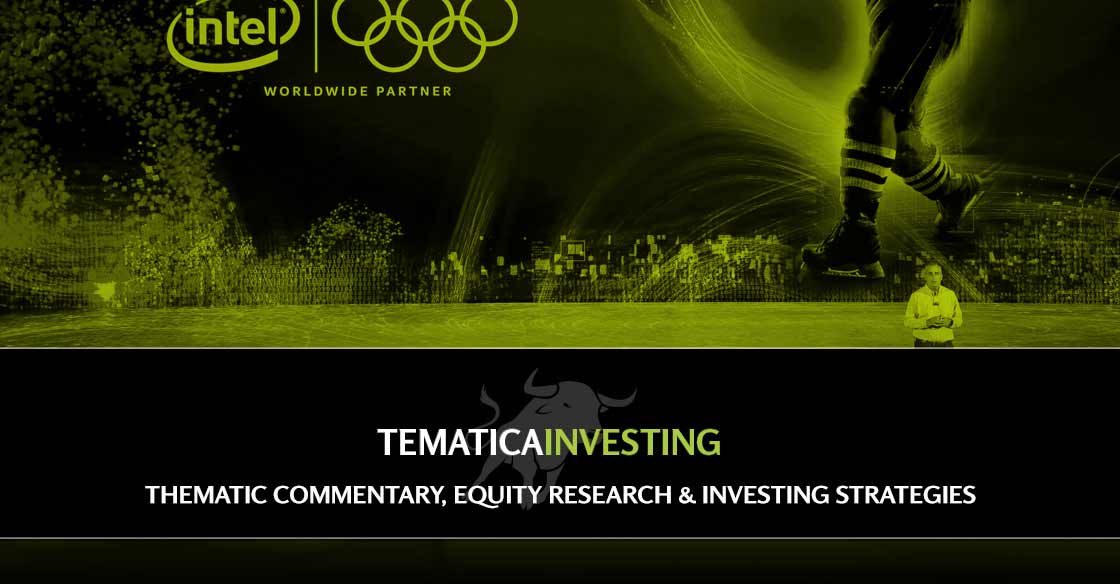 Tags:

$SNE, Alexa, AMAT, Amazon, AMZN, Applied Materials, CES 2018, CL, Colgate, Fed, FOMC minutes, GOOGL, Google, LG, OLED, Sony, TVs, Universal Display, Whirlpool, WHR
note: no comments
Welcome to this week's issue of Tematica Investing, where we leverage our proprietary thematic lens to invest in well-positioned companies when it comes to our investment themes.
Over the last week, we've seen one of the best starts to a new trading year in some time, and the Tematica Investing Select List has been benefitted from not only that start but news being made at the currently occurring annual technology tradeshow better known as CES 2018. I'll recap some of the meaningful announcements below in a minute, but the impact of those results have moved our positions in Universal Display (OLED), Applied Materials (AMAT), Nokia (NOK) and AXT Inc. (AXTI) higher over the last week.
These moves and the causes behind them have me once again revisiting my price targets on OLED and AMAT shares to the upside. Confirming data will likely be had in the coming days as 4Q 2017 earnings begin in earnest next Tuesday. As I discussed in this week's Monday Morning Kickoff, the likely scenario is we see U.S. listed companies offer an upbeat outlook and use the benefit to be had from tax reform to boost 2018 EPS expectations. On an annual basis, those tax reform related benefits should more than outweigh the cold snap weather and winter storm Grayson disruptions that we have likely encountered with restaurant, retail and construction companies. This means that at least in the near-term investors will need to be choosey, hwoever, the net effect should see the stock market melt higher, especially if more Wall Street strategists boost their price targets for the S&P 500, the proxy for the overall U.S. stock market. I expect this to be the likely scenario.
My perspective that I laid our in this week's Monday Morning Kickoff remains – I continue to suspect expectations could be getting ahead of themselves given the recent climb in consumer debt levels and continued growth in the lack of qualified workers that could hamstring business investment in the coming months despite lower taxes. The strategy that we'll follow near term is to listen to the data and look for opportunities – companies at prices that offer a skewed risk-to-reward proposition that is in our favor. It has been that discipline married with Tematica's thematic lens that has steered us clear of such 2017 disasters as GoPro (GPRO) and Blue Apron (APRN).
Watching the Fed minutes this afternoon
Later today, we will receive the next iteration of the Fed's FOMC meeting minutes. While we know the policy impact from the December meeting, I'll be interested in seeing more on to what degree the Fed factored in tax reform into its GDP forecasts, and what it sees as some of the swing factors to watch.
A first pass from CES 2018
While CES 2018, the annual technology trade show held in Las Vegas that features more than 4,000 exhibitors, officially got underway yesterday, we've received a number of announcements in the last few days that have sent tech shares in general, and several of our holdings, higher.
Starting with TVs, which are one of the more high-profile items to kick off the annual gathering, we are starting to see artificial intelligence (AI) embedded into these devices. For example, is adding both Alphabet's (GOOGL) Google Assistant and Amazon's (AMZN) Alexa to its latest 4K OLED and Super UHD LCD TV lineup. But TVs aren't the only things that will embed AI in the coming year – yesterday it was announced by Moen that its cloud-based, Wi-Fi enabled shower system "U by Moen" will add support for Apple's Siri and Amazon's Alexa AI assistants in the first half of 2018.
Outside of Moen, both Kohler and Whirlpool (WHR) are also bringing voice activation capabilities to their smart kitchen, bath and appliance products. No stranger to voice assistants in its products, Whirlpool is going one step further as the appliances it is debuting at CES this year can be controlled using Alexa or Google Assistant. Per Whirlpool, its offering includes "dishwashers that can be set and started remotely by voice, refrigerators that homeowners can change temperature settings on using a voice assistant, and washing machines that let the user check with Alexa to see how much time is left on a cycle."
We're also seeing connectivity make its way into toothbrushes courtesy of Colgate's (CL) Smart Electronic Toothbrush uses Apple ResearchKit with the user's permission to crowdsource toothbrushing data so the company can "anticipate the future of oral care."
This is a first pass at the CES news flow and I'll have more over the coming days, so be sure to check back at TematicaInvesting.com for those thoughts.
Stepping back we find the rising number of connected devices – be they through voice assistants, smartphones or other – driving incremental demand for RF semiconductors. This, in turn, bodes very well for incremental substrate demand for AXT's (AXTI), the basic building block for RF semiconductors from the likes of Skyworks Solutions (SWKS), Qorvo (QRVO) and others.
That is poised to drive semiconductor manufacturing utilization rates higher and bodes well for incremental orders at semi-cap company Applied Materials (AMAT), which is also benefitting from the ramp in organic light emitting diode display demand I noted above. With AMAT shares trading at just 13.5x on expected 2018 earnings, I'm once again reviewing my $65 price target with an upward bias.
I also see Amazon making a significant "land grab" with its Alexa voice assistant, which, in our view, bodes very well for continued growth in Amazon's Prime membership and the company capturing consumer wallet share.
We continue to rate AXT Inc. (AXTI) shares a Buy at current levels and our price target remains $11.
We continue to rate Applied Materials (AMAT) shares a Buy at current levels and our price target remains $65.
We continue to have a Buy on Amazon (AMZN) shares, and our price target remains $1,400.