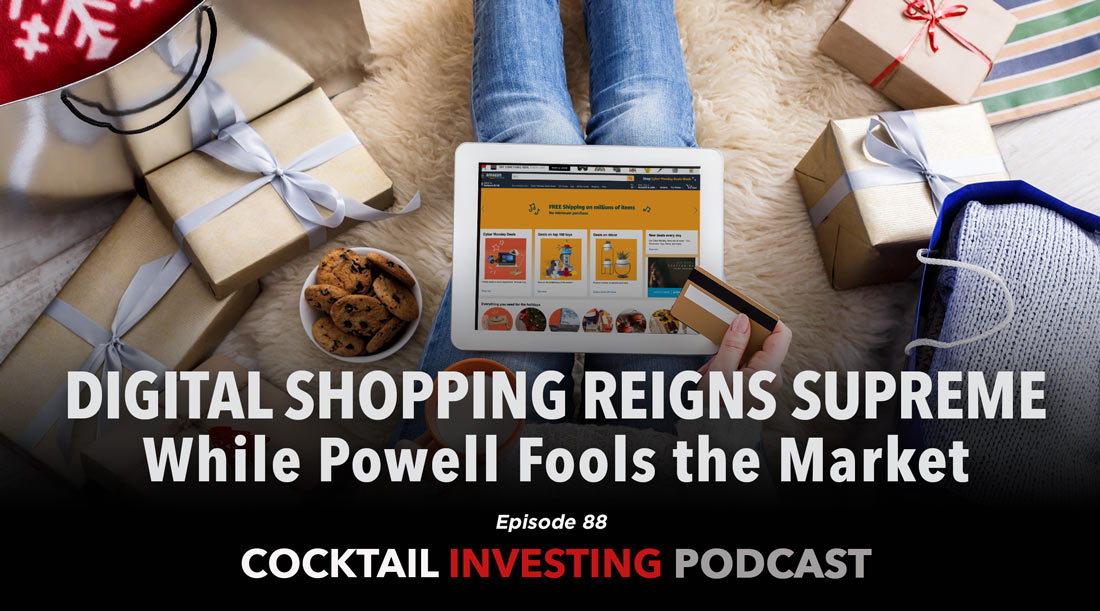 On this week's Cocktail Investing Podcast, Tematica's Lenore Hawkins and Chris Versace center not only on the rash of holiday shopping data coming out of the Thanksgiving to Cyber Monday period but also discuss Fed Chairman Powell's "near neutral" comment on interest rates. That comment led the stock market to rip higher, offering relief to beleaguered investors that saw the majority of 2018 gains for the domestic stock market wiped out in recent weeks. But… you knew there was a but coming… the reasons behind that shift in tone as well as other risks mean we are not out of the woods just yet.
On the podcast, Lenore and Chris explain all of this in further detail and share the confirming data points from the holiday shopping weekend that point to an acceleration in digital shopping that is a cornerstone of our Digital Lifestyle investing theme. It's not just online shopping as mobile shopping scored big this year, smashing records in the process, with the two contributing meaningfully to brick and mortar retail traffic pressures. Who benefits and why brick & mortar retailers are likely to be worried about profitless sales this holiday season are shared on the podcast. Chris and Lenore also share the most popular shopping apps, some of which like eBates are in keeping with Tematica's Middle-class Squeeze investing theme.
Companies mentioned in this podcast
Adobe (ADBE)
Amazon (AMZN)
Ebay (EBAY)
Kohl's (KSS)
Macy's (M)
National Retail Federation (NRF)
RetailNext
Target (TGT)
TJX Companies (TJX)
Walmart (WMT)
Have a topic we should tackle on the podcast, email me at cversace@tematicaresearch.com
And don't forget to subscribe to the Cocktail Investing Podcast on iTunes!
Resources for this podcast: