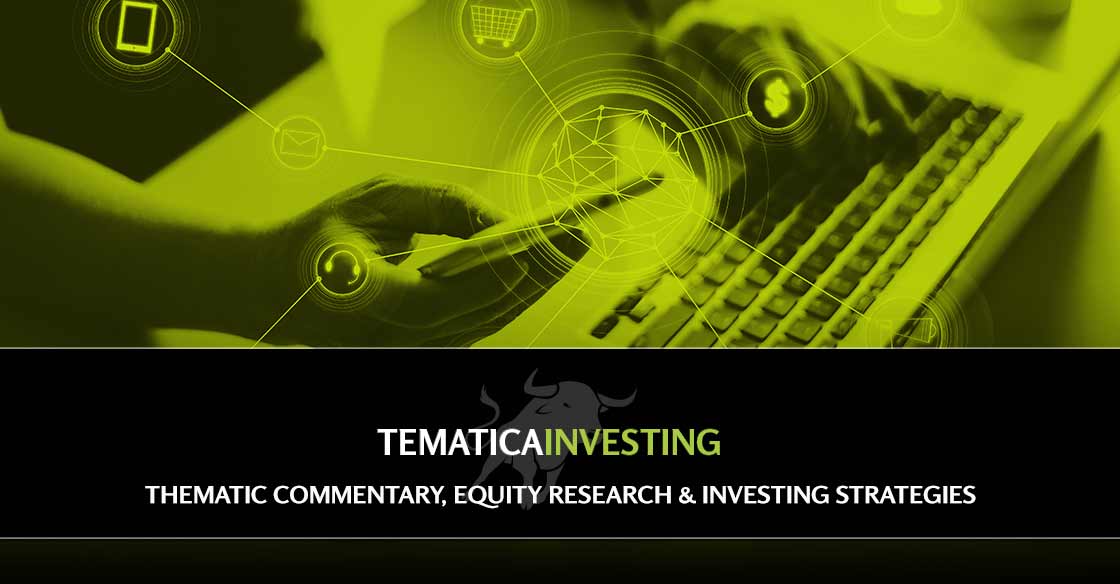 Tags:

Apple, Apple TV, Apple Watch, Charles & Covard, Cree, De Beers, iOS, iPad, iPhone, macOS, MGM Resorts, Paccar, tvOS, watchOS, WWDC
note: no comments
Following Apple's WWDC 2018 keynote presentation, we are boosting or price target on Apple (AAPL) shares to $210 from $200.
As MGM Resorts (MGM) avoids Las Vegas strike disruptions, our price target remains $39
Paccar (PCAR) shares catch an upgrade; our price target remains $85
We are adding shares of Charles & Covard (CTHR) to the Tematica Investing Contender List as part of our Affordable Luxury investing theme.
As the market gets ready for the upcoming trade summit, we are seeing trade tensions heat up ahead of that date. We've also got a new government in Italy, and while the recent economic data has been positive, I'm seeing increasing signs of inflation in the system. To me, that looks likely to lead the Fed to the increasingly expected four interest rate hikes this year.
I suspect all of the issues discussed above — trade, interest rates and other geopolitical tensions — will be recurring ones that will likely lead to an ebb and flow of uncertainty in the market, ultimately keeping it rangebound in the near-term. In that type of environment, I'll continue to look for new opportunities utilizing our thematic approach to investing. As compelling situations are uncovered, we'll look to be opportunistic.
With a number of things to get to, including how the diamond industry is beginning to pivot in response to some of our thematic tailwinds, I'll cut it there for this week…
Apple's WWDC 2018 was far from boring
Earlier this week, following Apple's (AAPL) World Wide Developer Conference (WWDC) 2018 that focused on the company's various software platforms the shares hit a multi-year high at $193.42 before settling modestly lower. I've been waiting in the wings to bump our price target on this Connected Society company higher and following this week's keynote that introduced the software updates that consumers will have access to later this year, I am boosting that target to $210 from $200.
The expectation coming into the event was Apple would focus on software refinements and performance. While that was the case, there were a number of new features that in our view did more than that.
Now let's discuss some of the announcements…
Apple got to it early on with iOS, taking the wraps of iOS 12 that will power both past and present iPhone and iPad models. While the initial conversation was on performance improvements, Apple soon ticked off a number of features including more robust Augment Reality capabilities, including multiplayer gaming; deeper integration of its digital assistant Siri in the OS and with third party apps; overhauled News, Stocks, Voice Memo and iBooks apps; new features for iMessage, including Memoji; and at long last group Facetime. There was some thought Apple would also introduce more robust controls to limit usage, and it does so with updates to its Do Not Disturb and Notifications capabilities, but also introduced Screen Time that should help people as well as parents restrict usage time on iOS devices.
Next up was watchOS, which continued its focus on connectivity and activity as it debuted Walkie Talkie mode that allows people to quickly communicate with each other. The iOS improvements with Siri are also finding their way to Apple Watch as is a new Podcast app. Apple also shared later this year it will debut Student ID support with both iOS and watchOS. Student ID will allow students to gain access from dorms and dining halls to gyms and libraries, along with campus events or attending class, making purchases from campus retail shops and bookstores, and paying for laundry and items from vending machines. Apple expects to roll this out with a handful of universities and expand it over time.
Turning to the OS that powers Apple TV, better known as tvOS, it gains support for Dolby Atmos surround sound, as well as a streamlined sign-in protocol for cable providers.
As for macOS, the upcoming version dubbed Mojave, will have  all new features like a dedicated Dark Mode, an all-new App Store, tweaks to the desktop, and the migration of several iOS apps. That migration for News, Stocks, Voice Memo and Home is part of a longer-term initiative to port iOS apps to mac OS, and Apple expects developers will be able to transition their apps to Mac sometime in 2019. Finally, in the wake of the Cambridge Analytica data scandal, Apple emphasized privacy, with a new Safari feature that preemptively blocks tracking sites like Facebook's Like and Comment feature and asks you to allow it to appear when you're browsing a website.
While developers will have access to these new OS iterations shortly, consumers will not until sometime this Fall. Historically, Apple has formally released these platforms shortly after it debuts its new hardware.
Are these updates ho-hum?
Not at all in my opinion. While they could be seen a quieter updates, they bring features and functionality that will spur usage as Apple once again does what it has done in years past – used its software and design expertise to remove friction for consumers. Odds are these features will help spur users of older Apple devices to upgrade later this year, but I continue to see a far larger iPhone upgrade cycle coming once 5G networks go mainstream.
Factor in Apple's dividend and share repurchase plans, and what some may call boring still looks pretty exciting to me.
Following Apple's WWDC 2018 keynote presentation, we are boosting or price target on Apple (AAPL) shares to $210 from $200.
MGM avoids the Las Vegas strike
Last week, I discussed the pending union strike for casino hotel workers on the Las Vegas Strip and how we would be assessing its potential impact for MGM Resorts (MGM). Over the weekend, the company has reportedly reached a new tentative 5-year contract that covers approximately 24,000 workers at 10 casino resorts on the Las Vegas Strip. We'll continue to monitor the situation and assess any potential impact but, in my view, this tentative agreement is a step in the right direction and could lead to a modest boost to MGM's properties as its competitors contend with the strike.
Our price target on MGM Resorts (MGM) shares remains $39
Paccar shares catch an upgrade
Yesterday shares of heavy-duty and medium duty truck company Paccar (PCAR) caught an upgrade to an Outperform rating from Neutral at investment firm Macquarie complete with a $75 target. That upgrade came on the news that May preliminary net orders of heavy trucks (Class 8) in North America were 35,600 units, up 110% year-on-year and up 2.5% vs April.
Despite the swelling order book for heavy and medium duty trucks that reflects the current shortage that is driving freight costs higher, Macquarie is one of the few to turn bullish on Paccar shares. Candidly, given the year over year strength in new truck orders we're surprised that more haven't turned positive on the shares.
I'll look for further confirmation in the soon to be published May Cass Freight Index data. That data for April showed a 10% year over year increase in freight shipments, which in our view served to signal the domestic economy was firming. As more data is had that points to the improving outlook for new truck demand, I expect others will jump on board, boosting their ratings and price targets along the way.
You know what they say when it comes to situations like this – better to be early than late.
Our price target on Paccar (PCAR) shares remains $85;
Examining a lab grown diamond company as De Beers adjusts its business model
Last week I posted a Thematic Signal that discussed legendary diamond firm De Beers having to pivot its business as it contends with the reality that is our Cash-strapped Consumer investing theme. As I've said for some time, these thematic tailwinds and headwinds lead to a change in behavior at consumers and businesses that companies must respond to it they want to survive and thrive. If not, they run the risk of being dead on the vine. If consumers aren't buying diamonds because they can't afford them, then the exiting business model at De Beers has to change. Simple. As. That.
In this case De Beers has launched a new line of synthetic diamonds that are a fraction of the price for natural diamonds. Prices for the synthetic diamonds will start at $200 for a quarter carat and increase to $800 for a full carat stone. The company's natural stones start at roughly 10 times that amount, depending on their clarity and other attributes. We see this move at this price point as part of De Beers' attempt to capture incremental business associated with our Affordable Luxury investing theme.
With De Beers embracing synthetic diamonds, odds are the flood gates will soon open up with others doing the same. To me, this sounds like a new market opportunity for Charles & Covard (CTHR), the original creator and leading source of Forever One™, Forever Brilliant® and Forever Classic™ moissanite gemstones for fine jewelry. Charles & Covard's gemstones are based on a patented a thermal growing process for creating pure silicon carbide (SiC) crystals in a controlled laboratory environment that enables lab created grown moissanite gemstones. As the company has positioned its wears, they are free from environmental and ethical issues, and capable of disrupting traditional definitions of fine jewelry.
As background, the global jewelry market is estimated by McKinsey & Company to be $257 billion in size. Like many other industries the move to digital sales is also resulting in a shift in where consumers are buying jewelry. Per McKinsey, by 2020 the global online fashion jewelry market is expected to drive $45 billion in sales, roughly 15% of the global jewelry market, with the global online fine jewelry hitting $30 billion of the global jewelry market. By comparison, estimates put the lab-created gemstone market near $8 billion by 2020 with the largest geographic market being Asia-Pacific followed by North America.
Charles & Covard, which derives more than 90% of its revenue from the domestic market, sells loose moissanite jewels and finished jewelry through two operating segments:
Online Channels (38% of sales) which is comprised of the company's charlesandcolvard.com website, e-commerce outlets, including marketplaces such as Amazon (AMZN) and eBay (EBAY), and drop-ship customers, such as Overstock.com (OSTK), and other pure-play, exclusively e-commerce customers, such as Gemvara;
Traditional segment (62% of revenue), which consists of wholesale, retail, and television customers such as Helzberg Diamonds, Rio Grande, Stuller, and Boscov's.
Only one analyst formally covers CTHR shares with a $2.50 price target, but there are no consensus expectations for EPS let alone revenue. Revenue for Charles & Covard has remained in the $25-$29 million bandwith over the last five years, and annualizing the company's March quarter results suggests revenue near $27 million this year with EPS of roughly -$0.12.
There is some issue with that, which centers on the inherent seasonality within the company's business that reflects the year-end holidays and gift giving. Odds are that means the company's top and bottom line could be ahead of those figures.
Now here is where it gets a little cloudy. While forecasts suggest there are robust growth prospects ahead for laboratory created diamonds and other jewels, which could equate to a significant tipping point for Charles & Covard should reality match those forecasts, the company is facing a potential supplier issue.
Its sole supplier of SiC crystals is Cree (CREE) and Charles & Covard has a certain exclusive supply rights for SiC crystals to be used for gemstone applications. In December 2014, Charles & Covard entered into a new exclusive supply agreement with Cree that will expire on June 24, 2018, unless extended by the parties for an additional two-year period.
While the two companies boast being on good terms, the reality is Cree is a captive supplier that Charles & Covard rely on to for their products. This means watching the next few weeks for the deal terms for either a new supply agreement or ones attached to the extension as they could alter profitability expectations. Other complications include the company's microcap status and its average daily trading volume of just 70,750 shares.
For those reasons, even though the lab grown diamond market looks to have favorable growth prospects, we're going to keep an eye on Charles & Covard shares by putting them on the Tematica Investing Contender List.
We are adding shares of Charles & Covard (CTHR) to the Tematica Investing Contender List as part of our Affordable Luxury investing theme.