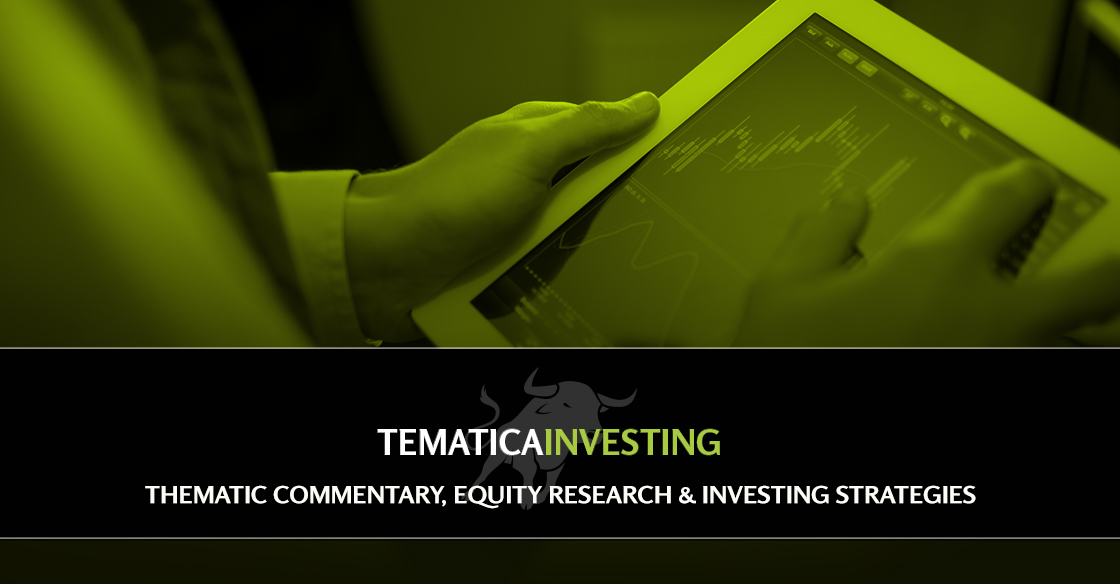 The start of March — the last month in the current quarter — started off on a much softer note than January and February, with far more modest gains in the stock market. Call it the calm before the Fed storm, given the next Federal Open Market Committee meeting next week. As we've moved closer to the FOMC meeting, the market's expectations for the Fed to boost rates have climbed, but at the same time, we've gotten a number of conflicting data points.
Earlier this week in the Monday Morning Kickoff, we pointed out the weaker than expected January core capital goods orders and shipments, as well as disappointing January personal spending relative to expectations previously. Added to the mix are light vehicle sales data from last week and then the Atlanta Fed cutting its GDPNow forecast for the current quarter to 1.3 percent, down from 1.8 percent on March 1.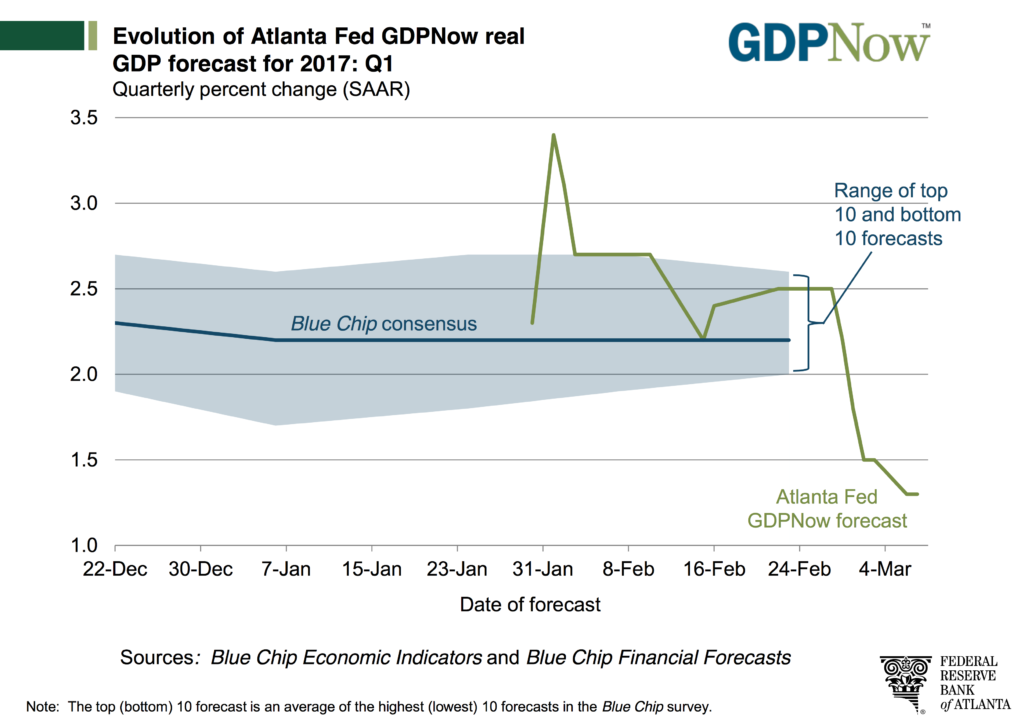 Not the direction of an expanding economy, but rather a slowing one, given the latest view that GDP in 4Q 2016 clocked in at 1.9 percent. As we outlined in this week's Monday Morning Kickoff, there are a growing number of reasons to be cautious and the downward move in GDP expectations is another one, especially given the market's current valuation.
Another reason for our cautiousness was published by WalletHub this week in a report based on Federal Reserve data that reminds us the Cash-strapped Consumer is alive and well. Per the report, U.S. consumers racked up $89.2 billion in credit card debt during 2016, pushing outstanding balances to $978.9 billion, which is roughly $3 billion below the all-time record set in 2007. Let's put that into perspective — it equates to the average indebted household owing $8,377 to creditors. Yikes!
WalletHub projects that in 2017 we will surpass the current record by at least $100 billion. Not so good for an economy that has become reliant upon the consumer. This also helps explain why Automotive News reported incentive spending by automakers averaged $3,443 per vehicle in February, up 14 percent from a year ago. Another warning sign.
We'd also add in the growing brouhaha over the efforts to replace the Affordable Care Act, which given the response to the House bill put forth this week, looks to be on a course that is going to be less than smooth sailing. Following the issues surround the Executive Order on immigration, our concern is the market could wake up to the fact that it is going to take more time than expected for President Trump's fiscal policies, especially tax reform, to ignite the domestic economy.
Given all these issues, it should be obvious why we recently raised a number of our stop loss positions, and we'll continue to review them on an ongoing basis. Odds are we could see the market pullback in the coming weeks, and our strategy will be to scale into several positions on the Tematica Select List at better prices.
Checking in on Applied Materials and It Looks Good
A few weeks ago we added shares of semiconductor and display capital equipment company Applied Materials (AMAT) to the Tematica Select List as a Disruptive Technology play. As a quick reminder, Applied's business is benefitting from next generation chip and display technologies that are forcing a ramp in new equipment demand. We've talked much about the adoption of organic light emitting diode display that has powered our Universal Display (OLED) shares higher (up nearly 57 percent as of last night's close), but Applied is also seeing favorable demand signals for its chip equipment business.
Earlier this week, the Semiconductor Industry Association (SIA) reported worldwide sales of semiconductors rose 13.9 percent year over year to $30.6 billion for the month of January 2017. We'd note that January marked the global market's largest year-to-year growth since November 2010, which to us confirms that chips, not cotton, are the new fabric of our increasingly digital lives.
Strong chip sales mean industry capacity should get tighter and foster additional demand for new industry capacity, and thus orders for Applied's chip equipment business. We're seeing tight capacity especially in the global NAND flash storage market, which led to sharp average selling prices in during 4Q 2016 per data from DRAMeXchange. Tight NAND flash supply is expected to persist through 2017 as the industry migrates to 3D NAND technology, which is spurring equipment demand at Applied as Samsung and Toshiba look to increase their output of 3D NAND flash throughout 2017.
We continue to rate AMAT shares a Buy with a $47 price target.
We continue to rate OLED shares a Buy with a $100 price target.
On Deck – Disney's Annual Shareholder Meeting
Later today Content is King company Walt Disney will hold its annual shareholder meeting, and while we don't expect anything material to emerge, CEO Bob Iger usually offers a pretty good rundown of the upcoming movie slate. As we have seen in the past and again more recently with Frozen, Star Wars and Marvel movies, the films lead to new park attractions and drive its merchandise business. So yes, we will be tuning in to hear what's said later today.
As the company continues to focus on tentpole films that will ripple through its other businesses, we continue to rate Disney a Buy.
Our price target remains $125.
A quick reminder on being stopped out on Costco.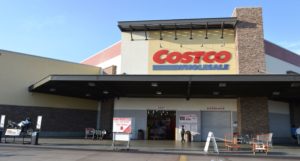 Last Friday afternoon we were stopped out of Costco Wholesale (COST) shares on the Tematica Select List when they briefly dipped below our $170 stop loss. Even though it was for the briefest of moments, the $169.90 low for the day means that the protective measure was triggered following quarterly earnings that missed expectations Thursday night.
Recall we sold half the position for a gain of more than 14 percent before dividends, and when paired with the stopping out of the remainder of the position, the blended return before dividends on the Tematica Select was 14 percent vs. a 9.8 percent move in the S&P 500 over the same time frame.
Given the business model dynamics and Costco continuing to benefit from the Cash-strapped Consumer tailwind, we're inclined to revisit the shares in the coming weeks. The shares have continued to trade-off throughout this week in the $166 to $167 range, but we're keeping an eye toward getting them back on the Tematica Select List at even better prices.