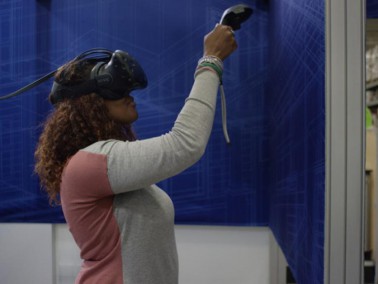 Our collective Tematica hats are off to Lowe's Companies as it steps up its virtual reality efforts to move past design visualization to skills training. Imagine taking classes on different remodeling projects ahead of tackling that project in your own home. This embracement of Disruptive Technologies could empower Cash-strapped Consumer to become the next set of Do-It-Yourself (DIY) customers for Lowe's, Home Depot, Ace Hardware and others.
Lowe's Cos. is embarking on the next chapter of its virtual reality journey.
Starting Tuesday, March 7, the home improvement chain's store in Framingham, Massachusetts, debuted its "Holoroom How To," Lowe's first-ever virtual reality DIY skills-training clinic. As consumers enter the interactive virtual reality (VR)-based environment, they wear an HTC Vive headset to receive "hands-on" tutorials on basic DIY skills, including supplies and steps, needed to complete a project.
"This allows us to teach our customers in a way that we could have never previously imagined, and give them the confidence they need to undertake a daunting renovation," according to Lowe's Innovation Labs.
The chain's prior virtual reality programs helped customers visualize their kitchen and bath renovations, "but we have found a unique opportunity to use the VR platform for skills training," according to the chain.
Source: Home improvement chain debuts VR-based 'how to' classes | Chain Store Age