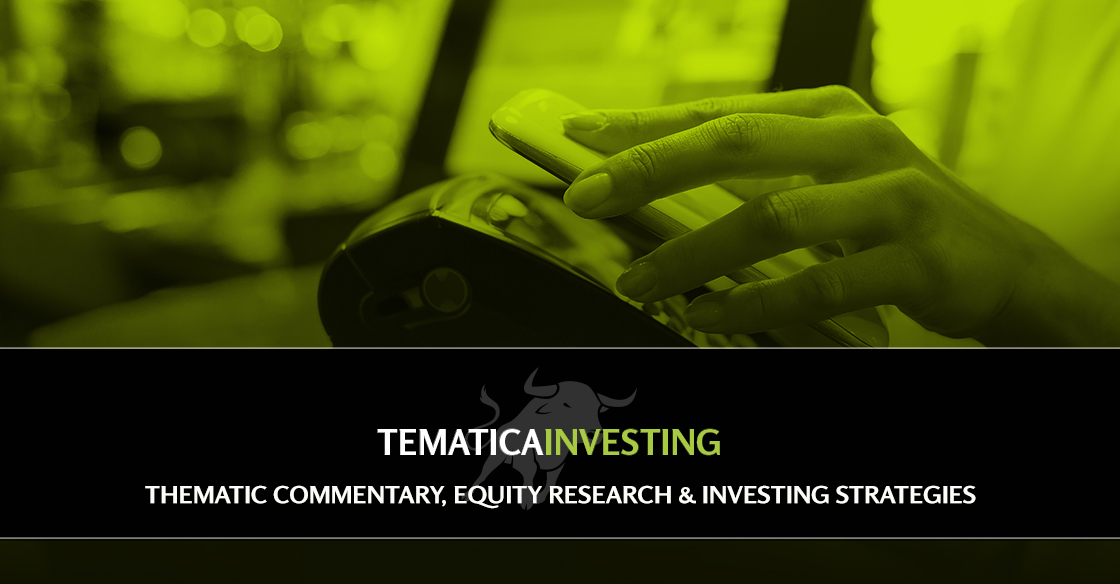 KEY POINTS FROM THIS ALERT
We are issuing a Buy on USA Technologies (USAT) shares and adding them back to the Tematica Investing Select List with a $12 price target.
Our price target on LSI Industries (LYTS) shares remains $11
Our price target on Paccar (PCAR) shares remains $85 and offers 25% upside from current levels.
Despite the swings up and down that we've seen in the stock market over the last several weeks, it might surprise you know the S&P 500, my preferred barometer of the domestic stock market, has moved down all of 1.4% over the last two months. As you know during those weeks we shed shares in both Universal Display (OLED), which have gone on to fall further, and Facebook (FB), while we added GSV Capital (GSVC) shares to the Tematica Investing Select List with a Buy rating and an $11 price target.
As I wrote this past weekend in the Toronto Sun – yes, we are spreading the thematic word to our northern neighbors – I expect the air of uncertainty of the last few weeks to result in lukewarm guidance. This will likely cause a rethink by investors given the herd's expectation for more than 18% EPS growth by the S&P 500 this year. To say that's aggressive even in the face of tax reform benefits to be had is an understatement. I suspect we'll have several opportunities for the Select List in the coming weeks. In the meantime, buckle up for the fun begins early next week.
Facebook's Zuckerberg in the hot seat
Yesterday, Facebook was a hot topic given CEO Mark Zuckerberg's testimony to the Senate. As expected, Zuck offered up his mea culpa, once again promised to "do more" to address the company's shortcomings when it comes to user data and privacy. While FB shares have traded higher, parsing Zuck's comments to add more security personnel and do more, what it means is higher costs to eliminate existing and potential bad actors from its content partners. I made this point on the Intelligence Report with Trish Regain on Fox Business yesterday. This point was hammered home in this week's Cocktail Investing podcast, in which I spoke with Interos Solutions Jennifer Bisceglie (Ep 59: Exposing the Supply Chain Security Nightmare).
Given the privacy concerns, we're apt to see another drop in the company's US user metrics as well as a dip in its revenue stream as advertisers backed away from Facebook. Here's the thing, over the last 30-60 days, we've seen no meaningful change in revenue and EPS expectations for 1Q 2018 and 2Q 2018 for Facebook. When the company reports its quarterly results on April 25th, however, more than likely we will see some hit to its metrics and hear about the need to ramp spending in order to restore user trust. The company also needs to show the resiliency of its advertising dominated revenue stream.
What this means is just because Facebook shares have rebounded since we scuttled them a few weeks ago, there is another shoe to drop. My recommendation is we remain on the sidelines until we have a far better understanding of the financial implications to be had.
Adding back USA Technologies shares to the Select List
Last October we exited half of our position in Cashless Consumption play USA Technologies (USAT), with an 81% win, and were stopped out of the balance in February with a 67% gain. As a reminder, USA Technologies provides wireless networking, cashless transactions, asset monitoring, and other value-added services in the United States and internationally primarily through kiosks and unattended retail. All in all, the position was in USAT shares was a great investment in 2017 and early 2018, especially since the returns crushed the move in the S&P 500. I've kept tabs on the shares given the continued growth to be had in mobile payments and USA's potential to be a takeout candidate.
Recently it was announced that mFoundry was getting acquired by Fidelity National Information Services (FIS), a banking and payment provider that works with some 14,000 banks worldwide, for $120 million. Monday night it was announced that point-of-sale system company VeriFone (PAY) is being acquired in a $3.4 billion deal led by private equity firm Francisco Partners and Canada's British Columbia Investment Management Corp. Under the terms of the deal, VeriFone shareholders would receive $23.04 in cash for each share, representing a roughly 54% premium to the company's Monday closing price of $15.
M&A activity and consolidation is a sign that an industry is beginning to mature, with larger players and financial players gobbling up technologies and products to round out their capabilities and offerings. I've long seen USA Technologies as company prominently riding our Cashless Consumption investing theme, but one that is bound to show up on M&A radar screens. With its revenue slated to reach roughly $175 million next year, up from $104 million in 2017, with positive EPS, this could happen sooner than previously expected.
I suspect two recent publications will help spur on this likelihood. First is "Intelligent Vending Machine Market – Global Industry Analysis, Size, Share, Trends, Growth and Forecast 2018 – 2025" — that calls for the global intelligent vending machine market to increase at a CAGR (compound annual growth rate) of 38.24% during the period 2017-2021. The second is a forecast published by Statista that shows more than 140% per annum growth for mobile point of sales to $1.3 trillion in 2022 up from $230.8 billion in 2017. Digging into this forecast, we see it reflects a combination of rising consumer adoption over the coming years as well as solid growth in transaction value per user.
On the merits of my original $12 price target, I see more than 35% upside in the shares on a fundamental basis. As mobile payments activity continues to grow, and USAT continues to expand its install base across vending, kiosk and other retail applications, I'll look to revise my price target. Any additional upside to be had from a takeout offer, well that would just be gravy.
We are issuing a Buy on USA Technologies (USAT) shares and adding them back to the Tematica Investing Select List with a $12 price target.
Checking in on LSI Industries and Paccar
Each month there is a plethora of data released, some of it industry specific and some of it company specific. Recent industry data for both the construction and the truck industry are bullish for our positions in LSI Industries (LYTS) and Paccar (PCAR). Let me explain…
Year to date, shares of LSI Industries are up more than 15%, well ahead of the major market indices. I chalk this up to the favorable monthly data we've got in the form of the Architectural Billings Index (ABI) and construction data. In the February ABI reading marked the fifth consecutive monthly increase and the 11th monthly increase in the last 12 months. As a reminder, the ABI is a leading indicator of construction activity. Add to that the favorable February construction report that showed nonresidential construction rebounded in January following several weeks of severe cold and winter weather. As we finally put the winter weather behind us, I expect to see a pickup in nonresidential construction that reflects the ABI index. I see this as setting a favorable base for LSI's lighting solutions, which is benefitting from the added tailwind associated with green construction that favors light-emitting diode solutions.
Our price target on LSI Industries (LYTS) shares remains $11
On a year to date basis, shares of heavy and medium duty truck company Paccar (PCAR) are down slightly, and we're essentially flat form our mid-February addition to the Select List. Here too, the data has been more than favorable. Last week,
Late Wednesday, it was reported by FTR Transportation Intelligence that first-quarter 2018 orders for heavy-duty trucks came in at 133,900 — a 98% gain year over year and the highest level since 2006. Orders for medium-duty Class 5-7 trucks topped 84,700 for the first quarter, a 20.4% increase compared with the same period a year ago.
I expect this to lead to not only a favorable 1Q 2018 earnings report for Paccar but an upbeat outlook as well. During the upcoming earnings season, I'll be looking for re-affirming comments for Paccar in the form of rising freight costs due to tight truck industry capacity at food and other consumer-related companies.
Our price target on Paccar (PCAR) shares remains $85 and offers 25% upside from current levels.