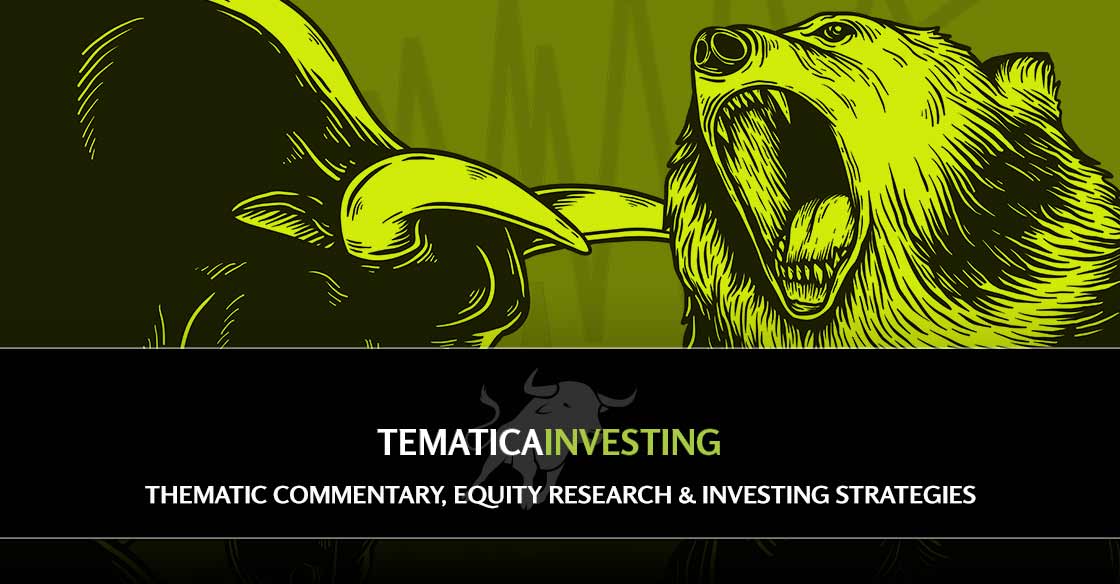 Tags:

$NOK, 5G, AAPL, AMAT, Apple, Applied Materials, AT&T, AXIT, AXT Inc., CMCSA, Comcast, COST, Costco Wholesale, DIS, Disney, DY, Dycom, ESPN, Nokia, OLED, S, Sprint, T, T-Mobile USA, TMUS, Universal Display, USA Technologies, USAT, Verizon, VZ
note: no comments
It's Wednesday, February 7, and the stock market is coming off one of its wild rides it has seen in the last few days. I shared my thoughts on the what's and why's behind that yesterday with subscribers as well as with Charles Payne, the host of Making Money with Charles Payne on Fox Business – if you missed that, you can watch it here.
As investors digest the realization the Fed could boost interest rates more than it has telegraphed – something very different than we've experienced in the last several years – the domestic stock market appears to be finding its footing as gains over the last few days are being recouped. Lending a helping hand is the corporate bond market, which, in contrast to the turbulent moves of late in the domestic stock market, signals that credit investors remain comfortable with corporate credit fundamentals, the outlook for earnings and the ability for companies to absorb higher interest rates.
My perspective is this expectation reset for domestic stocks follows a rapid ascent over the last few months, and it's removed some of the froth from the market as valuations levels have drifted back to earth from the rare air they recently inhabited.
Among Opportunity This New Market Dynamic Brings, There Have Been Casualties
While this offers some new opportunities for both new positions on the Tematica Investing Select List as well as the opportunity to scale into some positions at better prices once the sharp swings in stocks have abated some, it also means there have been some casualties.
We were stopped out of our shares in Cashless Consumption investment theme company, USA Technologies (USAT) when our $7.50 stop loss was triggered yesterday. While the shares snapped back along with the market rally yesterday, we were none the less stopped out, with the overall position returning more than 65% since we added them to the Select List last April. For those keeping track, that compares to the 15.3% return in the S&P 500 at the same time so, yeah, we're not exactly broken up over things. We will put USAT shares on the Tematica Contender List and look to revisit them after the company reports earnings tomorrow (Thursday, Feb. 8).
That's the second Select List position to have been stopped out in the last several days. The other was AXT Inc. (AXTI) last week, and as a reminder that position returned almost 27% vs. a 15% move in the S&P 500. Again, not too shabby!
The last week has brought a meaningful dip in shares of Costco Wholesale (COST). On recent episodes of our Cocktail Investing Podcast, Tematica Chief Macro Strategist Lenore Hawkins and I have discussed the lack of pronounced wage gains for nonsupervisory workers (82% of the US workforce) paired with rising credit card and other debt. That combination likely means we haven't seen the last of the Cash-Strapped Consumer investment theme — of the key thematic tailwinds we see behind Costco's business. While COST shares are still up more than 15% since being added to the Select List, we see the recent 5% drop in the shares as an opportunity for those who remained on the sidelines before the company reports its quarterly earnings in early March.
Our price target on Costco Wholesale (COST) shares remains $200.
Remaining Patient on AMAT, OLED and AAPL
Two other names on the Tematica Investing Select List have fallen hard of late, in part due to the market's gyrations, but also over lingering Apple (AAPL) and other smartphone-related concerns. We are referring to Disruptive Technologies investment theme companies Applied Materials (AMAT) and Universal Display (OLED). As we shared last week, it increasingly looks that Apple's smartphone volumes, especially for the higher priced, higher margin iPhone X won't be cut as hard as had been rumored. Moreover, current chatter suggests Apple will once again introduce three new iPhone models this year, two of which are slated to utilize organic light emitting diode displays.
Odds are iPhone projections will take time to move from chatter to belief to fact. In the meantime, we are seeing other smartphone vendors adopt organic light emitting diode displays, and as we saw at CES 201 TV adoption is going into full swing this year. That ramping demand also bodes for Applied Materials (AMAT), which is also benefitting from capital spending plans in China and elsewhere as chip manufacturers contend with rising demand across a growing array of connected devices and data centers.
Our price target on Apple (AAPL) remains $200
Our price target on Universal Display (OLED) remains $225
Our price target on Applied Materials (AMAT) remains $70
The 5G Network Buildout is Gaining Momentum – Good News for NOK and DY
This past week beleaguered mobile carrier, Sprint (S), threw its hat into the 5G network ring announcing that it will join AT&T (T), Verizon (VZ), and T-Mobile USA (TMUS) in launching a commercial 5G network in 2019. That was news was a solid boost to our Nokia (NOK) shares, which rose 15% last week. The company remains poised to see a pick-up in infrastructure demand as well as IP licensing for 5G technology, and I'll continue to watch network launch details as well as commentary from Contender List resident Dycom Industries (DY), whose business focuses on the actual construction of such networks.
Several months ago, I shared that we tend to see a pack mentality with the mobile carriers and new technologies – once one makes a move, the others tend to follow rather than risk a customer base that thinks they are behind the curve. In today's increasingly Connected Society that chews increasingly on data and streaming services, that thought can be a deathblow to a company's customer count.
Our price target on Nokia (NOK) shares remains $8.50
I continue to evaluate upgrading Dycom (DY) shares to the Select List, but I am inclined to wait until we pass the winter season given the impact of weather on the company's construction business.
Disney Offers Some Hope for Its ESPN Unit
Last night Disney (DIS) announced its December quarter results while the overall tone was positive, the stand out item to me was the announcement of the new ESPN streaming service being introduced in the next few months that has a price tag of $4.99 a month. For that, ESPN+ customers will get "thousands" of live events, including pro baseball, hockey and soccer, as well as tennis, boxing, golf and college sports not available on ESPN's traditional TV networks. Alongside the service, Disney will unveil a new, streamlined version of the ESPN app, which is slated to include greater levels of customization.
In my view, all of this lays the groundwork for Disney's eventual launch of its own Disney streaming content service in 2019, but it also looks to change the conversation around ESPN proper, a business that continues to lose subscribers. Not surprising, given that Comcast (CMCA) continues to report cable TV subscriber defections. One of the key components to watch will be the shake-out of the rights to stream live games from the major professional leagues — the NFL, Major League Baseball, the NBA. Currently, ESPN is on the hook for about $4 billion a year in rights fees to those three leagues alone — not to mention the rights fees committed to college athletics. Those deals, however, include only the rights to broadcast those games on cable networks or on the ESPN app to customers that can prove they have a cable subscription, not cord-cutters. So the question will be how quick will customers jump on board to pay $5 a month for lower-level games, or will they be able to cut deals with the major professional sports leagues to include some of their games as well.
Nevertheless, I continue to see all of these developments as Disney moving its content business in step with our Connected Society investing theme, which should be an additive element to the Content is King investment theme tailwind Disney continues to ride. With that in mind, we are seeing rave reviews for the next Marvel movie – The Black Panther – that will be released on Feb. 16. The company's more robust 2018 movie slate kicks off in earnest a few months later.
We will continue to be patient investors with Disney, and our price target on the shares remains $125