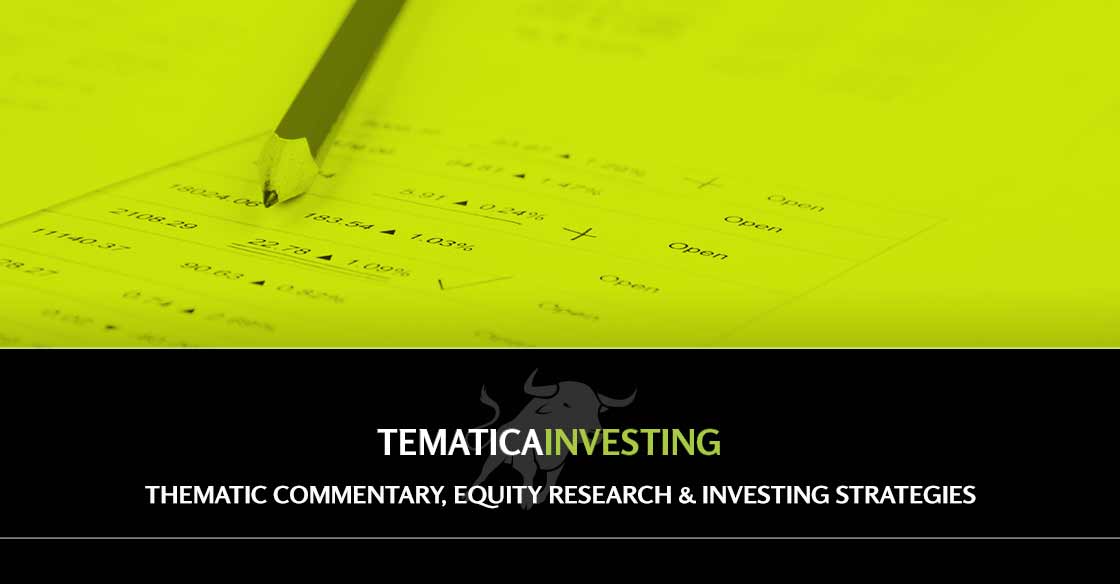 Key points inside this issue
 June quarter earnings season could reset second half expectations
 Introducing the Tematica Research Cleaner Living Index
Setting protective stop loss levels for the Select List 
We are issuing a Sell rating and removing both AXT Inc. (AXTI) and Energous Corp. (WATT) shares from the Select List 
And the data continues to weaken

If you've been paying attention to the financial media — be it on CNBC or Twitter — you've probably seen the news that the latest rash of economic data has come in weaker than expected. This includes a growing number of June data issued by the regional Federal Reserve banks as well as a drop in both June Consumer Confidence and May New Home Sales. We've also seen a sharp drop in the May Cass Freight Index and other similar indicators.
Over the past several weeks, we've continued to see a growing amount of data come in below expectations, and arguably the best representation for this is found in the Citibank Economic Surprise Index, better known as CESI. As we can see in the below chart, that index shows the sorry state of economic data relative to expectations, which also explains the downward slope and slowing velocity depicted in GDP forecasts for the current quarter.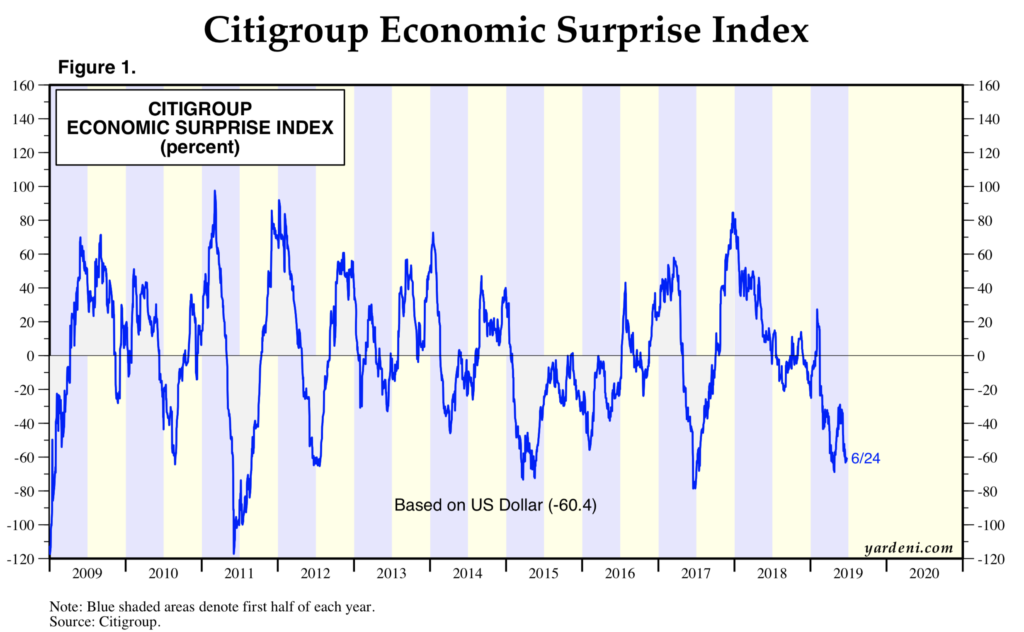 As I type this, the Atlanta Fed GDP Now reading for the June quarter sits at 2.0%, but I would be quick to call out it was last updated on June 18. This means several of this weeks' weak data points have yet to be factored into that GDP forecast. By comparison, the New York Fed's Nowcast reading for the June quarter is 1.39% as of June 21 – better in the sense that it is more up to date, but it's still missing some of the most recent data. Both of those GDP forecasts will more than likely be revised lower, exacerbating the sharp slowdown relative to the March quarter's GDP print of 3.1%.
When we look at the stock market, however, one might think things were going gangbusters given what is poised to be the best June in sometime. But it's the next two charts that have me concerned for the upcoming June quarter earnings season. The first one shows how the market has performed despite the data showcasing a weakening economy. The second one shows second half EPS expectations for the S&P 500 group of companies remain above 10% compared to the first half. Take a look at the charts and let that last comment sink in.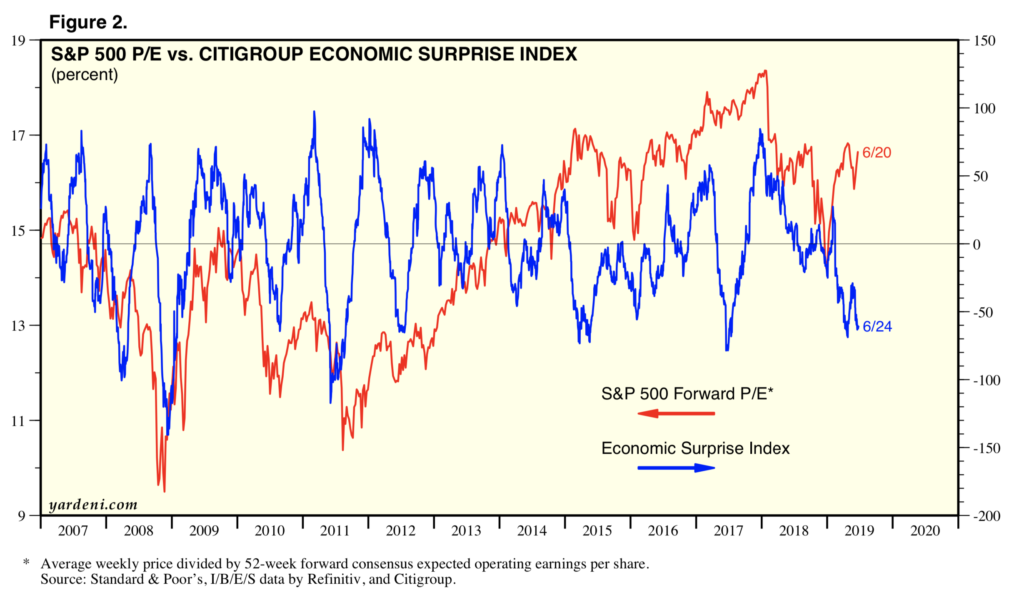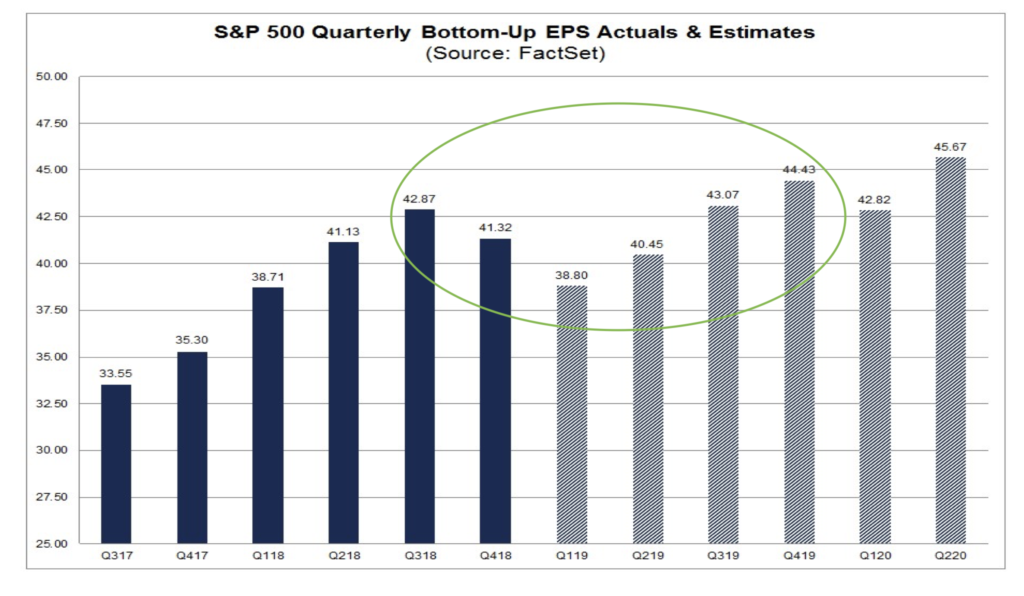 June quarter earnings season could reset second half expectations
Simply stated, the odds of the S&P 500 group of companies delivering that level of EPS growth in the back half of 2019 given the vector and velocity of both the domestic as well as global economy, with the impact of tariffs that are in place, and the lack of anything like the 2018 bottom line benefit that was tax reform are rather low in my opinion. Before the usual July deluge, this week we'll get earnings from the likes of FedEx (FDX), Nike (NKE) and Select List resident McCormick & Co. Inside those reports, I'll be listening for comments not only on their respective businesses, but also international demand, currency and tariffs. In my view, what we hear from these three companies and others will set the stage for what is to come in the following weeks.
One recommendation I would make to subscribers is to hang onto the ProShares Short S&P 500 ETF (SH) shares that were added to the Select List back in December. While SH shares have moved against us as the market has moved higher in 2019, much like insurance when we'll want to own them, it will be too late to buy them.
With the Fed out of the way for now following last week's meeting that signaled its more dovish bent, ahead of us we have the G20 summit and all eyes are now bracing for its outcome. Will Presidents Trump and Xi get US-China trade talks back on track? Will there be any new development to be had between the US-Iran?
The answers to these questions and others will shape the start of the stock market in the second half of 2019. While I remain hopeful, the chatter we are hearing that includes White House officials now saying US-China trade talks could "go on for months or years." The optimist in me hopes this is pre-game $#!+ talking, but better to hope for the best and prepare for the worst.
We did that last week with the Thematic Leaders and shortly we'll do that for the Select List as well. First, however, I have something exciting to share with you… the unveiling of the Tematica Research Cleaner Living Index.


Introducing the Tematica Research Cleaner Living Index
Yesterday we debuted the Tematica Research Cleaner Living Index (CLNR), which as you probably guessed, is an index of publicly traded companies that reflects our Clean Living investing theme. There are more than 50 constituents in the index, including Clean Living Thematic Leader Chipotle Mexican Grill (CMG), that reflect the accelerating shift by consumers and businesses toward products and services that are better for you, your home, and the environment. We've culled the index's constituents from our thematic database that spans more than 2,400 companies scored across our 10 investing themes. And because we wanted to isolate the companies with the greatest exposure to this theme, the index's constituents are those companies that derive more than half of their sales or profits from Clean Living tailwinds.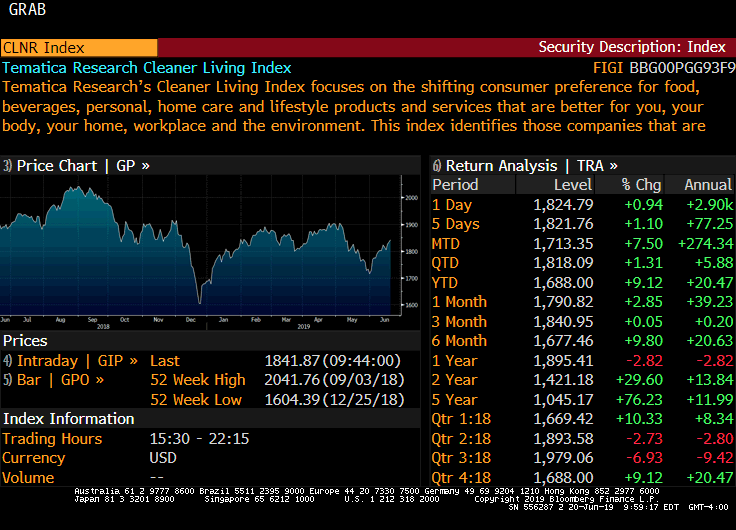 The formal press release announcing the index can be read here. Subscribers should expect to hear much more about the index in the coming weeks in a number of updates that include price action, Thematic Signals, and other articles. Like other indices, we view Cleaner Living as a living, breathing thing that will change over time as new companies debut and companies pivot their business into the Clean Living theme tailwind with new products or M&A activity. That M&A activity could also lead to companies being removed from the index. As we've seen in recent quarters with the takeout of SodaStream by PepsiCo (PEP) or Cava Grill acquiring Zoe's Kitchen, companies are indeed using that strategy to accelerate their make over. There should be no shortage of Cleaner Living index related items to share and discuss.
With that in mind, as I write this, I am winging my way toward Manhattan where over the next two days I'll be appearing on a number of programs from The First Trade on Yahoo Finance! to Making Money with Charles Payne on Fox Business and others across Cheddar, the TD Ameritrade Network and other outlets. As we get the clips, I'll be sure to share them via Twitter (@Chrisjversace).
Get ready, because when it comes to the Cleaner Living index, we are just getting started.
Tematica Investing
Setting protective stop loss levels for the Select List
Last week we set or reset stop loss levels for the Thematic Leaders, and with the preponderance of data coming in weaker than expected this week, I'm going to do the same for positions on the Select List as follows:
Apple Inc. (AAPL) – $160
Applied Materials, Inc. (AMAT) – $34
The Walt Disney Co. (DIS) – $111
Alphabet (GOOGL)- $900
ETFMG Prime Cyber Security ETF Safety & Security (HACK) – $31
International Flavors and Fragrances (IFF) – $117
McCormick & Co. (MKC) – $123
Universal Display (OLED) – $150
AT&T (T) – $26
United Parcel Service (UPS) – $85
USA Technologies (USAT) – $6

Removing AXTI and WATT shares from the Select List
As we make these moves, we'll also cut bait on shares of AXT Inc. (AXTI) as well as Energous Corp. (WATT). Both positions have been hard hit, despite the thematic potential associated with 5G and wireless charging. With key AXT customers, such as Skyworks (SWKS) and Qorvo (QRVO) slashing their outlooks given the ban on Huawei, odds are rather high AXT's business will be impacted. Similarly, with Energous, with Apple opting to not enter the wireless charging market, and a longer design to product conversion cycle unfolding we'll look to preserve existing capital by those shares as well.
We are issuing a Sell rating and removing both AXT Inc. (AXTI) and Energous Corp. (WATT) shares from the Select List