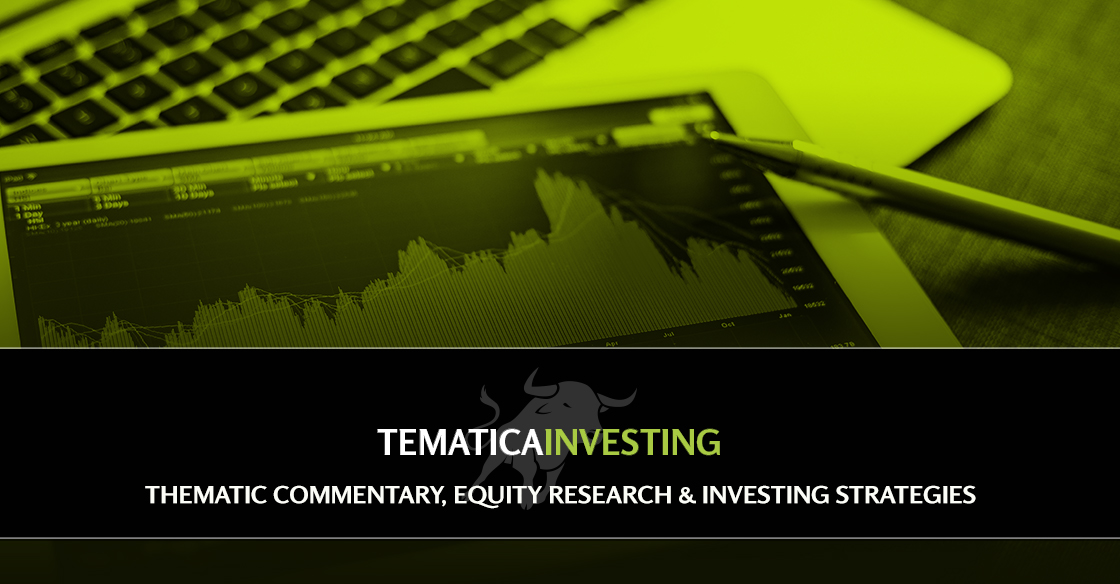 Tags:

$WMT, AMAT, Amazon, AMZN, Applied Materials, eurozone, Flash PMI, Foods, inflation, Japan, M, Macy's, OLED, prices, UNFI, United Natural, Universal Display, US, Was-Mart
note: no comments
You do not have access to this content until you upgrade to a Tematica Membership. Click here for details.

---
As you probably know, this week is a shortened one following the 3-day holiday that was President's Day. We still have a number of companies reporting their quarterly earnings this week, and that includes the Tematica Select List's own Universal Display (OLED). The shares have had a strong run, up just over 28 percent year to date, and that likely has them priced near if not at perfection. Last week, Applied Materials (AMAT) gave a very bullish view when it comes to the ramping organic light emitting diode manufacturing capacity, as the industry prepares for Apple (AAPL) and others switching to this display technology. Consensus expectations for Universal's December quarter results are EPS of $0.42 on $68.6 million in revenue. We expect a bullish outlook to be had when Universal reports its results this Thursday.
Alongside Universal Display, there will be a few hundred other companies reporting. Among those, we'll be tuning into reports from Wal-Mart (WMT), Macy's (M), JC Penney (JCP) and TJX (TJC) for confirming data on our Amazon (AMZN) thesis. Similarly, we'll be looking at Cheesecake Factory's (CAKE) for confirmation in the restaurant pain that is benefitting our McCormick & Co. (MKC) and United Natural (UNFI) shares.
On the economic data front, the calendar is a tad light, with the highlight likely to be the next iteration of the Fed's FOMC minutes. Given Fed Chairwoman Janet Yellen's two-day testimony on Capitol Hill that we touched on above, we're not expecting any major surprises in those minutes. Even so, we'll be pouring over them just the same.
This morning we received the February Flash Manufacturing PMI metrics from Markit Economics and not only did Europe crush expectations hitting a six-year high in February. Across the board, from business activity to backlogs of work and business confidence, the metrics rose month over month. One item that jumped out to us was the increase in supplier delivery times, which tends to be a harbinger of inflation — something to watch in average selling price data over the next few months. Turning to Japan, the Markit flash manufacturing PMI rose to 53.5 in February, its highest level since March 2014, with sequential strength in all key categories — output, exports, employment and new orders. but Japan hit it's highest level since March 2014.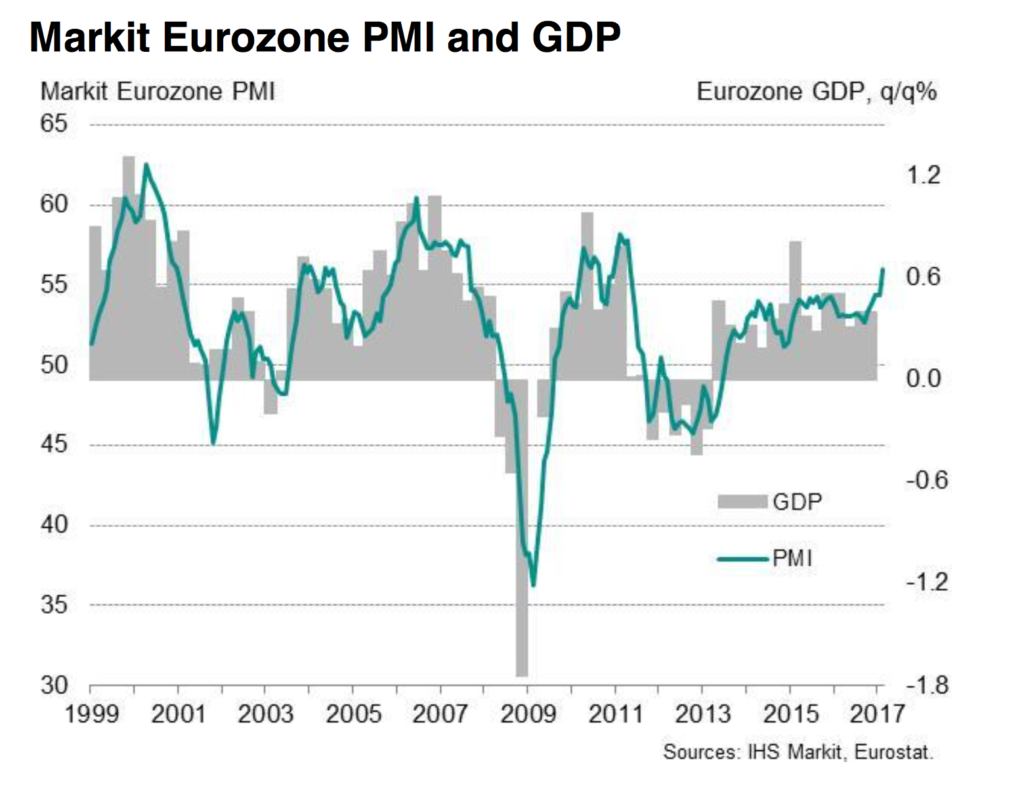 Here at home, the Flash U.S. Composite Output Index hit 54.3 in February, a downtick from 55.8 in January, but still well above the 50 line that denotes a growing economy. The month over month slip was seen in manufacturing as well as the service sector. Despite that slip, new manufacturing order growth remained faster than at any other time since March 2015 and called out greater demand from energy sector clients. No surprise, given the rising domestic rig count we keep reading about each week.
Manufacturers also called out that input cost inflation was at its highest level since September 2014 and we think this is something that will have the Fed's ears burning.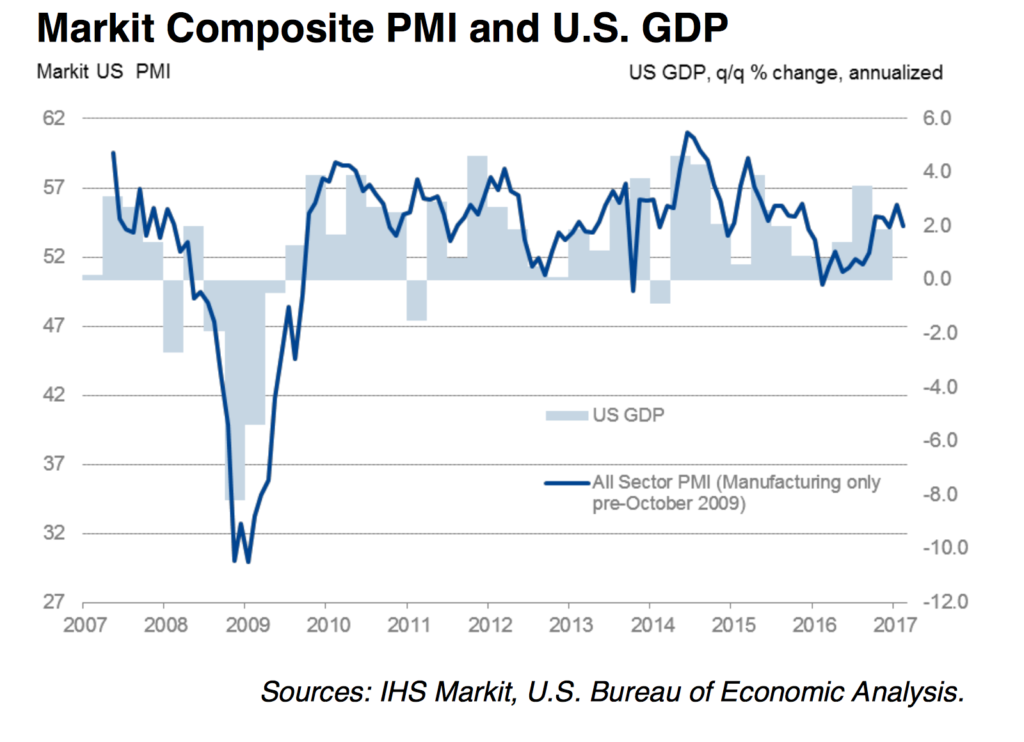 Currently, our view is the next likely rate hike by the Fed will be had at the May meeting, which offers plenty of time to assess pending economic stimulus, immigration and tax cut plans from President Trump. Again, we'll be watching the data to determine to see if that timing gets pulled forward.
Stay tuned for more this week.