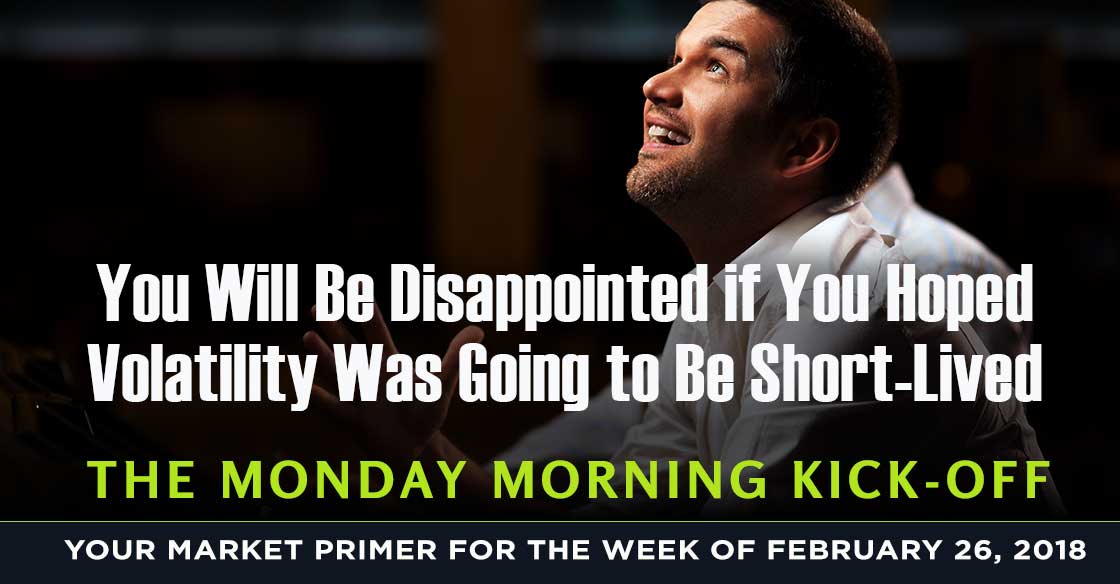 With three trading days left in the month of February, we can easily look back over the last four weeks as a sea-change in the stock market. The change came with the return of volatility with a vengeance with wide intra-day swings that through the end of last week led the market lower from the January 26th peak. As I shared on last week's Cocktail Investing Podcast, my view is between now and the Fed's next FOMC meeting on Feb 20-21 — a meeting that ends with the Fed's updated view on the economy, GDP and Chairman Powell's first press conference — day to day the stock market will be based on the new and data of the day.
This week we've got a full calendar of data coming at us, and given that investors are currently in the mode of "good news for the economy is bad news for the market", it means those who are hoping the recent bout of volatility was going to be short-lived… you're going to be disappointed. Now, let's breakdown what's on tap this week as we exit February and enter the last month of the current quarter.
The Economic Week Ahead
As we exit February and enter March, we get the usual end of one month, start of the next data. It likely means we'll be seeing more than a few adjustments made to the Atlanta Fed's GDPNow and the New York Fed's estimate that currently sit at 3.2% and 3.1%, respectively. Those levels are compared to the 4.2% and 3.09% that were published as we exited January — we'll just put the 5.3% figure Atlanta published on February 1st to the side as the outlier it clearly was.
Among the indicators to be digested by economists and market watchers as they look to determine what the Fed will say in a few weeks, we have several January data points to be had including the Chicago Fed National Activity Index, New Home Sales, Durable Orders, Personal Income & Spending, and Construction Spending. Given the record low temps recorded in January, odds are the some of these figures will be impacted.
For us here at Tematica and our Cash-Strapped Consumer investing theme, we will be pouring over the January Personal Income & Savings data. While recent data streams have revealed little wage growth for roughly 80% of workers in January, the report will bring some context, not only to January spending beyond the monthly retail sales figures, but also offer the latest view on the consumer savings rate. As a reminder, the December reading was at the lowest level in over a decade, something we view as worrisome given other data showing a continued rise in consumer debt that is poised to sap consumer spending as the Fed inches interest rates higher in the coming quarters.
Turning to the oncoming February data, we've got the readings for Consumer Confidence, the ISM Manufacturing Index, Auto & Truck Sales and several regional Fed indices. In keeping with our Economic Acceleration/Deceleration theme, the one February indicator we'll be digging into deep will be the ISM Manufacturing Index, not only for what it says about the tone of the domestic economy, but also about the latest in input prices and inflation.
Amid all of this, we also have new Fed Chairman Jerome Powell testifying before the House of Representatives' Committee on Financial Services in the Federal Reserve's Semiannual Monetary Policy Report to the Congress on Wednesday (Feb. 28). Normally these testimonies tend to follow the Chairman's established playbook, but this will be Powell's first outing and comes BEFORE his first Fed press conference. I suspect many, including us here at Tematica, will be parsing his language and dissecting his meaning to better understand what is likely to be had from Powell and the Fed on Feb. 21.  As much as we would like to hear the new Fed Chair communicate in plain English, odds are he will mirror his predecessors and speak in a style that is as clear as mud.
The Earnings Week Ahead
The last few weeks have seen several hundred companies report their quarterly earnings. We're set for another onslaught to occur yet again this week with more than 575 such reports coming at us. While we're essentially down to the December quarter end stragglers, we'll begin to hear from a growing number of retailers this week including Macy's (M), Chico's FAS (CHS), TJX (TJX), Kohl's (KSS), Gap (GPS), Nordstrom (JWN), Restoration Hardware (RH), J.C. Penney (JCP) and Foot Locker (FL). Based on last week's earnings report from Walmart (WMT), which cited rising freight costs and the need to further invest to keep Amazon (AMZN) at bay will weigh on its margins, we could be in for a rocky set of reports if those retailers offer a similar outlook as I suspect they will.
Retailers aside, we have a number of companies reporting this week whose commentaries will offer valuable insight to our investing themes. Here's a short list of the companies and the corresponding themes we'll be watching:
Broadcom (AVGO), Fitbit (FIT) – Connected Society
Freightcar America (RAIL) – Economic Acceleration/Deceleration
NutriSystem (NTRI), Hostess Brands (TWNK) – Fattening of the Population
VeriFone (PAY), Square (SQ) – Cashless Consumption
Toll Brothers (TOL) – Affordable Luxury
com (ALRM) – Safety & Security
Dycom (DY) – Disruptive Technologies
Anheuser-Busch InBev (BUD) – Guilty Pleasure
Thematic Signals
As if this week wasn't busy enough, Mobile World Congress 2018 kicks off today Feb. 26 and runs through the end of the week. Why is this annual event, which is a showcase for mobile technology one big thematic signal?
On the surface, the event will once again focus on the growing number of connected devices, and I suspect several new flagship models for smartphones will be announced from the likes of Samsung, LG, Huawei and others. We'll also get a hefty dose of "techy talk" on 5G as carriers like AT&T (T), Verizon (VZ), Sprint (S) and T-Mobile USA (TMUS) they will launch commercial 5G networks in 2019.
With each next-generation mobile technology we've seen a dramatic expansion in what can be done wirelessly. Way back when in the 2G world it was voice and text. With 3G we saw the debut of the true mobile internet and the start of apps. With 4G/LTE the app transformation continued and the emergence of streaming content, both video and music ranging from video calling to watching the latest TV or film to bopping along to Versace on the Floor by Bruno Mars as you walk down the street (Not that I've ever done that).
Faster network speeds and greater bandwidth have been a key enabler and the result has been a near quenchless thirst for data and content. So much so that we see extreme user frustration when our smartphones drop down to 4G or even 3G from an LTE connection. One would think anarchy was about to ensue. 5G networks with far faster data speeds compared to 4G/LTE are poised to push the mobile boundaries even further.
At Mobile World Congress 2017, Samsung showcased its 5G Home Routers, which achieved speeds of up to 4 gigabits (GBs) per second – that's 500 megabytes per second. Translated into real-world speak that would let you download a 50 GB game in under two minutes, or a 100 GB 4K movie in under four minutes.
How does that stack up against the average internet speed in the US? As of 2016, that speed was 55 megabits per second, which translates to a woeful 6.5 megabytes per second.
This means 5G networks will more than likely foster another sea change in what, how, where and perhaps even why mobile technology is used. Applications already being bandied about include the Internet of Things with applications ranging from connected farms and smart cities to the remote control of heavy machinery and enabling autonomous vehicles.
Will we see more cord cutting as 5G networks go mainstream and even more mobile content consumption? My view is a resounding YES. That's why 5G is part of our Disruptive Technologies investing theme, but it will also add to the tailwind associated with our Connected Society theme as well. Realizing the opportunities to be had, there are several companies on the Tematica Investing Select List that will see their businesses benefit from the deployment of 5G from an infrastructure as well as chipset perspective – if you want a device to connect to the network, you can't have one without the other.
I'll be sharing my take on the announcements coming out of Mobile World Congress this week as well as which companies are likely to be in trouble as 5G takes hold.