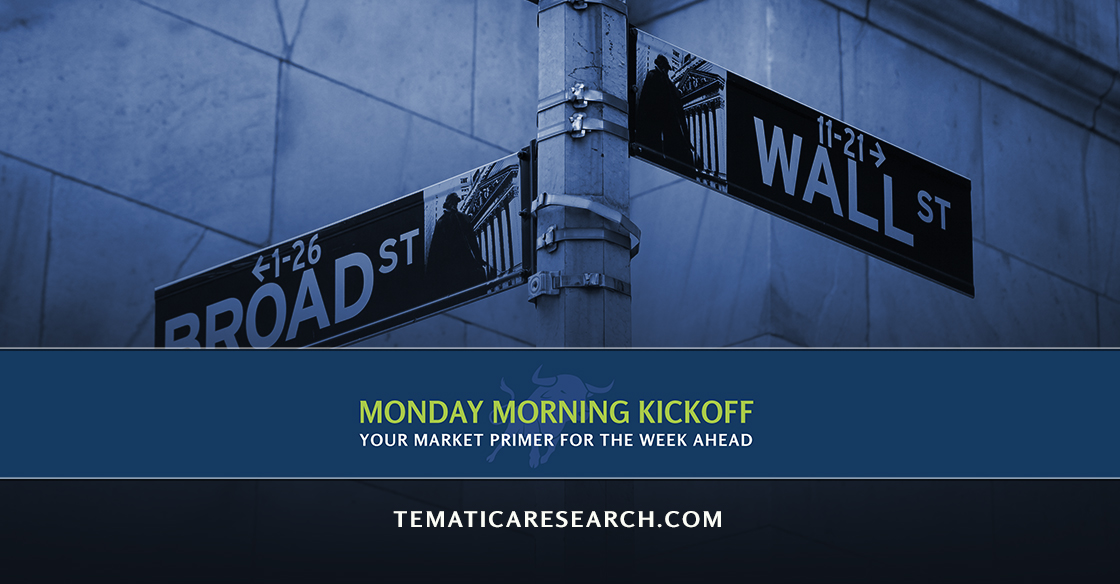 Following a somewhat tension-filled weekend given North Korea's latest missile launch, Friday's London terror attack and yet another hurricane set to travel up the Atlantic, we're once again highlighting the items that investors should focus their attention on for the week ahead, and the fallout from Hurricane's Harvey and Irma will start appearing in things like the Home Sales data, Fed Rate plans and corporate earnings.
On the Economic Front
We have a bevy of housing data to digest in the form of August reports for Housing Starts and Existing Home Sales as well as the National Association of Home Builders' September Housing Market Index. While we'll be assessing that data against the backdrop of the recent hurricanes, the real focus will be the Fed's next FOMC rate decision on Wednesday (Sept. 20) and next Friday's (Sept. 22) IHS Markit Flash PMI reports for September. We expect the Flash US Composite PMI report to reflect the impact of Harvey and Irma, and likely be the first report that fuels a negative revision in 3Q 2017 GDP expectations.
With regard to the Fed, the probability of rate hike at this meeting was already low, and we suspect the disruptive nature of the hurricanes would have put any potential rate hike on hold. We suspect the same is true for the Fed's plan to begin unwinding its balance sheet, and we'd remind subscribers the Fed's next FOMC meeting is slated for October 31-November 1 followed by December 12-13. Despite our suspicions, we'll be ready to respond to whatever action the Fed takes next week, which could be as little as interpreting its post-meeting comments on the economy and monetary policy possibilities.
On the Corporate Earnings Front
This week we'll be hearing from Adobe Systems (ADBE), Bed Bath & Beyond (BBBY), FedEx (FDX), General Mills (GIS) and CarMax (KMX). Given several positions on the Tematica Investing Select List, we'll be interested in Adobe's results and outlook for the cloud and e-commerce, while for FedEx we'll be skimming its results for any signs of what it expects for the upcoming holiday season. We're already hearing about holiday hiring plans from Target (TGT) and Macy's (M), but as part of our Connected Society investing theme, we continue to see digital commerce gaining share this holiday season just as it did in August.
With regard to CarMax, we're interested to hear what it is seeing in Houston and Florida, and what it may mean for automakers that have been struggling with of late with rising inventories and rather aggressive use of incentives. We suspect auto manufacturers, like General Motors (GM), could be one of the silver lining beneficiaries of the recent hurricanes. Others include building product and other infrastructure companies, which we are putting under the microscope as we speak.
With regard to building product and infrastructure companies, next week's D.A. Davidson 16th Annual Engineering & Construction and Energy Conference will be one to watch. As we approach the end of the quarter, the frequency of investor conference will begin to slow, but some individual companies will still be conducting non-deal roadshows with institutional investors. We'll be looking for comments spinning out of those meetings, including ones about Food with Integrity company International Flavors & Fragrances (IFF) competitor Givaudan (GVDNY) and its European roadshow. In terms of industry conferences, next week is the IHS Markit Display conference which could provide some incremental data on the organic light emitting diode market that is powering of shares of Tematica Investing Select List positions Universal Display (OLED) and Applied Materials (AMAT).
Thematic Signals
Each week we look for data points pertaining to our 17 investment themes, or as we call them Thematic Signals. These signals can be confirming or they can serve to raise questions as to whether a theme's tailwinds are strengthening or ebbing. Be sure to check out the Thematic Signals section of our website to read more about these stories and others we publish throughout the week. Here are some of the highlights we saw this week: