DIGITAL INFRASTRUCTURE
The Buildout and Upgrading of our Networks, Data Storage Facilities and Equipment
Tematica Research's Digital Infrastructure investment theme focuses on the companies that underpin the connective superhighway of today and tomorrow that is dramatically changing why and how consumers and businesses interact, consume, transact and communicate. Network constraints as more people create and consume data will drive incremental capacity additions and fuel the adoption of newer technologies that will ripple through the Digital Infrastructure ecosystem.
Components of the Digital Infrastructure Theme
Connective Chips, Materials & Technology

The processors and communication chips that enable WiFi, cellular, Bluetooth and NFC and other communications protocols that connect our wired and mobile devices to the digital infrastructure.

Data Networks

The mobile, cable and fiber networks that are the connective tissue of the digital infrastructure that allow consumers to shop, transact, communicate, stream content and the payment processing that allows us to pay for it all.

Cellular Towers, Base Stations and Data Centers

The connective hubs that allow for the communication, processing, backup and distribution of data across our vast digital networks.

Networking Hardware

The transceivers, multiplexers, servers, routers, card readers and receivers and related hardware that comprises the connective hubs — without it there would be no digital infrastructure backbone to speak of.

Networking Construction

While network operators like AT&T and Comcast are the front facing companies that operate mobile and cable networks, they are not the ones that build them. There is a vast network of firms that manufacture the cables and fiber as well as those firms that put it all in place.
Published Research and Articles on the Digital Infrastructure Theme
Digital Infrastructure Thematic Index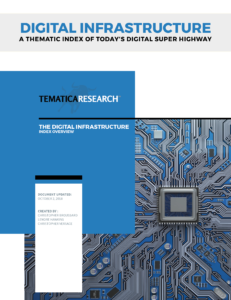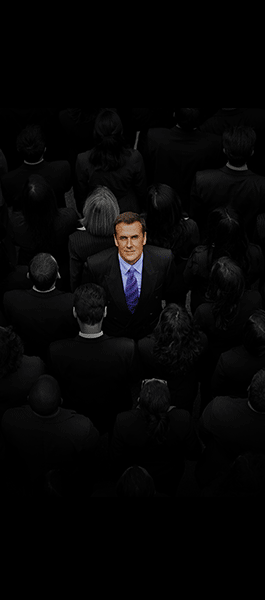 What is Thematic Investing
Thematic investing looks to identify pain points by looking at the intersection of shifting economics, demographics, psychographics and technologies, mixed in with regulatory mandates and other forces. Such pain points result in a pronounced secular market shift that shapes and impacts behavior, forcing companies to make fundamental changes to their businesses to succeed.  Read More >>
What We Do at Tematica
Tematica Research provides equity research, economic insights, and investment ideas based upon its proprietary thematic perspective of the world and financial markets. The thematic discipline utilized by Tematica across its research and economic commentary, as well as its index and portfolio construction efforts, is the culmination of the more than 20 years Chief Investment Office Chris Versace spent analyzing industries and companies.  Read More >>