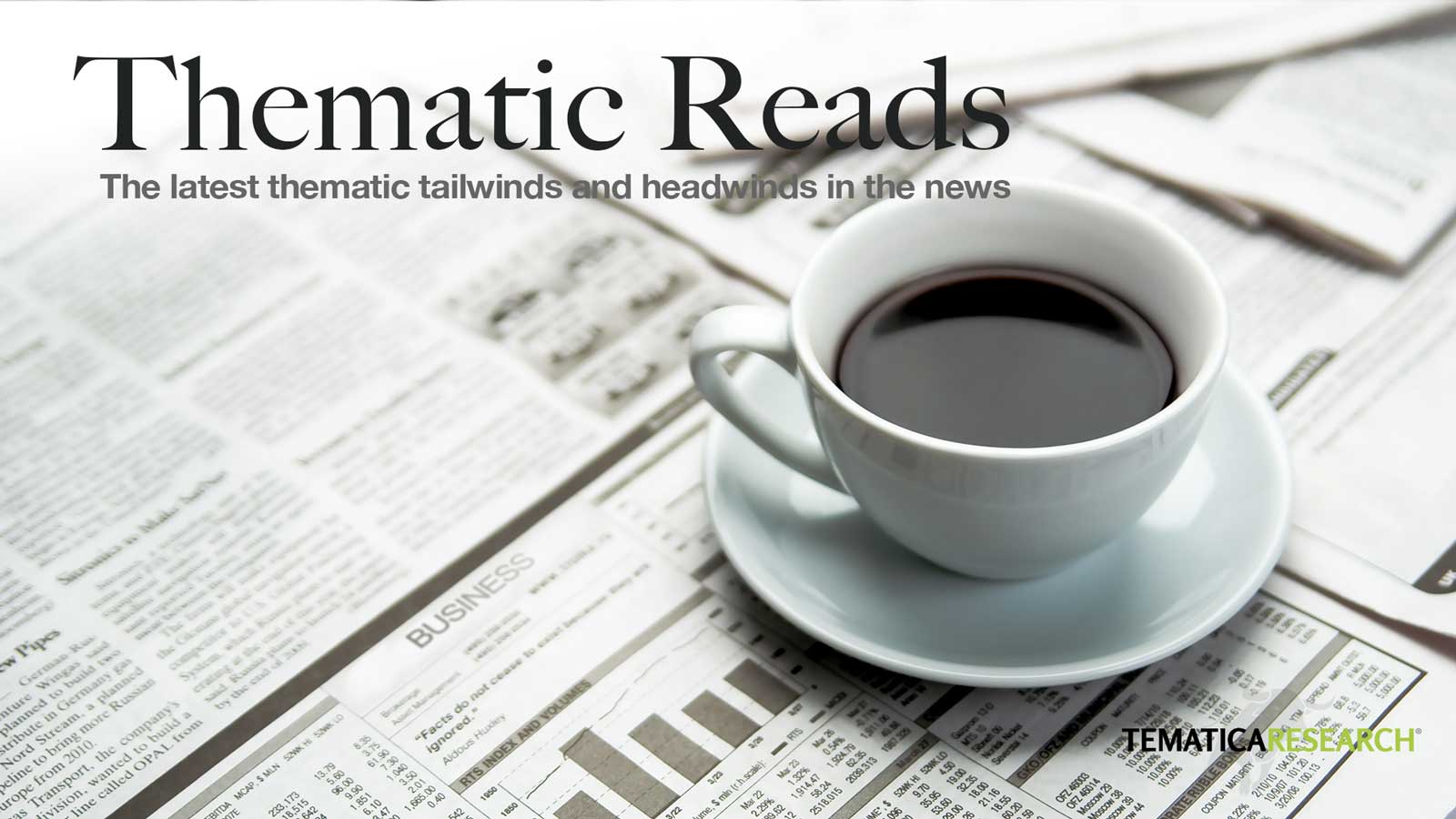 Thematic Reads
Each week Team Tematica consumes an immense quantity and range of content as we look to stay on top of the latest data and mine it for tailwind and headwind signals for our investment themes and indices.
Cleaner Living
Growing demand for items that claim to be better for you and the planet:
The clean movement is probably definitely the biggest thing to happen to the beauty industry in a long, long time. Just take a look around the next time you head to a major beauty retailer like Sephora, Ulta, or Target: Whole entire sections—both IRL and virtual—are now dedicated to showcasing the best skin, hair, and makeup products in the clean space.
– Everything you need to know about the Clean Beauty movement.
Consumer habits are evolving, people have started to be concerned about what they are putting into their bodies, which in turn initiated a clean eating movement across the world. Now the emphasis pivots to what they are putting on their face. While commercial beauty brands are restructuring their beauty strategy, natural beauty products such as Tata Harper are feeding the needs of the new green consumer.
– The Rise In Clean Beauty Brands
House Democratic leaders are lining up behind a White House push to allocate $8 billion in taxpayer funding for the latest iteration of mail truck, paving the way for a fully electric fleet instead of the piecemeal strategy U.S. Postal Service leaders have been pursuing.
– Push to electrify mail trucks gains wide support, an unlikely win for both DeJoy and Biden
Mercedes-Benz is giving a sneak peek of an electric van that's among the models broadening its battery-powered range over the next year. The electric iteration of the Mercedes T-Class, dubbed EQT, will accommodate as many as seven passengers and launch in 2022, Daimler AG's main division said Monday. It will flank the Citan commercial van due to be introduced later this year, a version of which will be battery-electric.
– Mercedes Unveils Electric Van for Growing Battery-Powered Lineup
Cyber Security & Data Privacy
Securing individuals and organizations against cyber threats and privacy violations:
A text-message scam that infects Android phones is spreading across the UK, experts have warned. The message – which pretends to be from a package delivery firm, prompts users to install a tracking app – but is actually a malicious piece of spyware.
– Flubot: Warning over major Android 'package delivery' scam
Top U.S. fuel pipeline operator Colonial Pipeline has shut its entire network after a cyber attack, the company said in a statement on Friday. Colonial's network supplies fuel from U.S refiners on the Gulf Coast to the populous eastern and southern United States. The company transports 2.5 million barrels per day of gasoline, diesel, jet fuel and other refined products through 5,500 miles (8,850 km) of pipelines. Colonial Pipeline says it transports 45% of East Coast fuel supply.
– U.S. pipeline operator that transports 45% of East Coast fuel shuts entire network after cyberattack
Researchers on Thursday reported that despite a 50% increase in mobile device management (MDM) adoption during the past year, average quarterly exposure to phishing attacks on mobile devices in the financial sector rose by 125% – and malware and app risk exposure increased by more than five times.
– Financial sector saw a 125% increase in mobile phishing attacks during 2020
Apple (AAPL) recently rolled out its highly anticipated App Tracking Transparency feature with iOS 14.5, which lets users decide whether apps track their activity for targeted advertising. Overwhelmingly, users seem happy to leave app tracking disabled. Just 4% of iPhone users in the U.S. have agreed to app tracking after updating their device, according to the latest data from Verizon-owned analytics firm Flurry.
– Too Bad, Zuck: Just 4% of U.S. iPhone Users Let Apps Track Them After iOS Update
"Identity Security is at the center of every major industry tailwind, including digital transformation, zero trust, hacker innovation, and compliance. Digital transformation and the explosion of technologies applications and automation tools are not only blurring the line between a privileged user and a workforce user, but also between human users, applications and bots."
– CyberArk Software (CYBR) earnings conference call (May 5, 2021)

Digital Infrastructure & Connectivity
The Buildout and upgrading of our Networks, Data Storage Facilities, and Equipment:
This week I want to talk digital infrastructure, again. I say again because my most recent Financial Times column focused on the topic. In that column I probably was not as explicit as I should have been about why I think investors need to have some exposure to digital infrastructure. I am going to pass over the obvious demand drivers – you'd have to be in a cave not to understand what's going on with the internet, digitalisation, 5G etc.
– Stevenson: Put 10-20% of your assets in digital infrastructure
Cristiano Amon, the CEO-elect of mobile-phone chip maker Qualcomm (QCOM), rubs his hands in glee when you ask him to talk about 5G. And for good reason: The speedy new wireless standard is creating boom times for his San Diego–based company, which reported 52% revenue growth in its latest quarter.
– Qualcomm Is a 5G Winner. Here's Why the Company's New CEO Is So Bullish on the Future.
The world's digital connections are about to become broader and faster, providing a platform for every industry to boost productivity and innovation. We have identified hundreds of use cases across more than 17 commercial domains that can run on an enhanced digital backbone. This research focuses on four of them: mobility, healthcare, manufacturing, and retail.
– Connected world: An evolution in connectivity beyond the 5G revolution
"Globally, 5G deployment is still in an early stage given that less than 20% of the global operators that currently use LTE have deployed 5G. The U.S. and Northeast Asia markets continue to deploy 5G aggressively for both public and private networks."
– PC-Tel (PCTI) earnings conference call (May 9, 2021)
Digital Payments & FinTech
Companies leveraging technology to disrupt and improve the financial services and payments industries:
The pandemic has not only altered consumers' shopping behaviors, but it's also changed how they pay for goods and services. A significant number of people in the US were already using proximity mobile payments regularly before the pandemic—about 72 million in 2019, according to our estimates. As more consumers experimented with different forms of payment in 2020, however, the number of proximity mobile payment users in the US rose by 29.0% year over year to 92.3 million. We expect the user base to surpass 100 million this year and growth to continue steadily through the end of our forecast period in 2025.
– More than 100 million Americans will use proximity mobile payments in 2021
The Mastercard (MA) New Payments Index shows 95% of Middle East and North Africa (MENA) consumers will consider using at least one emerging payment method, such as cryptocurrency, biometrics, contactless, or QR code, in the next year. Over two-thirds of respondents (65%) agree they have tried a new payment method they would not have tried under normal circumstances, but the pandemic has galvanised people to try flexible new payment options to get what they want, when they want it.
– Mastercard's Payment Index Shows 95% Of MENA Consumers Want To Try New Digital Payment Methods
The Monetary Authority of Singapore (MAS) and the Bank of Thailand (BOT) today launched the linkage of Singapore's PayNow and Thailand's PromptPay real-time retail payment systems. The first of its kind globally, the linkage is the culmination of several years of extensive collaboration between MAS and BOT, both countries' payment system operators, bankers' associations, and participating banks.
– Singapore and Thailand Launch World's First Linkage of Real-time Payment Systems
The adoption of digitisation in trade finance has been something of a "slow burn" as practices have historically relied on the transfer of paper documents between involved parties and largely manual processes. This vitally important area of financial services has trailed behind the digitisation progress that has been made, especially in the last decade, in consumer and retail banking.
– Digitising trade finance: the next frontier for financial services innovation

Thematic Dividend All-Star
Combining the power of rising dividends and thematics.
The first quarter's uptick in interest rates has some investors concerned about the potential for stock market headwinds. But unlike bonds, stocks often rise in value when interest rates increase. Dividend growth strategies that focus on companies with the longest track records of consistent dividend growth tend to be all-weather strategies that have performed well during a variety of interest rate environments.
– When Interest Rates Are Rising, Your Dividends Need To Be Growing

Sustainable Future of Food
Companies addressing the challenge of providing healthy, affordable and nutritious food to a growing global population amid dwindling natural resources.
Wunda is a 'fully versatile' milk alternative for baking, cooking, frothing, and drinking either hot or cold, according to Nestlé, who is rolling out the new brand in France, Portugal, and the Netherlands.
– Nestlé develops pea-based alt milk with "neutral taste" for versatility
Tyson Foods is expanding its plant-based protein line Raised & Rooted into hamburger patties and grounds, bratwurst and Italian sausages.
– Tyson expands Raised & Rooted offerings further into competitive plant-based market
Two-thirds (67%) of consumers consider it important that the products they buy are in recyclable packaging, and the same percentage consider themselves environmentally aware — the same share as before the pandemic, according to Trivium Packaging's 2021 Global Buying Green Report.
– Consumer demand for sustainable packaging holds despite pandemic
During the past 50 years, the world's population has grown about 2.1 times, and consumption has grown more; for some goods, much more. Between 1968 and 2018 (the most recent year for which we have global data), production of both primary energy and of steel rose 3.4 times, that of meat grew 3.5 times, and that of grain grew 2.6 times. The total number of cars on the world's roads rose sixfold, and the number of revenue-generating passenger-kilometers flown (an industry metric) grew by about 24 times. But the rise in aquacultural production beats them all.
– The Fabulous Growth in Aquaculture