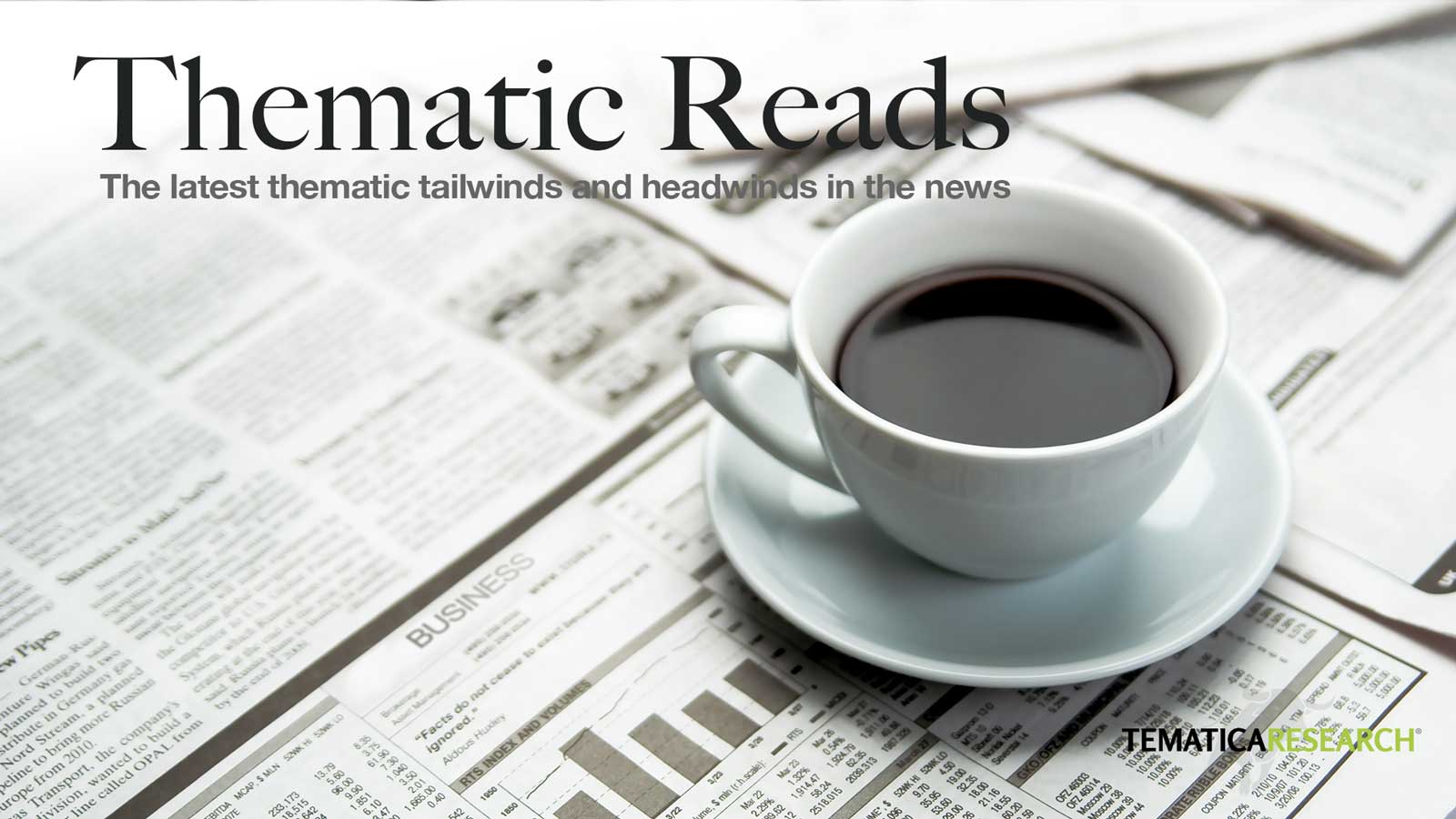 Thematic Reads
Each week Team Tematica consumes an immense quantity and range of content as we look to stay on top of the latest data and mine it for tailwind and headwind signals for our investment themes and indices.
Cleaner Living
Growing demand for items that claim to be better for you and the planet:
 Volvo AB (VOLVF), the world's second-largest truck-maker, is looking to generate half of its sales in Europe from electric vehicles by 2030. The company recently announced three new heavy-duty electric trucks designed for intercity regional transport and urban construction. Production of the trucks is expected to start in the latter half of 2022.
Toyota Motor (TM) introduced the Toyota bZ4X Concept, the first of a global series of battery-electric vehiclesto be launched under the "Toyota bZ" brand umbrella.
German automotive company Daimler (DDAIF) shared it will create 1,000 new jobs for software programmers at its S-Class production facility to develop its planned operating system for electric vehicles. Daimler's MBOS system, which will run electric-only vehicles, is expected to hit the market in 2024.
The Oprah Winfrey-backed oat-milk maker Oatly Group AB (OTLY) has filed to go public in the US and intends to raise at least $100 million.
Nestlé SA (NSRGY) is in talks to buy the maker of Nature's Bounty vitamins for a price in the mid-single-digit billions, according to people familiar with the matter, as the Swiss food giant pushes further into nutritional offerings… In addition to Nature's Bounty vitamins, Bountiful's brands include Pure Protein, which makes protein bars, Osteo Bi-Flex joint-care supplements and Puritan's Pride vitamins and supplements.
– Nestlé Looks to Buy Maker of Nature's Bounty Vitamins

Cyber Security & Data Privacy
Securing individuals and organizations against cyber threats and privacy violations:
The Biden administration is buckling down on cyber threats to the U.S. power infrastructure. The Department of Energy (DOE) announced a 100-day plan to help shore up the U.S. electric power system against cyber threats. The plan, rolled out with the private sector and the Department of Homeland Security's Cybersecurity and Infrastructure Security Agency (CISA), is meant to help owners and operators develop more comprehensive approaches to detection, mitigation and forensic capabilities, according to the National Security Council.
– Biden administration unveils plan to defend electric sector from cyberattacks
An ongoing phishing campaign is impersonating Michael Page consultants to push Ursnif data-stealing malware capable of harvesting credentials and sensitive data from infected computers.
– Phishing impersonates global recruitment firm to push malware
Costco Wholesale (COST) warned American internet users to be wary of more than a dozen digital scams targeting its customer base. On its website, the American multinational corporation has published screenshots of 14 "prominent fraudulent emails, texts, and posts" in which cyber-criminals are impersonating Costco.
– Costco Issues Scam Warning
Check Point reported March quarter results that topped top and bottom-line expectations. Exiting the quarter, deferred revenues were $1.46 billion, up 8% YoY. Per the company, "The cyber threat landscape is reaching new levels of risk and requires a holistic security architecture to prevent the next cyber pandemic."
– Checkpoint Software (CHKP), April 26, 2021

Digital Infrastructure & Connectivity
The Buildout and upgrading of our Networks, Data Storage Facilities, and Equipment:
"Several factors are at play in driving this robust wafer front end growth. First, secular tailwinds such as AI, 5G, and IoT continue to strengthen. And over the past year, COVID-19-related impacts like work and learn from home have accelerated adoption of these technologies."
– Lam Research (LRCX), April 21, 2021
"Compared to three months ago, we are seeing a significant increase in demand across all market segments and our product portfolio. The build-up of the digital infrastructure with secular growth drivers such as 5G, AI and High- Performance Computing solutions fuels demand for advanced and mature nodes in Logic as well as Memory. We now expect revenue growth towards 30% in 2021 compared to last year."
– ASML Holding (ASML), April 21, 2021
"In data center, we believe revenue bottomed in Q1 and will increase in Q2 as cloud digestion impacts begin to subside, and enterprise and government momentum continues."
– Intel (INTC), April 23, 2021
"We have partnered with leading brands across diverse verticals, such as Honda to innovate connected and autonomous driving; Deloitte and SAP to create a 5G and edge computing retail digital platform that will provide retailers with real-time operations data; and Dreamscape and Arizona State University to build and commercialize immersive learning and training."
– Verizon (VZ), April 21, 2021
"…the latest slew of UK government broadband funding, which has largely been based on clear and unambiguous objectives: providing gigabit-speed connections to 85 per cent of the country by 2025, be that through FTTP or 5G, or any other sufficiently-capable technology."
– Maybe high-speed internet is infrastructure after all, say US Republicans in proposal to spend $65bn over five years

Digital Lifestyle
The increasingly digital landscape that now underpins the entire consumer experience:
Walt Disney (DIS) and Sony's (SNE) Sony Pictures Entertainment announced a multi-year content licensing agreement for US streaming and TV rights to Sony Pictures' new theatrical releases across Disney+ and Hulu, as well as ABC, Disney Channels, Freeform, FX and National Geographic.
Digital Payments & FinTech
Companies leveraging technology to disrupt and improve the financial services and payments industries:
PayPal (PYPL) announced the launch of crypto on Venmo, a new way for Venmo's more than 70 million customers to buy, hold and sell cryptocurrency directly within the Venmo app.
Amazon (AMZN) is expanding Amazon One, its palm-scanning payment system to a Whole Foods store in Seattle, the first of many planned rollouts at other locations.
Juniper's Digital Money Transfer & Remittances whitepaper says mobile transactions will represent an 89 per cent per cent share of total transaction value by 2025. The report also found that with shifting customer expectations, existing money transfer models face an increasing threat from instant payments, with domestic instant payment transaction values forecast to grow from $524billion in 2020, to $2trillion in 2025.
– Mobile Transactions Will See Digital Money Transfers Soar to $3.4 trillion

Thematic Dividend All-Star
Combining the power of rising dividends and thematics.
 "The historical evidence strongly suggests that expected future earnings growth is fastest when current payout ratios are high and slowest when payout ratios are low."
– Does Dividend Policy Foretell Earnings Growth?

Sustainable Future of Food
Companies addressing the challenge of providing healthy, affordable and nutritious food to a growing global population amid dwindling natural resources.
Trimble (TRMB) and HORSCH announced a collaboration focused on developing solutions that enable autonomy in agriculture with the goal of building a future for autonomous machines and workflows in the industry.
Raven Industries (RAVN) purchased all of the intellectual property and patents of Jaybridge Robotics, an early developer of automated agriculture technology. Raven will leverage the portfolio with its continued development of Driverless Ag Technology — including integration of the technology into the company's AutoCart platform.
Bear Flag Robotics tractors provide growers increased command and control to take control of any situation in the field, higher levels of safety for farmers and the machines and path generation technology to give operators total control
– Bear Flag Robotics Autonomous Tractor