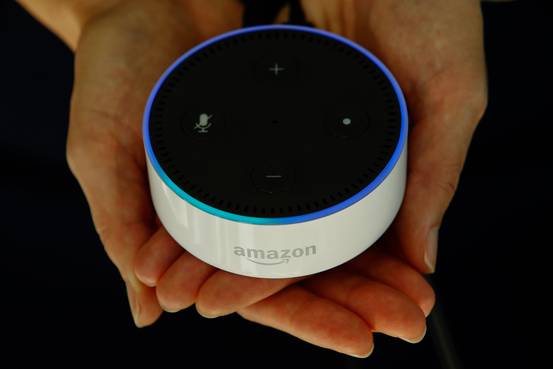 In February 2017, the Front Porch Center for Innovation and Wellbeing (FPCIW) launched its Amazon Alexa Pilot at Carlsbad By The Sea (CBTS). The positive results from the pilot showed the positive impact Alexa and smart home technologies can have in the lives of older adults:
75% used their smart devices at least once a day.
100% felt the Alexa overall made their life easier.
60% of individuals said that they felt more connected to family, friends and their community since starting the pilot.
100% of respondents felt that their device overall helped make life easier
82% reported that using a smart plug/lamp with Alexa was "very easy"
The pilot also explored how Voice First technologies could promote independence and self- management by allowing older adults voice control and automation of their environment. The pilot program found that:
Participants submitted a 9.4/10 satisfaction rating of their smart home experience.
6 of 9 participants (67%) believed that smart temperature control with Alexa was helpful; an additional 33% found it "very helpful".
Those results underscore one of the reasons why Amazon (AMZN) shares are a part of our Aging Population investing theme and included in
Tematica's Boomer Economy index
.
Among the findings from the research (which initially included about 20 residents and later expanded to 90 homes, with most participants older than 80): 75 percent used the smart devices daily, and almost as many said Alexa helped them feel more connected to family, friends and the rest of the community."

When we deployed the Alexa devices, we focused on helping [the older adults] find a meaningful connection with the technology," Park said. "So we would ask people, 'What kind of music do you like? Who's your favorite sports team?'"Once a connection was made and participants were trained in using the device, they started to explore other ways to interact with Alexa, such as using it to listen to audiobooks and get medication reminders.

Tying Voice-First Technology to the 'Smart Home'A second phase of the project offered residents the opportunity to see how Alexa can be tied to "smart home" technology. Soon, a number of them were controlling lights and thermostats in their homes with voice commands.

That capability gave people, particularly those with mobility issues, a greater sense of control and independence, Park noted. They no longer had to bother partners or caregivers to turn on lights or adjust the temperature."

Amazon still dominates the voice-first market, with other smart speakers, including Google Home and Apple HomePod, playing catchup. Overall, it's become a booming business, with sales tripling from 2016 to almost $25 million last year.
Source: How Voice-First Technology Like Alexa Helps Older Adults