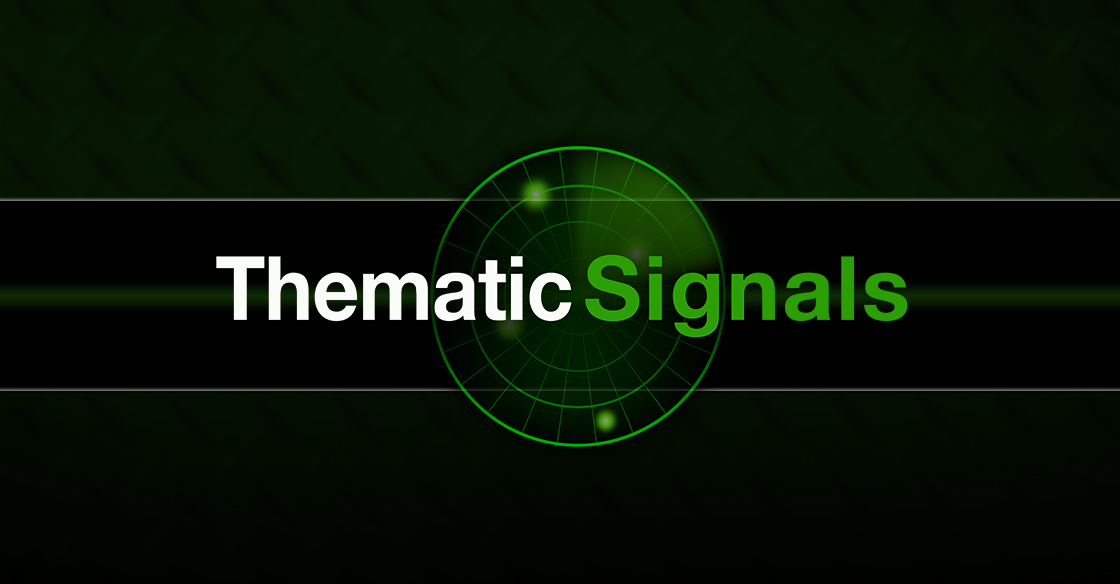 One of the wonderful things about thematic investing when it is done right, is the number of recognizable and relatable points of confirmation to be had once an investor has fine-tuned their focus, or as we at Tematica like to say, strapped on your thematic lens. The traditional investor analyzes and assess a variety of data points ranging from monthly and quarterly economic data to survey findings and third-party research reports as well as industry and company specific news and events. We at Tematica do all that as well, given our fundamental and global macro upbringing, but we also look for other confirming data points such as new product introductions, M&A activity as company's look to reposition their offerings, new partnerships and the like. This has us being those pesky people that slowly walk the aisles of store, be it grocery or other, looking for the new, new thing while also noting how much of the floor and shelf space has been usurped by products that fit hand in glove with our investment themes. That's pretty much week in week out for the Tematica team but from time to time there is a confirmation blitz, and it so happens the 2021 Super Bowl was just such an event.
While the 2021 Super Bowl may have been a meh event to many, it was still the most watched television event so far this year and was likely at least on par with the 100 million people in the US that have watched each Super Bowl over the last decade. On a global basis, total viewership is estimated to be another 30-50 million more. The sheer magnitude of eye-balls being captured during the game means it's a big-ticket item for a company to reach all those viewers, roughly $5.5 million in 2021 for a 30-second spot. In today's digitally connected world, that increasingly favors ad placement with focused online content, it means the Super Bowl is one of the last bastions of major mass marketing in which advertisers can reshape their brand awareness, oftentimes looking to become a household name. And that doesn't factor in the additional views to be had on YouTube and other video platforms, given the penchant to discuss them as part of pop culture and the latest zeitgeist.
From our perspective, it means companies are looking to use this event to reach viewers they may not normally speak to and reveal to them, sometimes in a subtle way, how they are tilting their businesses into the thematic tailwinds that are unfolding before our very eyes. For Tematica, this year's Super Bowl ads were a cornucopia of confirming data signals for many of our themes. Here are some examples:
Cleaner Living
Digital Infrastructure & Connectivity
Digital Lifestyle
Unlike many thematic strategists Tematica doesn't just look for themes that "could be happening if" or the companies that are "skating to where the puck will be." We focus on the themes arise from structural changes in behavior and spending and the companies whose business models allow them to prosper. And yes, we recognize that neither Verizon (VZ) nor T-Mobile (TMUS) are in our Digital Infrastructure & Connectivity Index, but the focus of their commercials on 5G speak to the one of the key drivers of that theme and index as well as as the corresponding ETF. The bottom line is this – the ad spending on Super Bowl LV while providing pivot points for some, re-enforced to us that our investment themes and indices are on track.
Disclosures
Chipotle Mexican Grille (CMG) is a constituent in Tematica Research's Cleaner Living Index.