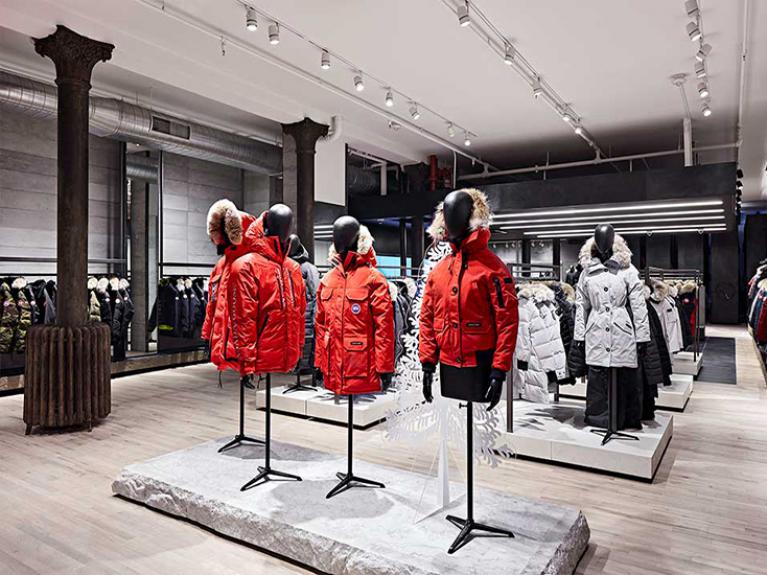 A premium outerwear best known for its signature goose-down jacket with fur-trimmed hood is expanding its fledgling store footprint.  Canada Goose Holdings Inc. announced plans to open three additional retail stores this fall, with locations in Boston, Calgary (Canada), and Tokyo, Japan. Also opening this fall are two previously announced stores in Chicago and London.  "Having a flagship store in Tokyo is particularly exciting as Japan continues to be one of our strongest growing markets and we can now better answer the call of our Asian customers by giving them an opportunity to engage with our brand, unfiltered," said Dani Reiss, president & CEO, Canada Goose. "We are equally excited to extend our footprint in North America, where we know our brand's proud Canadian heritage and unparalleled product innovation and design resonates with locals and tourists alike." In Boston, the Canada Goose store will be located in the Prudential Center. The Calgary store will mark the brand's second store in Canada and will be located in the Cadillac Fairview Chinook Centre. The 3,100-sq.-ft. Tokyo flagship will be operated by the company's distribution partner and be located in the Sendagaya neighborhood, one of the high-end fashion centers of the city.
Source: Canadian outerwear brand in brick-and-mortar expansion | Chain Store Age
Even on these pages of TematicaResearch.com, we often tout the current "retail-mageddon" and the struggles most retailers are having in operating their business as more and more customers turn to online shopping for their day-to-day needs, be it clothes, shoes, etc.
And yet, here is an article discussing Canada Goose Holdings (GOOS) expanding its brick and mortar locations. At the same time, we see Amazon opening up book stores in Seattle and New York, the very same type of stores the internet giant is credited with killing.
So what gives?
First, let's not get too carried away — we're talking about a handful of Canadian Goose stores coming off of a very successful IPO in March of 2017. They need to do something with all that cash!
But digging further what we see in this story is a reflection of the transformation of the mall that is currently going on — at least in those that will survive. As we often tell folks, malls are not going to completely die, but transform themselves into entertainment centers with a combination of movie theaters, restaurants and a handful of high profile shopping experiences that could almost be classified as "product-placement" opportunities. So it's not about the revenue the stores are generating, but the brand experience they are delivering. Whether you walk out of the store with the coat, order one online, or simply post a picture of yourself wearing one on social media, the company doesn't care, it wins either way.