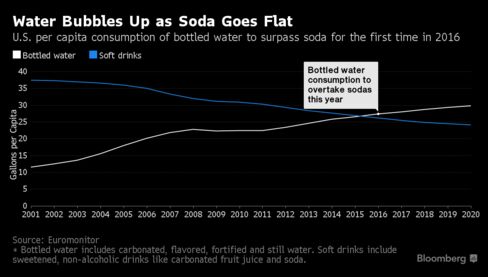 To most, the rise of water — in particular bottled water — as America's go-to beverage is quite extraordinary. But of course, at Tematica, we don't look at the world quite the same as most investors. Our thematic investing approach that we've developed looks at the intersection of evolving economics, demographics, psychographics, and technologies combined with regulatory and legislative mandates to identify pronounced thematic tailwinds that impact business and consumers, forcing companies to adapt or get left behind.
So we see the rise of water, as part of a bigger theme we call Foods with Integrity, reflects the consumers demand for more natural ingredients in their diets. Soda doesn't fit that bill, and is the reason why both the Coke ([stock_quote="K"]) and PepsiCo ([stock_quote="PEP"]) long ago made moves into the water market and are expanding into other beverage areas such as teas.
This article also points to the failing infrastructure and the ability to deliver fresh drinking water to homes as another key driver — for example, the situation in Flint, Michigan. For us, this places water into our Scarce Resources theme because after all, is there anything in greater demand than clean water in the world?
Bottled water will be more popular than soda for the first time in the U.S. this year, thanks to its convenience — and fears over what's coming out of the tap. The biggest U.S. bottled-water companies — Nestle Waters, Coca-Cola Co., PepsiCo Inc. and Dr Pepper Snapple Group — say Americans have switched from carbonated beverages because their products are calorie-free and as portable as a can of Mountain Dew. But the expectation that future sales will rise has to do with another, less happy reason: crumbling infrastructure.
Source: Bottled Water to Outsell Soda for First Time, With Nod to Flint – Bloomberg