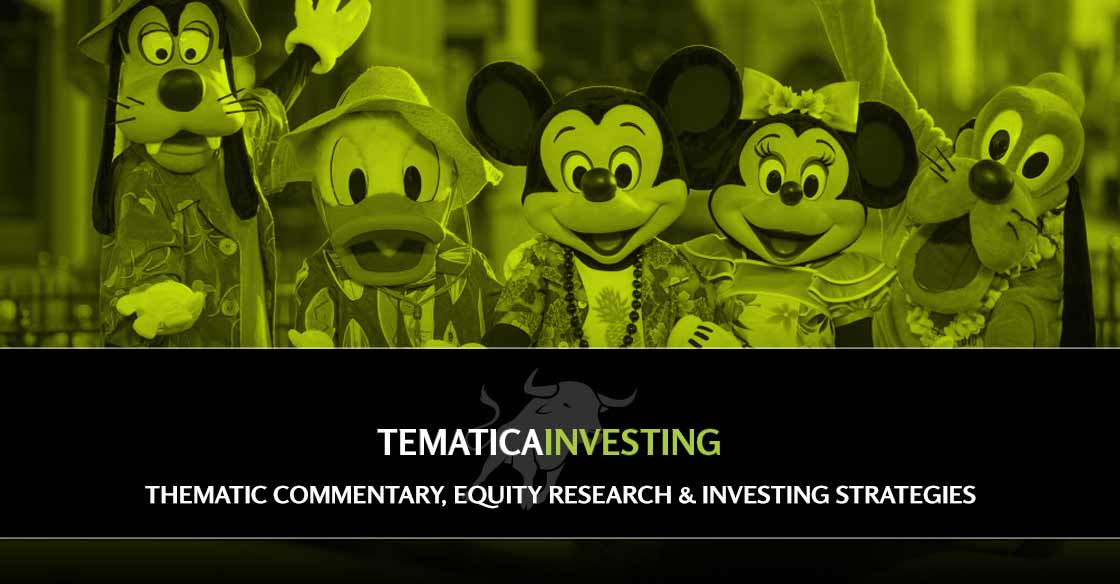 Key Point Inside this Alert:
We are boosting our price target on Walt Disney (DIS) shares to $130 from $120.
Last night Walt Disney (DIS) reported June quarter results that missed expectations modestly on the top and bottom line, taking some wind out of the shares in after-market trading. To be fair, Disney shares have ascended quickly quarter to date as it became clear that it would be the one to acquire the TV and movie assets at 21st Century Fox (FOXA). That melt up put DIS shares in the position to having to deliver upside relative to expectations to justify the share price move over the last five weeks, but those new catalysts won't begin to fire for Disney for a few quarters.
I continue to see many positives associated with that transaction, which include adding the vast Fox content library to Disney's existing one that spans its historical characters as well as Marvel, Star Wars, and Pixar. As the transaction closes, Disney will likely reveal its strategy to integrate the properties, but odds are it will focus on the existing Disney strategy to leverage tentpole franchises across its various businesses like we are seeing with Marvel, Star Wars and Pixar across its parks and consumer businesses. Believe me, there is no reason to complain about that strategy given its success; if anything, the Fox acquisition allows Disney to double down on that strategy.
The Fox assets will also give a positive shot in the arm to Disney's international plans given Fox Networks Group International's 350 channels that reach consumers in 170 countries, while Star reaches 720 million viewers a month across India and more than 100 other markets. That library also shores up Disney's competitive position for the expected launch of its own streaming services in late 2019, which the financial media has come to call "Disflix". My view remains that if Disney is successful in deploying its streaming service — a service that will tap into a vast content library and is expected to be priced below Netflix's (NFLX) streaming service — investors will have to revisit how they value the company, especially if the streaming service becomes a meaningful part of Disney's sales and profit stream.
So, if one is focused on the rear-view mirror that was the company's 2Q 2018 quarterly results I can understand some disappointment with the top and bottom line misses, but to me, it is the coming quarters where the action is when it comes to Disney. No doubt, there will be challenges along the way, but over the coming 12-24 months, the scope and scale of Disney will be far greater with solidified competitive moats around its business. For that reason, I am nonplussed by the company's June quarter results and while we recognize the need to be patient with Disney given the timing of these two key transformative events, we have a vibrant array of films hitting the box office in 2019 that include Captain Marvel, Dumbo, Avengers, Aladdin, Toy Story 4, The Lion King, Artemis Fowl, Jungle Cruise, Frozen 2 and Star Wars: Episode IX.
While I we will certainly be able to dig far more into the details as the Fox acquisition closes, Disney has shared that it expects to achieve $2 billion in cost-related synergies associated with the Fox transaction and that has us bumping our long-term price target on DIS shares to $130 from $125. As management shares potential revenue synergies and updates its cost savings prospects as well as simply runs the existing business leveraging its 2019 content pipeline, I'll look to revisit our price target as needed.
We are boosting our price target on Walt Disney (DIS) shares to $130 from $120.