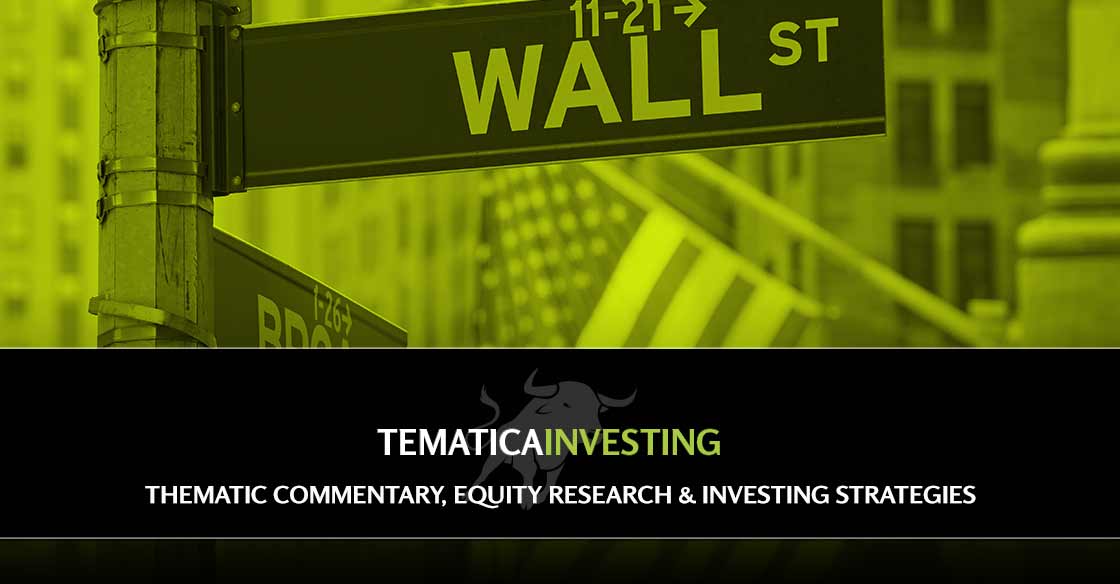 Tags:

$NOK, Altria, AMAT, Applied Materials, AXT, AXTI, DY, Dycom, Earnings, MO, Nokia, QCOM, Qualcomm, Samsung, Skyworks Solutions, Trade, Trump
note: no comments
Key points inside this issue
As more investors reassess coming growth expectations, we are adding ProShares Short S&P500 (SH) to hedge both the Thematic Leaders and the Select List. While not a thematic position but one that will limit near-term downside, we will evaluate this position on as needed basis in the coming weeks.
Calling Nokia up to the Thematic Leaders
Adding Skyworks Solutions to the Contender's List
Cannabis rumors swirl around Altria
Adding some downside protection with SH shares
It's not often we get a mid-week break for the stock market, and the reason behind yesterday's stock market closure was a solemn one. It did offer a respite from the wild swing we saw in the market between Monday and Tuesday, which resulted in a demonstrable move lower for all the major market indices. As I shared on Monday, despite the seeming forward motion on US-China trade, there remains much work to be done and a number of headwinds that, as expected, are leading investors to question 2019 EPS growth prospects.
Yesterday, China's Commerce Ministry released a statement calling trade talks between Presidents Xi and Trump at the G20 Summit in Argentina "very successful." The statement said the Chinese and U.S. trade and economic delegations will "actively advance the work of consultation" in 90 days in accord with "a clear timetable" and "road map" but offered little concrete details. Odds are this will add to the uncertainty that led Monday's rally to finish the day off its highs and helped drive the market lower on Tuesday.
In my view, this will keep the market on pins and needles as we digest the coming economic data points to be had that I shared on Monday as well as those for next week that include November reports for inflation, Retail Sales and Industrial Production. As more investors question earnings growth prospects vs. the current stock market multiple, the risk is we could see more downside, especially if those same investors suspect tariffs will indeed be eventually raised to 25% from 10% along with further interest rate hikes. A recent survey of 500 institutional investors by Natixis showed that 65% see a change coming, with the biggest threats being geopolitical tensions and rising interest rates. Between the wage data to be had in Friday's Employment Report and next week's PPI and CPI reports, we also run the risk of seeing potentially hawkish comments following today's latest Fed Beige Book. That report showed tariff driven price increases have spread more broadly through the U.S. economy.
As we get these and other data points ahead of the Fed's essentially baked in the cake rate hike on December 19, I'll continue to heed the Thematic Signals we collect each week. Given the market mood, however, I'm adding some downside protection to help insulate subscriber assets in the near-term in the form of ProShares Short S&P500 (SH), an inverse ETF for the S&P 500.
As more investors reassess coming growth expectations, we are adding ProShares Short S&P500 (SH) to hedge both the Thematic Leaders and the Select List. While not a thematic position but one that will limit near-term downside, we will evaluate this position on as needed basis in the coming weeks.
Samsung set to bring 5G into the prime time
Amid the trade news between the United States and China out of the G-20 summit, there was other news that we've been waiting on patiently. Subscribers know that one of our core investment thesis for our positions in Dycom Industries (DY),  AXT Inc. (AXTI), Nokia (NOK) and to a lesser extent Applied Materials (AMAT) shares is the deployment of 5G networks and devices. In the last few months, we've heard of beta rollouts from both AT&T Inc. (T) and Verizon Communications Inc. (VZ) as well as fixed wireless testing that could be a replacement for broadband to the home. The thing that has been missing is the to-date elusive announcement on a 5G smartphone that will ride 5G networks and their data speeds, something that will make the speed of the current 4G LTE network look something out of the dial-up days. If you remember those days, you know what I'm talking about — all that's missing is the wonky connect garble noise.
Let me rephrase: That announcement was elusive until this past Monday when Verizon shared that smartphone users in the United States will be able to use Verizon's 5G wireless network in the first half of 2019 starting with devices from Samsung. While details of the devices were scant — no models or price points — it is expected that Samsung will be revealing a proof concept this week at the annual Qualcomm Inc. (QCOM) Snapdragon Summit in Maui, Hawaii. Given the location of the unveiling, it seems like a sure bet Qualcomm and its chipsets will be powering the device. No surprise, considering that Samsung long has been a core customer of Qualcomm.
The key point here is the largest smartphone company by volume will be debuting its first 5G market in the coming months.
Calling Nokia up to the Thematic Leaders
From our perspective, I see this development as confirming our view on a few levels. Operators are not ones to launch a network unless devices are available for them to monetize that network and all the investments that led to it. That's a positive for Nokia as it confirms the pending multi-year upswing in 5G infrastructure demand is firmly in front of it, as is the opportunity for its IP licensing business. Second, given Verizon's timetable of "the first half of 2019," it means the supply chain soon will be firing up to deliver the components necessary for these devices, including the incremental number of RF (radio frequency) semiconductors needed for 5G. That means incremental wafer demand for AXT during what is a seasonally slow period for smartphones.
As a result, I am calling shares of Nokia up from the Select List to the Thematic Leaders to fill the Disruptive Innovatorsvoid. With Samsung, AT&T, and Verizon having now laid out a timetable for 5G deployments for both networks and devices, we now have a far firmer timetable for a pick up in demand for mobile infrastructure business as well as high margin licensing business. My price target on NOK shares remains $8.50.
We are adding Nokia (NOK) shares to the Thematic Leaders for our Disruptive Innovators investing theme. Our price target remains $8.50
Adding Skyworks Solutions to the Contender's List
That incremental RF semiconductor demand for 5G I mentioned a few paragraphs above also means more power amplifiers, switches, filters and other components that will once again increase the dollar content per device for Skyworks Solutions (SWKS) and its competitors. We've owned SWKS shares before, and more recently they've been battered around as more signs of stalling smartphone demand have emerged leading suppliers to cut their forecasts.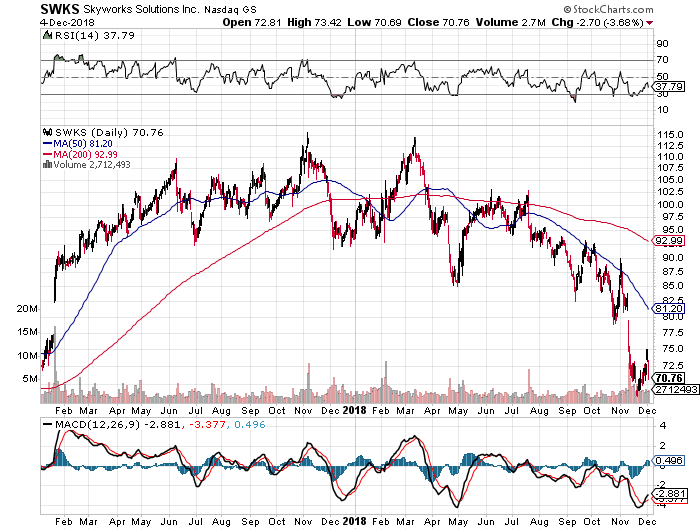 I've no intention in jumping into that fray ahead of the seasonally slowest time of the year for smartphone demand – the first half of the calendar year. Rather, we'll put a pin in SWKS shares, add them to the Contender List and look to revisit them as a Disruptive Innovator play as we either put the March quarter behind us or a new US-China trade deal is inked.
Cannabis rumors swirl around Altria
After we published Monday's Tematica Investing issue, there was much chatter suggesting that Guilty Pleasure Thematic Leader Altria Group (MO) could be interested in acquiring Cronos Group (CRON), a Canadian cannabis company. That speculation sent CRON shares 11% higher on the day and also lifted MO.
As you know, I have held the view that Altria would look to diversify its business away from tobacco and ride the wave of cannabis legalization in the U.S. The key here is legalization across the entire U.S., which would ease manufacturing, distribution, sales and marketing efforts by Altria rather than being an ad-hoc effort. Until the federal ban is lifted, there are also issues with how a company such as Altria would deposit its revenue and profits.
For those looking at Cronos as a positive for Altria's U.S. business, I think that is a bit presumptuous as the timing of U.S. cannabis legalization remains tenuous. A potential acquisition such as this, however, would give Altria a toehold in the cannabis space, which is legal in Canada, and allow it to learn the business and test market product for an eventual launch in the U.S. when the time is right.
For now, a potential acquisition of Cronos is just speculation, but in principle, it fits with our long-term view of where Altria is likely headed. Now we have to see what Altria does next.