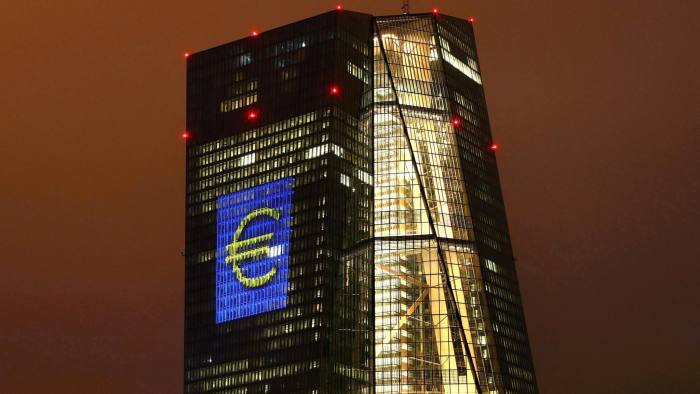 Tags:

eurozone, Federal Reserve, GDP, Germany, Greece, Immigration, International Trade, Italy, Japan, Mexico, President Trump, S&P500, Trump Trade, Under Armour (UA), VIX
note: no comments
Yesterday we talked about how the American economy, despite all the euphoric headlines since the election, didn't deliver much of a performance in the fourth quarter and in fact we saw the weakest full-year GDP growth rate since 2011 which was well below the U.K.'s 2016 growth rate of 2 percent. Today we learned that the Eurozone as well kicked our economic tuckus in 2016.
GDP grows 0.6% in final quarter of 2016, beating expectations and taking annual figure to 1.8%
Yep, that hurt. So much for America being the "cleanest shirt in the economic laundry." Despite headwinds ranging from the accelerating Greek drama to the mountain of Italian non-performing loans that led to the nationalisation of Banca Monte dei Paschi di Siena, Brexit, failed Constitutional reforms leading to the resignation of Prime Minister Renzi in Italy …. the list goes on, they beat us.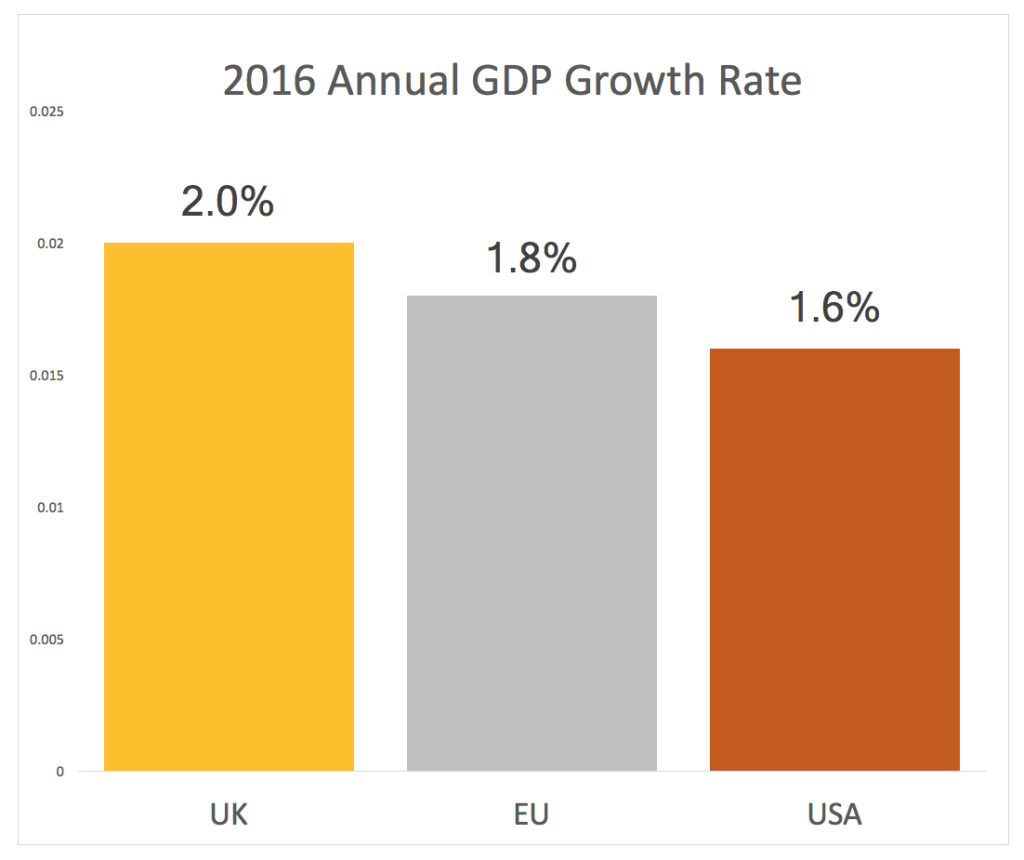 Last week talks between the U.S. and Mexico hit a serious bump after a President Trump Tweet led Mexico's President Peña Nieto to cancel their upcoming meeting, while the administration has been threatening a 20 percent tax on imports from Mexico, which would put serious upward price pressure on, (among other things) fruits, vegetables and auto parts. Today Peter Navarro, Trump's top trade advisor, accused Germany of currency exploitation. According to the FT, "In a departure from past US policy, Mr Navarro also called Germany one of the main hurdles to a US trade deal with the EU and declared talks with the bloc over a Transatlantic Trade and Investment Partnership dead."
While last week's meeting with the British Prime Minister Theresa May ended with some serious hand-holding, over the weekend the President's sudden implementation of an immigration ban left, "our closest ally flailing after the UK government was openly contradicted by US diplomats over which British nationals were covered by the measure."
After Trump's election victory, the Bank of Japan was initially more optimistic about more favourable economic conditions amid expectations for stronger American growth. That enthusiasm has been fading as yesterday, ahead of a two-day policy meeting, officials are less optimistic about the impact on Japan's economy. According to the Wall Street Journal, "We now realise that we know very little about him."
Trump's team has been poking our allies in some uncomfortable ways, making many around the globe nervous, and yet the VIX (a measure of implied volatility) is pretty much yawning.
The 90 percent of the America economy that is not represented by either inventory build or state and local government spending managed to grow at a whopping 0.6 percent annual rate in the fourth quarter.
Amidst all this, the Fed keeps talking about further rate hikes
Under Armour (UA) just released its fourth quarter and full year results and was yet one more citing currency headwinds.
Upon the announcement of Trump's immigration ban on Friday, the markets started to fall. Monday the S&P 500 fell 60 basis points and is now down 0.76 percent from its most recent closing high last Wednesday. Bespoke compiled headlines over the past few days that reveal concerns the Trump hope trade is starting to fade.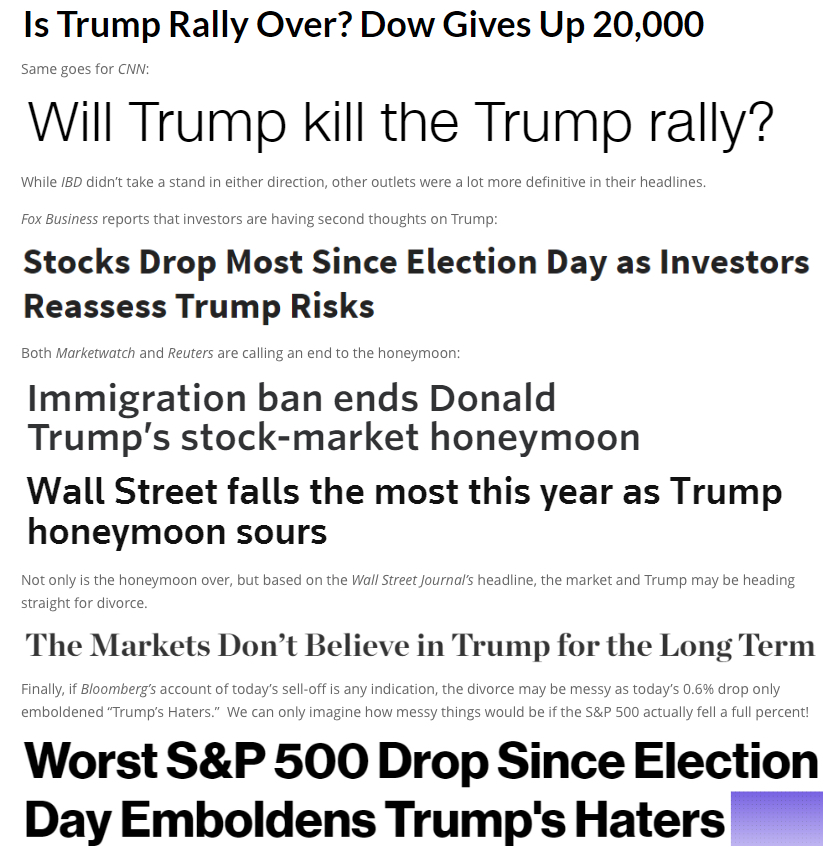 Is this an inflection point? Too soon to tell, but we can say that having an administration with no political history who has pretty much tossed out the rule book is likely to cause heightened volatility, which is not reflected in market pricing. Erecting trade barriers and surprising the market, let alone allies, is likely to induce more caution in the C suite.
This morning we also saw that compensation costs in 2016 rose 2.2 percent, significantly faster than GDP of 1.6 percent, which makes another Fed hike more likely. We'll be hearing from the Federal Reserve on Wednesday and will be looking to see if the tone from the FOMC meeting is more dovish than we heard in Fed Chair Janet Yellen's testimony on January 19th. We will also hear from over 100 companies this week on their earnings, putting the relative complacency in the markets to a test.