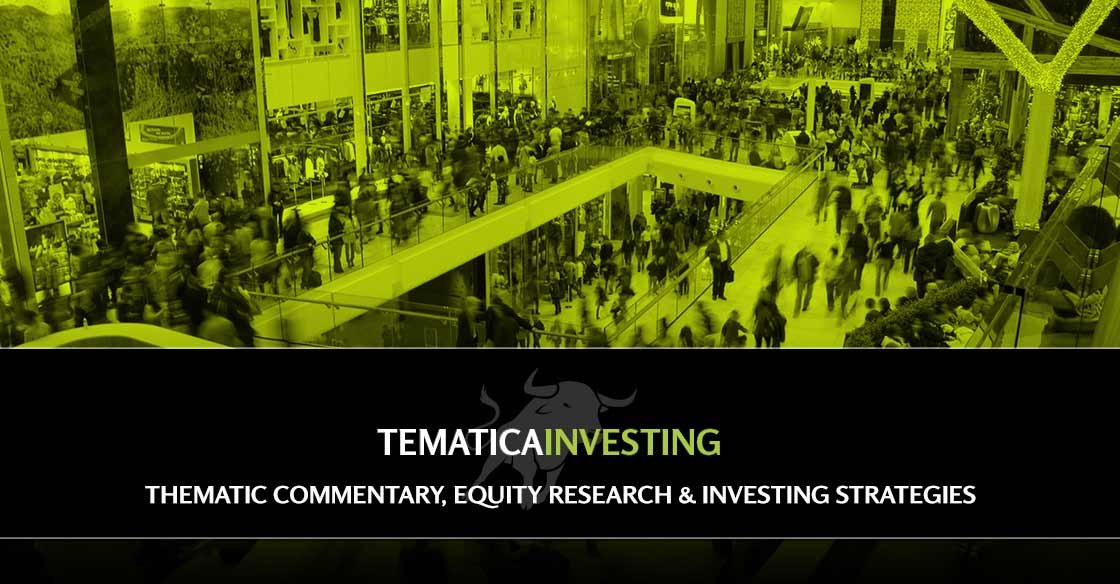 Tags:

AAPL, Abercrombie & Fitch, Alphabet, Amazon, AMZN, ANF, Apple, COST, Costco Wholesale, CRM, Dick's Sporting Goods, DIS, Disney, DKS, Dow Jones Industrial Average, Energous Corp., Fed minutes, G20, GameStop, GME, Google, Hack, IFF, International Flavors & Fragrances, L Brands, LB, McCormick & Co., MKC, Nasdaq Composite Index, Russell 2000, Salesforce, Target, TGT, TIF, Tiffany & Co., United Parcel Service, UPS, WATT
note: no comments
Normally we here at Tematica tend to shut down during the short week that contains Thanksgiving, but given all that is going on in the stock market of late, we thought it prudent to share some thoughts as well as what to watch both this week and next. From all of us here at Tematica, we wish you, your family, friends and love a very happy Thanksgiving!
Now let's get started…
Key points in this issue
Despite the recent market pain, I continue to see a number of holdings being extremely well positioned for the holiday season including Amazon, Costco Wholesale (COST), United Parcel Service (UPS), McCormick & Co. (MKC) and both businesses at International Flavors & Fragrances (IFF).
I'll continue to heed our Thematic Signals and look for opportunities for when the stock market lands on solid footing.
Later this week, Disney's (DIS) latest family-friendly move, Ralph Breaks the Internet, hits theaters and we'll be checking the box office tallies come Monday.
 Taking a look at shares of Energous Corp. (WATT), a Disruptive Innovator contender
The stock market so far this week…
There is no way to sugar coat or tap dance around it – this week has been a difficult slug ahead of the Thanksgiving holiday as the pressures we've talked about over the last two months continue to plague the market as the impact has widened out. Oil prices have continued to plummet, pressuring energy stocks; housing data continues to disappoint, hitting homebuilding stocks; and we've received more new of iPhone production cuts as well as potential privacy regulation that has rippled through much of the tech sector. Retail woes were added to the pile following disappointing results from Target (TGT) and L Brands (LB) that pressured those shares and sent ripples across other retail shares.
The net effect of the last few weeks has wiped out the stock market's 2018 gains with both the Dow Jones Industrial Average and the S&P 500 down roughly 1.0% as of last night's market close. While the Nasdaq Composite Index is now flat for the year, the small-cap heavy Russell 2000 is firmly in the red, down 4.3% for all of 2018 as of last night.
The overall market moves in recent days have weighed on several constituents of the Thematic Leaders and the Select List, most notably Apple (AAPL), Amazon and Alphabet/Google (GOOGL). Despite that erasure, we are still nicely profitable those positions as well as AMN Healthcare (AMN), Costco Wholesale (COST), Disney (DIS), Alphabet (GOOGL), ETFMG Prime Cyber Security ETF (HACK), and several others. More defensive names, such as McCormick & Co. (MKC), and International Flavors & Fragrances (IFF) have outperformed on a relative basis of late, which we attribute to their respective business models and thematic tailwinds.
As I describe below, the coming days are filled with events that could continue the pain or lead to a reprieve. As that outcome becomes more clear, we'll either stay on the sidelines collecting thematic signals for our existing positions or take advantage of the recent market pain to scoop up shares in thematically well-positioned companies at prices we haven't seen in months.
What to watch the rest of this week
As we get ready for the Thanksgiving holiday, we know before too long the official kick-off to the holiday shopping race will being. Some retailers will be open late Thursday, while others will open their doors early Black Friday morning and keep them open all weekend long. As we get the tallies for the shopping weekend, the fun culminates with Cyber Monday, a day that is near and dear to our hearts given our Digital Lifestyle investing theme.
Given the market mood of late, as well as the disappointing results from Target and L Brands earlier this week, we can count on Wall Street picking through the shopping weekends results to determine how realistic recently issued holiday shopping forecasts. The National Retail Federation's consumer survey is calling for a 4.1% increase year over year this holiday season, which they define as November and December. The NRF's own forecast is looking for a more upbeat 4.3%-4.8% increase vs. 2017.
Consulting firm PwC has a more aggressive view — based on its own survey, consumers expect to spend $1,250 this holiday season on gifts, travel and entertainment, a 5% increase year over year. One of the differences in the wider array of what's included in the survey versus the NRF. In that vein, Deloitte's inclusion of January in its findings explains why its 2018 holiday shopping forecast tops out among the highest at a 5.0%-5.6% improvement year over year. That Deloitte forecast includes a 17%-22% increase in digital commerce this holiday shopping season compared to 2017, reaching $128-$134 billion in the process. That's a sharp increase but some estimates call for Amazon (AMZN) to increase its sales during the period by at least 27%.
I continue to see a number of holdings being extremely well positioned for the holiday season including Amazon, Costco Wholesale (COST), United Parcel Service (UPS), McCormick & Co. (MKC) and both businesses at International Flavors & Fragrances (IFF).
Also this week, Disney's (DIS) latest family-friendly move, Ralph Breaks the Internet, hits theaters and we'll be checking the box office tallies come Monday.
What to watch next week
As mentioned above, next week will bring us the full tally of holiday shopping results and begin with Cyber Monday, which means more holiday shopping data will be had on Tuesday. As we march toward the end of November, we'll have several of the usual end of the month pieces of economic data, including Personal Income & Spending as well as New Home Sales and Pending Home Sales for October. We'll also get the second print for the September quarter GDP, and many will be looking to measure the degree of revision relative to the initial 3.5% print.
As they do that, they will likely be taking note of the forward vector for GDP expectations, which per The Wall Street Journal's Economic Forecast Survey sees current quarter GDP at 2.6% with 2.5% in the first half of 2019 and 2.15% for the back half of 2019. Taking a somewhat longer view, that means the economy peaked in the June quarter with GDP at 4.2%, due in part to the lag effect associated with the 2018 tax reform, and has slowed since due to the slowing global economy, trade war,  strong dollar, and higher interest rates compared to several quarters ago. As tax reform anniversaries, that added boost to the corporate bottom lines will disappear and in the coming weeks, we expect investors will be asking more questions about the likelihood of the S&P 500 delivering 10% EPS growth in 2018 vs. 2017.
With that in mind, perhaps the two most critical things for investors next week will be the minutes to the Fed's November meeting and the G20 Summit that will be held Nov. 30-Dec. 1. Inside the Fed minutes, we and other investors will be looking for comments on inflation and the speed of rate future rate hikes, which the market currently expects to be four in 2019. And yes, the December Fed policy meeting continues to look like a shoe-in for a rate hike. Per White House economic adviser Larry Kudlow, US-China trade is likely to come to a head at the summit. If the speech given by Vice President Pence at the Asia-Pacific Economic Cooperation summit – the United States "will not change course until China changes its ways" – we could see the current trade war continue. We'll continue to expect the worst, and hope for the best on this front.
On the earnings front next week, there will be a number of reports worth noting including those from GameStop (GME), Salesforce (CRM), JM Smucker (SJM) and a number of retailers ranging from Dick's Sporting Goods (DKS) and Tiffany & Co. (TIF) to PVH (PVH) and Abercrombie & Fitch (ANF). Those retailer results will likely include some comments on the holiday shopping weekend, and we can expect investors to match up comparables and forecasts to determine who will be wallet share winners this holiday season. Toward the end of next week, we'll also hear from Palo Alto Networks (PAWN) and Splunk (SPLK), which should offer a solid update on the pace of cybersecurity spending.
Taking a look at shares of Energous Corp. (WATT)
In our increasingly connected society, two of the big annoyances we must deal with are keeping our devices charged and all the cords we need to charge them. When I upgraded my iPhone to one of the newer models, I was pleasantly surprised by the ease of charging it wirelessly by laying it on a charging disc. Pretty easy.
I'm hardly alone in appreciating this convenience, and we've heard that companies ranging from Tesla Inc. (TSLA) to Apple Inc. (AAPL) are looking to bring charging pads to market. That means a potential sea change in how we charge our devices is in the offing, which means a potential growth market for a company that has the necessary chipsets to power one or more of those pads. In other words, if there were no such chipsets, we would not be able to charge wirelessly. This coming change fits very well inside our Disruptive Innovators investing theme.
Off to digging I went and turned up Energous Corp. (WATT) and its WattUp solution, which consists of proprietary semiconductor chipsets, software and antennas that enable radio frequency (RF)-based, wire-free charging of electronic devices. Like the charging disc I have and the ones depicted by Apple, WattUp is both a contact-based charging and at-a-distance charging solution, which means all we need do is lay our wireless devices down be it on a disc, pad or other contraption to charge them. In November 2016, Energous entered into a Strategic Alliance Agreement with Dialog Semiconductor (DLGNF), under which Dialog manufactures and distributes IC products incorporating its wire-free charging technology.
Dialog happens to be the exclusive supplier of these Energous products for the general market and Dialog is also a well-known power management supplier to Apple across several products, including the iPhone. Indeed, last week Dialog bucked the headline trend of late and shared that it isn't seeing a demand hit from Apple after fellow suppliers Lumentum Holdings Inc. (LITE) and Qorvo Inc. (QRCO) cut guidance earlier this week.
On its September quarter earnings call, Dialog shared it was awarded a broad range of new contracts, including charging across multiple next-generation products assets, with revenue expected to be realized starting in 2019 and accelerating into 2020. I already can feel several mental carts getting ahead of the horse as some think, "Ah, Energous might be the technology that will power Apple's wireless charging solution!"
Adding fuel to that fire, on its September quarter earnings conference call Energous shared that "given the most recent advances in our core technology" its relationship with its key strategic partner – Dialog – "has now progressed beyond development, exploration and testing to actual product engineering."
If we connect the dots, it would seem that Energous very well could be that critical supplier that enables Apple's wireless charging pads. Here's the thing: We have yet to hear when Apple will begin shipping those devices, which also means we have no idea when a teardown of one will reveal Dialog-Energous solutions inside. Given that there was no mention of Apple's wireless charging efforts at either its 2018 iPhone or iPad events, odds are this product has slipped into 2019. That would jibe with the timing laid out by Energous.
Based on three Wall Street analysts covering WATT shares, steep losses are expected to continue into 2019, which in my view suggests a ramp with any meaningful volume in the second half of the year. That's a long way to go, and given the pounding taken by the Nasdaq of late, we'll put WATT shares onto the Contender's so we can keep them in our sights for several months from now.