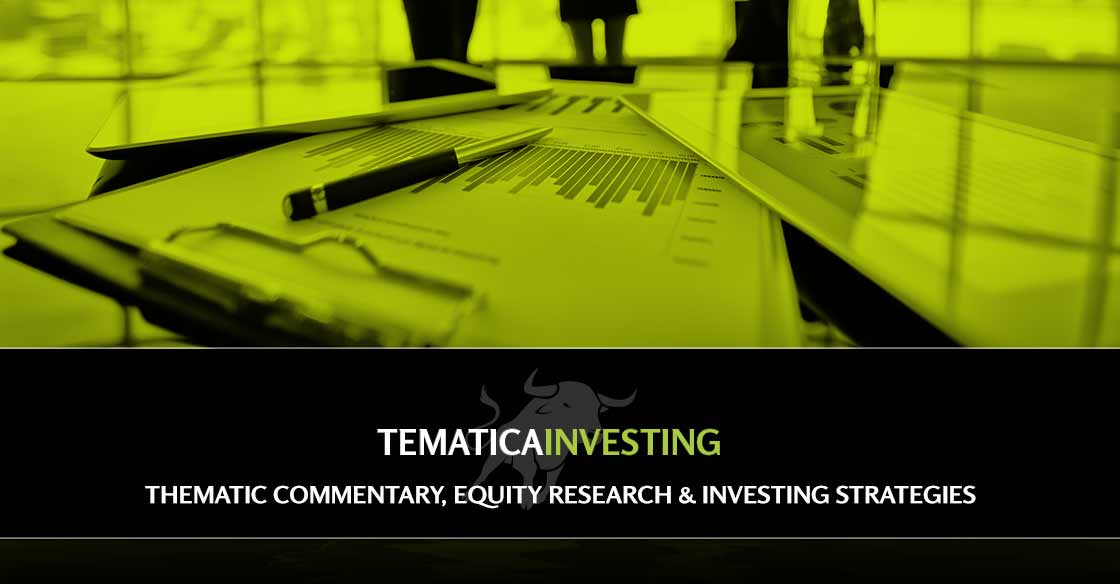 Tags:

$IRBT, $MCD, $NOK, AAII Investor Sentiment Survey, AAPL, Alphabet, Altria, Amazon, AMZN, Apple, AT&T, Chipotle Mexican Grill, CMG, CNN Fear & Greed Index, Facebook, FB, GOOGL, Hilton, HLT, IRobot, LMT, Lockheed Martin, McDonalds, MO, Nokia, T, Verizon, VZ
note: no comments
Coming into this week I said it would likely be another volatile one, and as much as I would like to say I was wrong, I wasn't. Over the last five days, the individual price charts of the major stock market indices resembled a roller coaster ride, finishing lower week over week. This trajectory continued what we've seen over the last few weeks, which has all the major market indices in the red for the last month and that has erased most of their year to date gains.
Stepping back, yes, the market is trading day to day as expected but while there are pockets of strength we are seeing a growing number of companies miss top-line expectations. Coupled with guidance that in some cases may be conservative, but in other reflects a syncing up with the economic and other data of the last few months, investors have become increasingly nervous. This is evidenced in the wide swing over the last month at the CNN Fear & Greed Index, which now sits at Extreme Fear (6) down from Greed (65) several weeks ago. Looking at the AAII Investor Sentiment Survey this week, bullish sentiment fell to 28% from 34%, the fourth weakest reading for bullish sentiment this year. Bearish sentiment rose from 35% to 41%, the highest reading since the last week of June.
What this tells us is pessimism over the near-term direction of the stock market is at its highest level in months, which in turn is likely giving way to what we call a "shoot first and ask questions later" mentality. As almost any seasoned investor will say, that is one of the biggest mistakes one can make as it tends to let emotion, not logic and fact, rule the day.
What times like this call for is stepping back, collecting data shared in earnings releases and corresponding conference calls and presentations, to update our investing mosaic. We've had several Thematic Leaders and residents on the Tematica Investing Select List, including Chipotle Mexican Grill (CMG), Amazon (AMZN), Altria (MO),  Alphabet/Google, and Nokia (NOK) report this week as well as a dozens of others, such as AT&T (T), Verizon (VZ), Lockheed Martin (LMT), McDonald's (MCD), iRobot (IRBT), and Hilton (HLT) report this week. That's why I'll be spending the weekend pouring over earnings releases and conference call transcripts, using our thematic lens to update our investing mosaic as needed. It also means furnishing you with a number of updates very early next week.
As I revisit our investing mosaic, the questions being asked will include ones like "Are we seeing any slowdown in the shift to digital commerce, the cloud, streaming content, the move to foods that are better for you?" and so on. Odds are the answers to those and similar questions will be no, which means we will continue to sit on the sidelines as earnings expectations for the market are adjusted likely leading the risk to reward dynamics in share prices to become more favorable. As calmer waters emerge in the coming weeks, we will use one of our time-tested strategies and scale into our Thematic Leader positions as well as those in the Select List where it makes sense.
What to Watch Next Week
As we trade the end of October and Halloween for the start of November next week, we have another barn burner one ahead for September quarter earnings as more than 1,000 companies will report their results and update their outlooks. We also have a full plate of economic data coming at us, some of which will influence the second edition of the September quarter's GDP reading while others will start to put some shape around the GDP reading for the current quarter. To set the table for that data following the initial September quarter GDP print of 3.5%, the New York Fed's Nowcast model is looking for 2.4% while The Wall Street Journal's Economic Forecast Survey of more than 60 economists is calling for 2.9%. Thus far we have yet to see any forecast from the Atlanta Fed's Nowcast model for the December quarter, however, odds are it will once again start out overly bullish and find its way closer to the economic reality of the quarter. We like to kid the Atlanta Fed, but it did start out modeling September quarter GDP of 4.7%. Of course, we would have loved to have seen that, but we're in the business of letting the economic data talk to us. The fact the Citibank Economic Surprise Index (CESI) has been negative for several months, meaning the data is coming in below expectations, was a clue the Atlanta Fed would have to refine its outlook.
So, what do we have on tap from an economic data perspective?
Monday will bring the September Personal Income and Spending report, one that will we will be watching closely to see if consumers continued to spend above wage gains. Tuesday has the October Consumer Confidence reading for October, and the recent stock market gyrations could take some wind out of the September confidence gains. As we gear into the holiday shopping season, we'll be closely watching the Expectations component for signs of any softening. Also, on Tuesday, we have Apple's (AAPL) latest event at which it is widely expected to unveil its latest iPad and Mac models. The ADP Employment Report for October, as well as the 3Q 2018 Employment Cost Index report, will be had on Wednesday, and we expect them to receive more than a passing scrutiny given the growing scarcity of workers with needed skillsets and wage gains.
Thursday we will get the October auto and truck sales and we'll be looking to see if those sales continue to resemble what we've seen in the housing market of late – fewer unit sales, but ones with higher price tags. Also, in focus, that day will be the October ISM Manufacturing Index, where we will be eyeing its order and backlog data as well as employment metrics. Rounding out Thursday, we'll get the September Construction Spending Report. The first Friday of the new month usually means it's time for the employment report, and yes, we will indeed be getting the October Employment report one week from today. While we expect many to be focused on the speed of job creation, we'll be digging into the qualitative factors of the jobs created and who is taking them as well as focusing on the degree of wage gains.
Turning to next week's earnings calendar, it is simply chock full of reports and once again Thursday will be the day with the heaviest flow – just under 400 companies on that day alone.  Just like this week, among the sea of reports to be had, there will be several, including Facebook (FB) and Apple that will capture investor attention given the impact they could have on the market. As we move through the week, we'll be adding to our investment mosaic along the way.
Enjoy the weekend, stock up on all those tricks and treats and get some rest for the week ahead. I'll be back with more early next week.