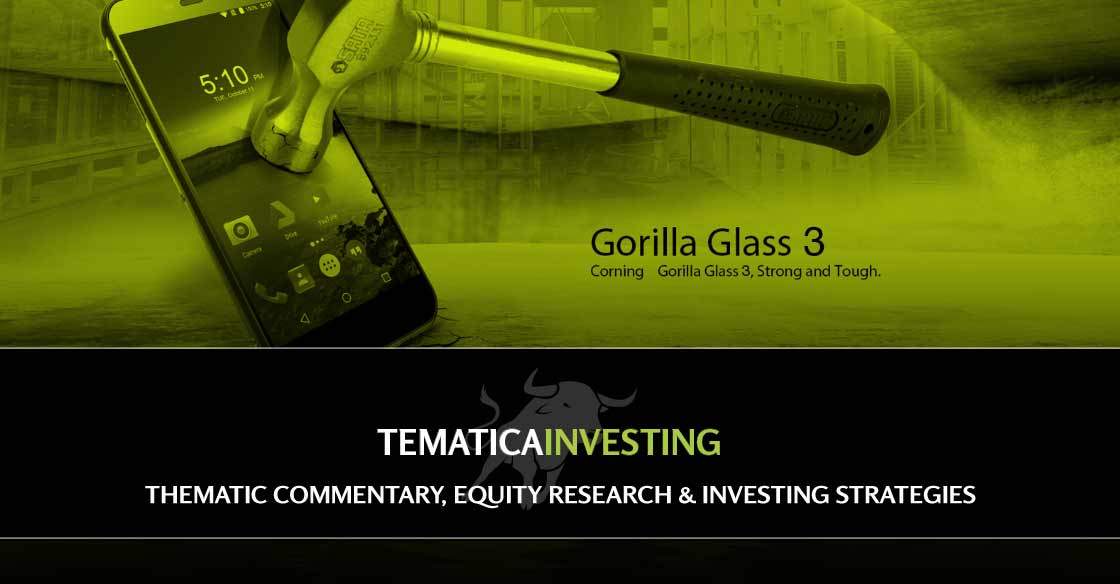 Key Points from this Post:
We are adding shares of Disruptive Technologies company Corning (GLW) to the Tematica Investing Select List with a Buy rating and a long-term price target of $37.

Paired with the current dividend yield, the shares offer 25% upside to that target.
Recently, Apple (AAPL) unveiled its new iPhone models, both the iPhone 8 and the iPhone X each are designed to have a glass backing. If history holds, odds are this additional glass backing will lead to more iPhone repairs as users drop their iPhones (and yes, we noticed Apple bumped up its Apple Care prices for screen replacement with the new all glass models). Aside from that potential nuisance, others attending the Apple event had this to say:
"The iPhone 8 and 8 Plus look pretty much the same as their predecessors, but they have a new back cover that's coated in glass and gives them a somewhat fresher look. The glass blends into the sides of the phone incredibly well, better than we've seen on other phones. There's a subtle density to the glass, too, and overall it looks a lot better than the back of the 7. That glass back allows for wireless charging, which is one of the big new features here."
As one might expect, Apple was on record saying the iPhone 8 and iPhone 8 Plus have "the most durable glass ever in a smartphone, front and back." While we have yet to feel the device ourselves, the specs suggest the added heft could be due to a denser glass. The iPhone 8 and iPhone 8 Plus are slightly heavier at 5.22 ounces and 7.13 ounces respectively, compared to 4.87 ounces and 6.63 ounces for the iPhone 7 and iPhone 7 Plus respectively.
The key here is Apple's shift to glass will likely drive incremental glass demand, much the way its shift to organic light emitting diode displays with the iPhone X is spurring demand for those products, and in turn driving up the share prices of Tematica Select List stocks Universal Display (OLED) and Applied Materials (AMAT). If Apple sticks to its knitting it means deploying wireless charging across other iPhone models and perhaps iPads in the coming quarters. If we're right that would lead to even more glass demand as the glass is required for such charging, rather than a metal or plastic form factor.
Outside of Apple, we're also seeing larger and larger format TVs come to market that are also driving demand for glass, while fiber to the home is driving glass demand as well. Let's remember that wireless backhaul is also a big consumer of glass and 5G has the potential to up the ante for glass fiber. We also suspect there will be a fair amount of smartphone copycats that offer front and back glass on new smartphone models as well in the coming months. Again, more demand for glass, specialty materials and coatings.
All of this bodes very well in our view for specialty glass and ceramics company, Corning (GLW), which derives 80% of its revenues and profits from the display, optical communication and specialty materials markets. In our view, these material science capabilities at Corning's are one of the keys to enabling both new form factors as well as connectivity solutions, including wireless charging. As such we see the company primarily riding tailwinds associated with our Disruptive Technology investing theme, even though evidence of man-made glass dates back to 4000 BC and Corning as a company was launched in 1851.
We see Corning's position in our Disruptive Technologies theme cemented by comments from Apple, a customer of the company's glass products, when it said, "Corning is a great example of a supplier that has continued to innovate and they are one of Apple's long-standing suppliers… This partnership started 10 years ago with the very first iPhone." While "talk may be cheap," in May Apple announced Corning would be the recipient of $200 million from Apple's new Advanced Manufacturing Fund to support Corning's R&D, capital equipment needs and state-of-the-art glass processing. Our thinking is if Apple calls you a disruptor, you pretty much are one. As far as the other 20% of Corning's revenue, it is derived from businesses that serve environmental and life science markets.

Why Now is the Time for Corning Shares
Current estimates have Corning delivering EPS of $1.70 this year, up from $1.55 in 2016, with consensus prospects calling for EPS of $1.84 next year and $2.00 in 2019. What those figures don't show is that for the last year plus, Corning has been consistently beating expectations. Paired with the demand drivers we noted above as well as its pledge to return significant cash to shareholders through 2019 in a combination of share repurchases and dividend increases, we are more than just warming up to GLW shares.
While we like the company's position and prospects, the shares are currently trading at 17.3x and 16.3x expected 2017 and 2018 earnings vs. the average peak P/E multiple of 17.2x over the last few years. This would suggest our upside near-term is limited, but we've also learned long ago not to examine just one valuation tool when looking to value a stock. Turning to a dividend yield analysis, the shares have peaked in recent years at an average dividend yield of 1.95%. Applied to the slated 2017 dividend per share of 0.64, this offers us upside to $33 vs. downside near $23 using the average trough dividend yield of 2.8%.
Now here's the thing — on Corning's recent 2Q 2107 earnings call, management committed to increasing its annual dividend by at least 10% in both 2018 and 2019. Some quick math shows an annual dividend of at least $0.70 per share next year and $0.77 per share in 2019. Given Corning's net cash balance sheet — $4.2 billion in cash and equivalents vs. total debt of $3.9 billion) and strong cash generation, the company has ample breathing room for these targeted dividend increases.
Applying those peak and trough average dividend yields kicks out a price target range of $36-$39 and potential downside of $25-$27. That's a far more palatable upside to downside tradeoff for longer-term investors as glass demand ramps in the coming quarters due to rising demand from a variety of markets and applications. As we see it today, those factors should lead to continued EPS growth in 2018 and 2019, helping support those respective price ranges.
We are adding shares of Corning (GLW) to the Tematica Investing Select List with a Buy rating and a long-term price target of $37.
Paired with the current dividend yield, the shares offer 25% upside to that target.