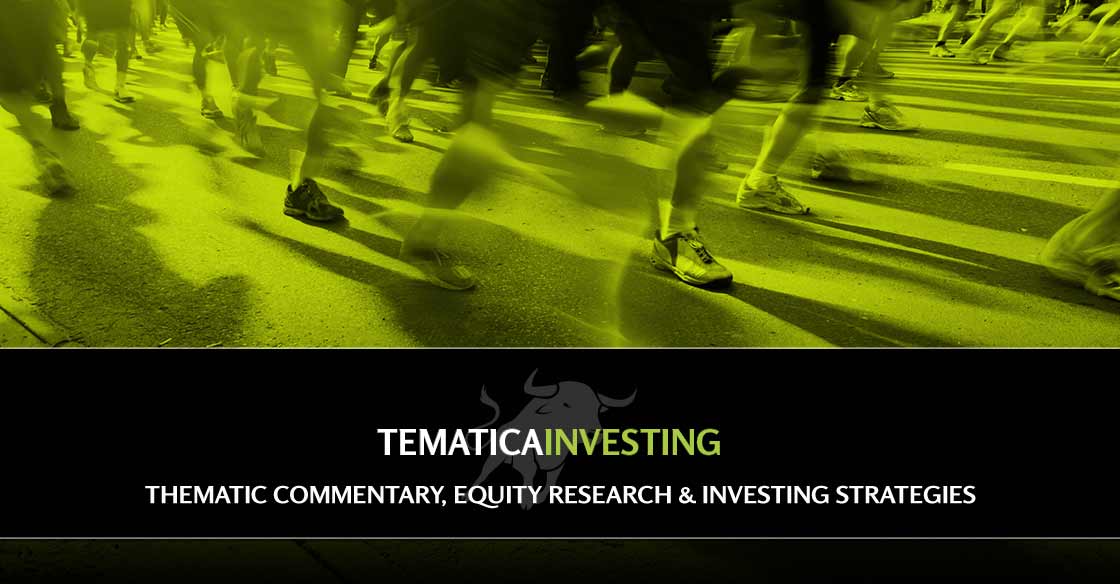 Tags:

$MCD, $WMT, AMAT, Amazon, AMZN, Applied Materials, Burger King, Chipotle Mexican Grill, CMG, COST, Costco Wholesale, Habit Restaurants, HABT, JACK, Jack in the Box, Lam Research, LRCX, McDonalds, QSR, Restaurant Brands, retail sales, SBUX, Starbucks, Tim Horton, Walmart
note: no comments
Once again, the stock market has shrugged off moves in the geopolitical landscape and mixed economic data to start the week off higher. Not surprising as the highly anticipated 1Q 2018 earnings season has gotten underway and based on what we saw the last two days so far so good. For the record, we had 44 companies that reported better than expected top and bottom line results, a number of them high profile companies such Bank of America (BAC), Netflix (NFLX), Goldman Sachs (GS), Johnson & Johnson (JNJ), and CSX (CSX).
Like I said, so far so good, and while we're getting some additional nice EPS beats this morning, we're still very early on in the 1Q 2018 earnings season. Make no mistake, it's encouraging, but we have a long way to go until we can size up 1Q 2018 earnings performance vs. the high bar of expectation that calls for roughly 18% EPS growth year over year for the S&P 500.
That's why I'll continue to parse the data — earnings and otherwise — as it comes through. Last week and this week, we'll get more of that for March, and that means we can get a view on how those data streams performed in full for 1Q 2018. Case in point, on Monday we received the March Retail Sales Report, which on its face came in at 0.6%, better than expected, and excluding autos and food services the metric also 0.6% vs. February. That translated into a 4.7% increase for retail ex-auto and food services year over year for the month. Stepping back, the data found in Table 2of the report showed that line item rose 4.3% year over year for all of 1Q 2018.
With that information, we can size up which categories contained in the report gained wallet share and identify those that lost it. The two big winners for 1Q 2018 were gasoline stations, up 9.7%, which was no surprise given the rise in gas prices over the last three months, and Nonstore retailers, which also rose 9.7%. We see that data as very favorable for our Amazon (AMZN) shares and boding well for Costco Wholesale (COST) given its growing e-commerce business. Contrasting that figure against the -0.6% for department store sales in 1Q 2108 confirms the ongoing shift in how and where consumers are shopping. Not good news in our view for the likes of JC Penney (JCP) and other mall anchor tenants.
The hardest hit category during 1Q 2018 was Sporting Goods, hobby, book & music stores, which fell 4% year over year. Remember, we're seeing these categories impacted as well by the shift to digital commerce, streaming services such as newly public Spotify (SPOT) and programs like Amazon's Kindle Unlimited that looks to be the Netflix (NFLX) of books, audiobooks, and magazines. In my view, the other shoe to drop for this Retail Sales Report category is the Toys R Us bankruptcy that is poised to do to the toy industry what the Sports Authority bankruptcy and subsequent liquidation sales did to Under Armour (UAA), Nike (NKE) and Adidas among others. We'll get a better picture on that when toy company Mattel (MAT) reports its quarterly results later this week.
I'd also call out that Clothing & Clothing Accessories store retail sales for 1Q 2018 rose just 3.0%, signaling slower growth than overall retail sales – a sign that consumers are spending their disposable dollars on other things or elsewhere. Over the last year, we've more than touched on the transformation that is underway with digital shopping, and we continue to see Amazon as extremely well positioned. Likely augmenting that Amazon has moved its Amazon Prime Wardrobe service, its "try before you buy offering," from beta to launch.
Of course, it requires Prime membership and we see this service as helping drive incremental Prime subscriptions, especially as Amazon continues to improve its apparel offering, both private label and branded. Another headwind to clothing retailers looks to be had in Walmart's (WMT) upcoming website overhaul that is being reported to have a "fashion destination" that will leverage its partnership with Lord & Taylor. With branded apparel companies looking to reach consumers, some with their own Direct 2 Consumer businesses and others by leveraging third party logistic infrastructure, we'll keep tabs on Walmart's progress and what it means for brick & mortar clothing sales. If you're thinking this should keep our Buy rating on shares of United Parcel Service (UPS), you're absolutely right.
The bottom line is the March Retail Sales report served to confirm our bullish view on both Connected Society companies Amazon and UPS as well as Cash-Strapped Consumer play Costco.
Our price target on Amazon remains $1,750
Given its strong monthly same-store sales data and ongoing wallet share gains as it opens additional warehouse locations, we are boosting our Costco Wholesale (COST) price target to $210 from $200
Our long-term price target on United Parcel Service (UPS) shares remains $130
Robust Earnings from Lam Research Bode Well for Applied Materials
Last night Applied Materials (AMAT) competitor Lam Research reported stellar 1Q 2018 earnings and issued an outlook that topped Wall Street expectations. For the quarter, shipments of its semiconductor capital equipment rose 19% year over year, which led revenue to climb more than 30% year over year for the quarter. Higher volumes and better pricing led to margin expansion and fueled a $0.43 per share earnings beat with EPS of $4.79. All in all, a very solid quarter for Lam, but also one that tell us demand for chip equipment remains strong. Those conditions led Lam to guide current quarter revenue to $2.95-$3.25 billion vs. the consensus view of $2.94 billion.
From growing memory demand, 5G chips sets, 3D sensing, smarter automobiles and homes, and augmented reality to virtual reality and the Internet of Things, we continue to see a number of emerging technologies that are part of our Disruptive Technologies investing theme driving incremental chip demand in the coming years that will fuel demand for semi-cap equipment. We see this as a very favorable tailwind for our Applied Materials shares. Also, let's not forget Applied's recently upsized dividend and buyback programs, which, in my view limits potential downside in the shares.
Our price target on shares of Applied Materials (AMAT) remains $70.
The Habit Restaurant – Loving the Burgers and Shakes, but Not the Shares Just Yet
People need to eat. That's a pretty recognizable fact. Some may eat more than others, some may eat less; some may eat meat, others may not. But at the end of the day, we need food to survive, but in some cases for comfort at the end of a long day.
As investors, we recognize this and that means considering where and what consumers eat, and also identifying companies that are poised to benefit from other opportunities as well. One such opportunity is geographic expansion, and with restaurants, it often means expanding across the United States.
Typically, expansion is driven by new store openings, which in turn drive sales. Tracing back its expansion over the last several years, Chipotle Mexican Grill (CMG) had to build up to 2,363 locations. Even with that number of locations, per Chipotle's recently filed 10-K, the company still expects to "open between 130 and 150 new restaurants in 2018." At that pace, it would take quite a while before Chipotle had as many locations as McDonald's (MCD) (more than 14,000) or Starbucks (SBUX) (just under 14,000) in the U.S. exiting last year.
A little over a year ago, Restaurant Brands (QSR), the company behind Tim Hortons and Burger King, acquired Popeye's in part for food-related synergies but also the opportunity to grow Popeye's through geographic expansion. In 2016, Popeye's had some 2,600 locations compared to more than 7,500 Burger Kings in the U.S. For those wondering, that's greater than the 2,251 locations Jack in the Box (JACK) had in 2017.
This brings us to  The Habit Restaurants (HABT), a Guilty Pleasure company if there ever was one.
With just 209 Habit Burger Grill fast-casual locations in 11 states spread between the two coasts, Habit has ample room to expand its concept serving flame char-grilled burgers and sandwiches, fries, salads and shakes. And if you're wondering how good Habit is, don't just listen to me (one of those 209 locations is just a few miles away from him), the company was named "best tasting burger in America" in July 2014.
In 2017, the company recorded revenue of $331.7 million from which it generated EPS of $0.16. For this year, consensus expectations have it serving up revenue near $393 million, up around 18% year over year, but EPS of $0.05 — a sharp drop from 2017.
What I'm seeing is Habit hitting an inflection point as it engages a national advertising agency, opens 30 new locations this year (7-10 in first-quarter 2018) and contends with higher wage costs (up 6%-7% vs. 2017), as well as test markets breakfast. Making matters challenging, the overall restaurant industry has been dealt a tough hand during the first two months of 2018 as winter weather and cold temperatures led to reduced traffic and same-store sales industry-wide, according to research firm TDn2K.
While a recent survey of March restaurant sales published by Baird showed a pick-up, the question I am pondering is to what degree will restaurant sales rebound on a sustained basis as the winter weather fades? I'm asking this question full well knowing the level of credit-card and other debt held by consumers as the Fed looks to hike interest rates several times this year.
Do I like the long-term potential of Habit?
Yes, and I would recommend their burgers, fries, and shakes – without question. That said, the company is not without its challenges, especially as McDonald's begins to roll out its fresh beef offering nationwide. I had one of those a few days ago and in my view, it's a clear step up from what Mickie D's had been serving. You may be getting the idea that I like burgers, and I can easily confirm that as well as my fondness for chocolate shakes.
By most valuation metrics, HABT shares are cheap, but as we all know, cheap stocks are usually cheap for a reason. As such, we want to see how the company performed during the first quarter, the quarter in which the greatest number of new locations were to be opened. Typically, new locations drive up costs, and given the uptick in wage costs, this combination could weigh on the company's bottom line.
All of this has us sitting on the sidelines with Habit Restaurants shares, which means adding them to Tematica Investing Contender List as part of our Guilty Pleasure investing theme.