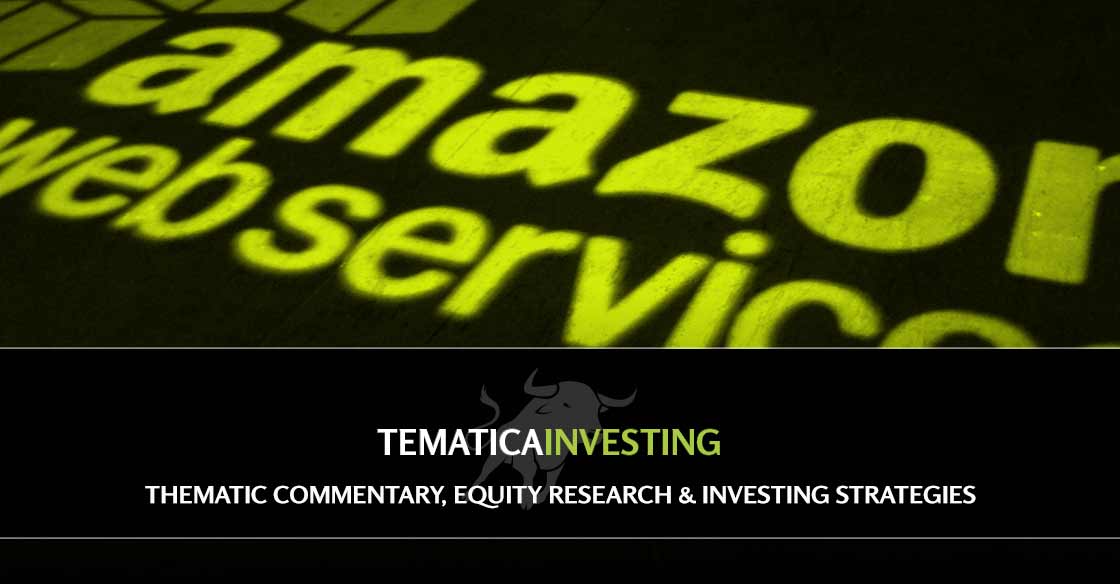 KEY POINTS FROM THIS UPDATE ON AMAZON (AMZN):
We are boosting our price target on Amazon (AMZN) shares to $1,250 from $1,150, which keeps our Buy rating intact.
Last night Amazon crushed 3Q 2017 expectations and offered an upbeat take on the current quarter.
Culling through the quarterly results, Amazon's key differentiator – Amazon Web Services – continues to ride the cloud adoption wave and fund its expanding services and geographic footprint.
As we have said for some time, as consumers and business continue to migrate increasingly to online and mobile platforms Amazon shares are ones to own, not trade.
Last night thematic investing poster child Amazon (AMZN) reported 3Q 2017 results that easily topped expectations and sent the shares soaring in after-market trading. Quickly reviewing the results, which have already been amply covered by the financial media but bear repeating as they set the tone for our conversation – Amazon delivered EPS of $0.52 vs. the consensus expectation of -$0.01 with revenue for the quarter coming in at $43.74 billion topping the expected $42.14 billion. Even backing out the $1.3 billion in revenue derived from Whole Foods, Amazon's digital retail and Amazon Web Services (AWS) outpaced expectations. The clear driver of the upside was AWS as well as the 59% increase in its subscription services business that includes digital music, digital video, audiobooks, e-books.
As investors know, context and perspective are key and in this case, Amazon's 3Q 2017 revenue tied its 4Q 2016 revenue, which included the 2016 holiday shopping season. Once again, the bulk of the company's operating earnings were furnished by AWS, which we continue to see as the company's key differentiator compared to other retailers and one of its platforms alongside its digital voice assistant Alexa that is helping it weave itself even deeper into consumer's lives.
In Amazon tradition, the company issued rather wide guidance with revenue for the current quarter between $56-$60.5 billion, which is in line with consensus expectations and equates to a year over year increase of 28%-38%. In terms of operating income for the current quarter, Amazon shared its current view that is should fall in the range of $300 million to $1.65 billion and that compares to the $1.64 billion Wall Street was expecting and $1.3 billion earned in the year-ago quarter. Given the litany of 2017 holiday shopping forecasts that call for an acceleration in digital shopping growth rates, it's rather likely that Amazon's top line guidance will prove conservative… yet again.
Boosting our AMZN price target to $1,250
Heading into last night's earnings report, our price target for AMZN shares was $1,150. Today, given several factors, including the accelerating pace of digital commerce, continued revenue growth and margin expansion at AWS and the burgeoning subscription revenue business, we are boosting our price target to $1,250. As we do this we are seeing other investment banks up their price targets and some that have been less enthusiastic on AMZN shares finally come around and upgrade the rating to a Buy or some equivalent. As we have said for some time, as consumers and business continue to migrate increasingly to online and mobile platforms Amazon shares are ones to own, not trade.
Culling through AMZN's 3Q 2017 results
Digging into 3Q 2017 earnings report, Amazon rattled off more than 30 highlights which in sum point to its expanding footprint and effectively recapped a number of product and service announcements during the quarter. The real meat came in culling through the company's income and business segment information for the quarter. In that, we see the real power behind AWS as it supplied nearly all of the company's operating income in the quarter and just 10.5% of the quarter's revenue. Again, we see this as the key differentiator that allows Amazon to fund its retail expansion efforts and better yet the business is on an $18 billion run rate exiting 3Q 2017, up from $13 billion coming out of 3Q 2016 and $16 billion for 2Q 2017. What this tells us is AWS continues to win share as more companies embrace the cloud, and as that occurs AWS's margins continue to scale higher enabling Amazon to expand its geographic and service footprint.
To be fair, the North American retail business rose 35% year over year fueled in part by the ongoing shift to digital commerce that we increasingly talk about as Amazon's service offering expands (more on that shortly) and a successful Prime Day 2017. This kept the North American business as the company's largest, but these ongoing investments in warehouses, new services, and video content once again weighted on segment profits. Contrary to expectations, the North American segment was profitable during the quarter, but its operating margin did slip to 0.4% in 3Q 2017 vs. from roughly 1.4% in the year-ago quarter. Again, not unexpected given the number of investments Amazon continues to make so it can continue to expand its product and service offering, catering to customer wants, but better than expected. In the current stock market environment that is meaningful.
Turning to the International retail facing business, revenue rose 29% year over year to $13.7 billion, a hair shy of the $14 billion achieved in 4Q 2016 as it too benefitted from Prime Day 2017 as well as the debut of Prime in India last year. During the earnings call Amazon shared that in India, it had more Prime members join in India than in any other country in the first 12 months. Despite the amazing growth in the International business, there is no other way to say it other than this segment continues to be a drag on Amazon's overall profit picture as its operating loss widened both sequentially and year over year. It's being fueled by the same expansion efforts as Amazon looks to solidify its footprint outside the US by replicating the growing number of Prime services it has in the U.S. We see this as Amazon doing what it does – playing the long game, and while we will be patient with this business we will be sure to monitor its ongoing progress.
Amazon to unleash even more creative destruction
Above it was mentioned that Amazon continues to expand its footprint and in addition to its in sum stellar 3Q 2017 results, it was reported that Amazon is positioning to unleash its creative destruction forces on the pharmaceutical industry. Yesterday, the St. Louis Post-Dispatch reported: "Amazon has become a licensed pharmaceutical wholesaler in 12 states, with a pending application in a thirteenth." Because , Amazon would also need to be licensed as a pharmacy in each state to which it shipped drugs we see this as signs that Amazon is making a move, with the next question being will it build its own capabilities or will it look to acquire a building block company like it did with Whole Foods and grocery? We'll continue to watch this for what it means not only for Amazon's balance sheet but more importantly its revenue and profit stream.
It was also quietly announced this week that "Amazon will soon allow customers in some areas to place orders for takeout food with local restaurants from inside the Amazon app."