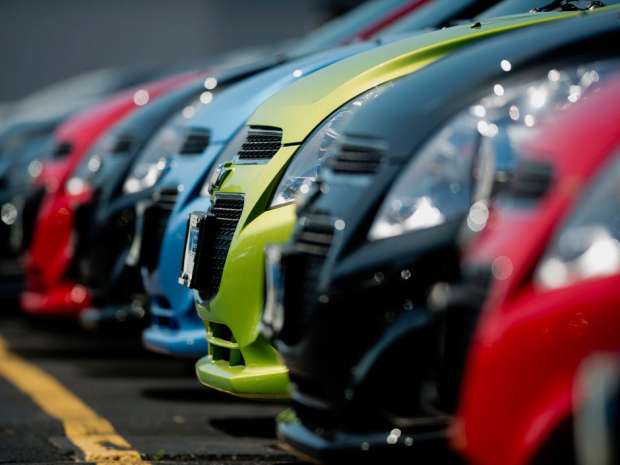 Last week the S&P 500 lost 1.4 percent, the largest weekly loss since the week before the election. No wonder investors pulled $9.1 billion net out of mutual funds, resulting in the steepest weekly redemption rate since last June's Brexit freak-out. This move reverses about 10 percent of the some $90 billion of inflows since the election as the Trump Trade loses steam in the face of weakening hard data. When we look at what happened in March versus January and February, we can see how investors could get spooked.
In January and February, most everything was moving up, save for the energy sector.
By March sector performance has shifted around significantly, with most every sector now in the red for the month.
Looking into the details a bit, we see that the 50 stocks in the S&P 500 with the largest exposure to domestic sales fell 4.2 percent in March while those with the most global exposure were flat – a stark contrast from the earlier narrative of deregulation and protectionism which boosted small cap stocks with a heavy domestic focus. We are also seeing a move back into quality and liquidity with the largest 50 companies in the S&P 500 outperforming the smallest 50 by 3.6 percent in March. We're also seeing more defensively positioned companies, like real estate investment trusts (REITs) and other dividend stalwarts come back into favor.
Aside from equities, we've seen bond yields cease their upward climb as the dollar has rolled over and even the Mexican peso is now up 15 percent year-to-date in an apparent refutation of a NAFTA rethink. While the mainstream financial media may be jawboning about growth that is right around the corner, core capital spending orders are flat year-to-date and up all of 1.3 percent year-over-year from 2016's painfully depressed levels.
For all that talk of the consumer in a giddy mood with the Michigan Consumer Confidence Index hitting a record high, real consumer spending just experienced its worst three-month rate of change since 2012.
Oh and remember how we've been hammering about how if things are oh so rosy why is the auto sector having a rough go of it? Well, it just got rougher. With about 80 percent of the auto industry reporting so far this morning, sales are tracking to be coming in at the lightest pace in almost three years. So much for accelerating spending.
Honda (HMC) started the reporting off with a miss, down 0.7 percent. This miss is particularly painful as March 2017 has a more favorable sales calendar and day trade adjustment than 2016.
Nissan (NSANF) and Mazda (MZDAF) did better, up 3-5 percent year over year.
Ford missed big time, down 7.2 percent year over year versus expectations for 5.9 percent decline.
GM (GM) missed estimates as well, up 1.6 percent versus 7 percent expected.
Fiat-Chrysler (FCAU) missed with a 5 percent volume drop versus expectations for roughly no change.
Toyota (TM) sales in the U.S. fell 2.1 percent.
Our Cash Strapped Consumer may be feeling better, per sentiment surveys, but they certainly aren't out buying and unless we see some real wage gains or (and this is decidedly not a long-term solution) consumer credit starts flowing more freely, spending can't get much more robust. In many respects these sentiment and confidence surveys are like watching a person consume an excess amount of alcohol – at one point they are feeling great and all is well with the world, but it's only a matter of time before they are reaching for Drinkwell, Alka Seltzer and other hangover remedies as they contend with the next day's reality.