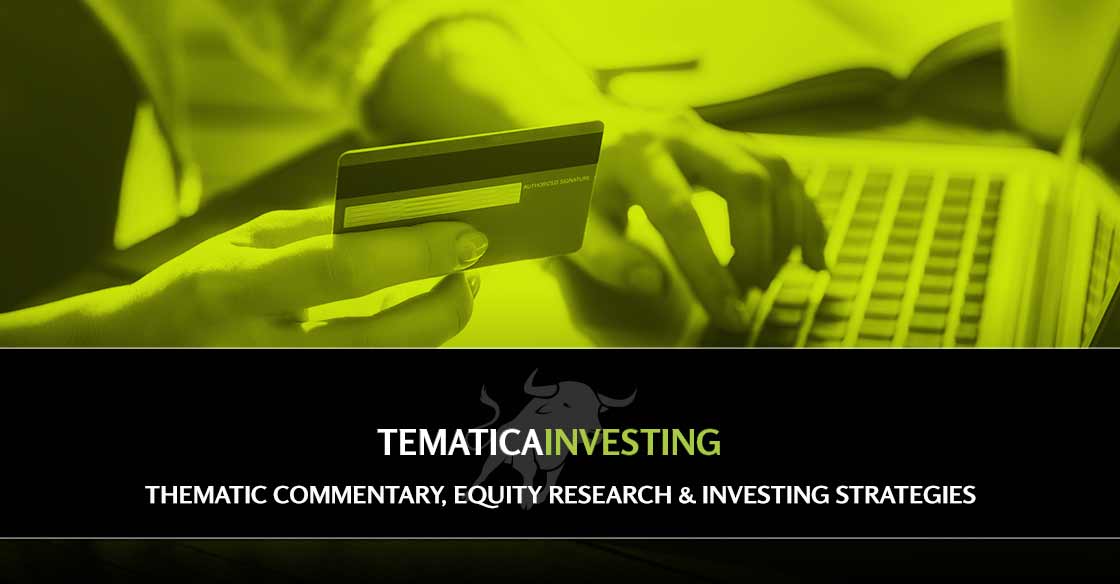 Key points inside this issue
The Fed Takes Center Stage Once Again
Farfetch Limited (FTCH) – A fashionable Living the Life Thematic Leader
Digital Lifestyle – The August Retail Sales confirms the adoption continues
Economics & Expectations
The Fed Takes Center Stage Once Again
As we saw last week, the primary drivers of the stock market continue to be developments on the U.S.-China trade front and the next steps in monetary policy. As the European Central Bank stepped up its monetary policy loosening, it left some to wonder how much dry powder it had remaining should the global economy slow further and tip into a recession. Amid those concerns, along with some discrepancy among reports that President Trump would acquiesce to a two-step trade deal with China, stocks finished last week with a whimper after rebounding Wednesday and Thursday.
We continue to see intellectual property and national security as key tenets in negotiating a trade deal with China. We will watch as the lead up to October's next round of trade negotiations unfolds. Given the Fed's next two-day monetary policy meeting that begins on Tuesday and culminates with the Fed's announcement and subsequent press conference, barring any new U.S.-China trade developments before then, it's safe to say what the Fed says will be a key driver of the stock market this week.
Leading up to that next Fed press conference, we will get the August data for Industrial Production and Housing Starts as well as the September Empire State Manufacturing Index. Paired with Friday's August Retail Sales report and last Thursday's August CPI report, that will be some of the last data the Fed factors into its policy decision.
Per the CME Group's FedWatch tool, the market sees an 82% probability for the Fed to cut interest rates by 25 basis points this week with possibly one more rate cut to be had before we exit 2019. Normally speaking, parsing the Fed's words and Fe Chair Powell's presser commentary are key to getting inside the central bank's "head," and this will be especially important this time around. One of our concerns has been the difference between the economic data and the expectations it is yielding in the stock market. Should the Fed manage to catch the market off guard, odds are it will give the market a touch of agita.
On the earnings front
there are five reports that we'll be paying close attention to this week. They are Adobe Systems (ADBE), Chewy (CHWY), FedEx (FDX), General Mills (GIS) and Darden Restaurants (DRI). With Adobe, we'll be examining the rate of growth tied to cloud, an aspect of our Disruptive Innovators investing theme. With Darden we'll look to see if the performance at its full-service restaurants matches up with the consumer trade-down data being reported by the National Restaurant Association. That data has powered shares of Cleaner Living Thematic Leader and Cleaner Living Index resident Chipotle Mexican Grill (CMG) higher of late, bringing the year to date return to 82% vs. 20% for the S&P 500. Chewy is a Digital Lifestyle company that is focused on the pet market serving up food, toys, medications and other pet products. Fedex will not only offer some confirmation on the digital shopping aspect of our Digital Lifestyle investing theme it will also shed some light on the global economy as well.
Farfetch Limited – A fashionable Living the Life Thematic Leader
In last week's issue, I mentioned that I was collecting my thoughts on Farfetch Limited (FTCH), a company that sits at the intersection of the luxury goods market and digital commerce. Said thematically, Farfetch is a company that reflects our Living the Life investment theme, while also benefitting from tailwinds of our Digital Lifestyle theme. Even though the company went public last year, it's not a household name even though it operates a global luxury digital marketplace. As the shares have fallen over the last several weeks, I've had my eyes on them and now is the time to dip our toes in the water by adding FTCH as a Thematic Leader.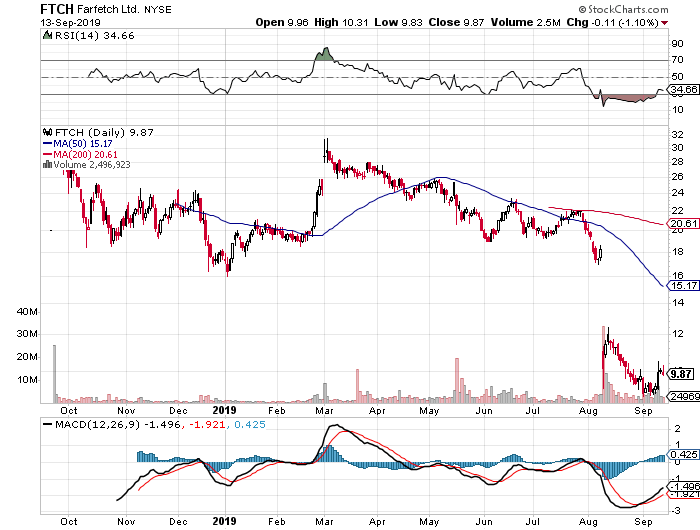 Farfetch Provides Digital Shopping to the Exploding Global Luxury Market
Farfetch is a play on the global $100 billion online luxury market with access to over 3,200 different brands across more than 1,100 brand boutique partners across its platform. With both high-end and every-day consumers continuing to shift their shopping to online and mobile platforms, we see Farfetch attacking a growing market that also has the combined benefit of appealing to the aspirational shopper and being relatively inelastic compared to mainstream apparel.
Part of what is fueling the global demand for luxury and aspirational goods is the rising disposable income of consumers in Asia, particularly China. According to Hurun's report, The Chinese Luxury Traveler, enthusiasm for overseas travel shows no signs of abating, with the proportion of time spent on overseas tourism among luxury travelers increasing 5% to become 70% of the total. Cosmetics, (45%), local specialties (43%), luggage (39%), clothing and accessories (37%) and jewelry (34%) remain the most sought — after items among luxury travelers. High domestic import duties and concerns about fake products contribute to the popularity of shopping abroad.
It should come as little surprise then that roughly 31% of FarFetch's 2018 revenue was derived from Asia-Pacific with the balance split between Europe, Middle East & Africa (40%) and the Americas (29%). At the end of the June 2019 quarter, the company had 1.77 million active customers, up from 1.35 million exiting 2018 and 0.9 million in 2017. As the number of active users has grown so too has Farfetch's revenue, which hit $718 million over the 12 months ending June 2019 compared to $602 million in all of 2018 and $386 million in 2017.
Farfetch primarily monetizes its platform by serving as a commercial intermediary between sellers and end consumers and earns a commission for this service. That revenue stream also includes fees charged to sellers for other activities, such as packaging, credit-card processing, and other transaction processing activities. That business accounts for 80%-85% of Farfetch's overall revenue with the balance derived from Platform Fulfillment Revenue and to a small extent In-Store Revenue.
New Acquisition Transformed Farfetch's Revenue Mix 
In August, Farfetch announced the acquisition of New Guards Group, the Milan-based parent company of Off-White, Heron Preston and Palm Angels, in a deal valued at $675 million. New Guards will serve as the basis for a new business segment at Farfetch, one that it has named Brand Platform. Brand Platform will allow Farfetch to leverage New Guards' design and product capabilities to expand the reach of its brands as well as develop new brands that span the Farfetch platform. For the 12-month period ending April 2019, the New Guards portfolio delivered revenue of $345 million, with profits before tax of $95 million. By comparison, Farfetch posted $654 million in revenue and an operating loss of $183 million over that time frame.
Clearly, another part of the thought behind acquiring New Guards and building the Brand Platform business is to improve the company's margin and profit profile. And on the housekeeping front, the $675 million paid for New Guards will be equally split between cash and stock. Following its IPO last year, Farfetch ended the June quarter with roughly $1 billion in cash and equivalents on its balance sheet.
In many ways what we have here is a baby Amazon (AMZN) that is focused on luxury goods. Ah, the evolution of digital shopping! And while there are a number of publicly traded companies tied to digital shopping, there are few that focus solely on luxury goods.
Why Now is the Time to Add FTCH Shares
We are heading into the company's seasonally strongest time of year, the holiday shopping season, and over the last few years, the December quarter has accounted for almost 35% of Farfetch's annual sales. With the company's active user base continuing to grow by leaps and bounds, that historical pattern is likely to repeat itself. Current consensus expectations have Farfetch hitting $964 million in revenue for all of 2019 and then $1.4 billion in 2020.
At the current share price, FTCH shares are trading at 1.6x expected 2020 sales on an enterprise value-to-sales basis. The consensus price target among the 10 Wall Street analysts that cover the stock is $22, which equates to an EV/2020 sales multiple of near 3.5x when adjusting for the pending New Guards acquisition. As we move through this valuation exercise, we have to factor into our thinking that Farfetch is not expected to become EBITDA positive until 2021. In our view, that warrants a bit of haircut on the multiple side and utilizing an EV/2020 sale multiple of 2.5x derives our $16 price target.
Despite that multiple, there is roughly 60% potential upside to that target vs. downside to the 52-week low of $8.82.
We are adding FTCH shares to the Thematic Leaders for our Living the Life investing theme.
A $16 price target is being set and we will wait to put any sort of stop-loss floor in place.
Digital Lifestyle – The August Retail Sales confirms the adoption continues
One of last week's key economic reports was the August Retail Sales report due in part to the simple fact the consumer directly or indirectly accounts for two-thirds of the domestic economy. Moreover, with the manufacturing and industrial facing data – both economic and other third-party kinds, such as truck tonnage, railcar loadings and the like – softening in the June quarter, that quarter's positive GDP print hinged entirely on the consumer. With domestic manufacturing and industrial data weakening further in July and August, the looming question being asked by many an investor is whether the consumer can keep the economy chugging along?
In recent months, I've voiced growing concerns over the spending health of the consumer as more data suggests a strengthening tailwind for our Middle-Class Squeeze investing theme. Some of that includes the Federal Reserve Bank of New York's latest Household Debt and Credit Report, consumer household debt balances have been on the rise for five years and quarterly increases continue on a consecutive basis, bringing the second quarter 2019 total to $192 billion. Also a growing number of banks are warning over rising credit card delinquencies even as the Federal Reserve's July Consumer Credit data showed revolving credit expanded at its fastest pace since November 2017.
Getting back to the August Retail Sale report, the headline print was a tad better than expected, however once we removed auto sales, retail sales for the month were flat. That's on a sequential basis, but when viewed on a year over year one, retail sales excluding autos rose 3.5% year over year. That brought the year over year comparison for the three-months ending with August to up 3.4% and 1.5% stronger than the three months ending in May on the same basis.
Again, perspective can be illuminating when looking at the data, but what really shined during the month of August was digital shopping, which rose 16.0% year over year. That continued strength following the expected July surge in digital shopping due to Amazon Prime Day and all the others that looked to cash in on it led year over year digital shopping sales to rise 15.0% for the three months ending in August.
Without question, this aspect of our Digital Lifestyle investing theme continues to take consumer wallet share, primarily at the expense of brick & mortar retailers, especially department stores, which saw their August retail sales fall 5.4%. That continues the pain felt by department stores and helps explain why more than 7,000 brick & mortar locations have shuttered their doors thus far in 2019. Odds are there is more of that to come as consumers continue to shift their dollar purchase volume to online and mobile shopping as Walmart (WMT), Target (TGT) and others look to compete with Amazon Prime's one day delivery.
For all the reasons discussed above, Amazon remains our Thematic King as we head into the seasonally strong holiday shopping season.