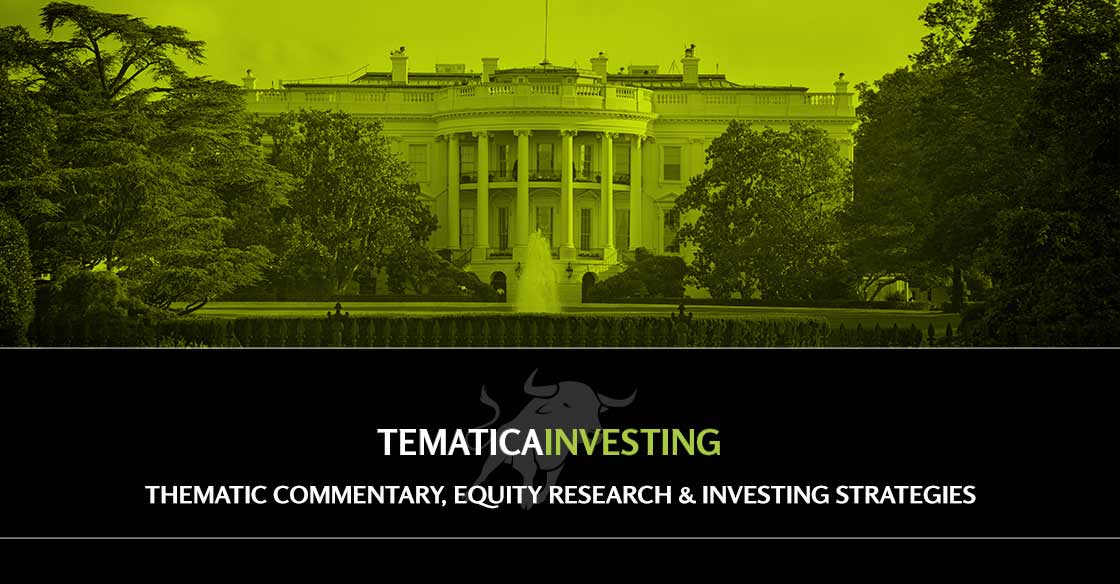 Tags:

Amazon, AMZN, Cohn, COST, Costco, DIS, Disney, Paccar, PCAR, SBUX, Starbucks, Tariffs, Trump, United Parcel Service, UPS
note: no comments
Our Latest Thoughts on Trump Tariffs
The stock market roller coaster of the last few weeks is clearly continuing. This week we have President Trump's potential steel and aluminum tariffs take center stage, shifting the attention away from Fed Chief Jerome Powell last week. When I shared with you my view the market would trade data point to data point until the end of the Fed's Mar. 20-21 monetary policy meeting, I certainly didn't expect let alone anticipate these tariffs and their escalating conversation to be a part of it. In a post earlier this week, I shared my view that Trump is once again utilizing the negotiating strategy he laid out in his book, Art of the Deal. In another one today, I gamed out what is likely to happen should Trump go forward with the tariffs.
Last night's resignation of Trump economic advisor Gary Cohn has certainly fanned the flames of uncertainty over the tariffs, with more people thinking that Trump is "serious." In an effort to counterbalance that resignation, this morning Commerce Secretary Wilbur Ross shared that Trump "has indicated a degree of flexibility on tariffs for Canada and Mexico." That Cohn-related walk-back by Secretary Ross, combined with comments made yesterday by Treasury Secretary Steven Mnuchin that indicated that "once a new NAFTA deal is reached, the trading partners wouldn't be subject to the tariffs" confirms my view that Trump remains on the Art of the Deal negotiation path.
In my post earlier this morning about the tariffs, I shared that we will likely see choppy waters as this issue comes to a resolution and leads up to the Fed's next monetary policy meeting conclusion on March 21. Expect volatility to remain in place and the coming economic data will either amplify or quell its magnitude. Barring any breaking news, I'll be on The Intelligence Report with Trish Regan on FOX Business to discuss all of this at 2 PM ET today.
While many fret over the market swings, my perspective is that the domestic economy remains on firm footing and barring a trade war volatility will allow us to pick up thematically well-positioned companies at better prices. A great example of this was had earlier this week with the February heavy truck orders that served to confirm my thesis behind Paccar (PCAR) shares.
When Costco Wholesale (COST) reports its quarterly results after the market close, we should see similar confirmation in the form of not only wallet share gains via its top line results, but also in rising membership fees as more consumers look to stretch the disposable income they do have, a key component of our Cash-Strapped Consumers investment theme.
To set the stage for Costco's report tonight, consensus expectations for the quarter sit at EPS of $1.46 on revenue of $32.7 billion, up from $1.17 and $29.8 billion in the year-ago quarter. As a reminder, one of the key differentiators for Costco is the high margin membership fees that are poised to grow as the company continues to open new warehouses. This means, at least for me, that roadmap, will be one of the areas of focus on the company's post-earnings conference call. I'll also be listening to see the impact of tax reform on the company's outlook for 2018.
Our price target on Paccar (PCAR) shares remains $85.
Our price target on Costco Wholesale (COST) shares remains $200.
Getting back to the Tematica Investing Select List
In last week's issue, I began sharing some much-needed updates across the Select List, and I'm back at it again this week with a few more. Over the next few weeks, I'll look to round out the list before we break at the end of March and get ready to gear up for 1Q 2108 earnings season.
Yes… I know… before too long it will once again be time for that zaniness.
All the more important to share these updates with you so we set the table for the earnings meal to be had.
Amazon (AMZN),  Connected Society
Simply put, Amazon shares have been a champ so far in 2018 rising more than 30%, which brings the return on the Select List to more than 100% since being added back in 2016. I've said these shares are ones to own, not trade given the accelerating shift to digital commerce, and growing adoption of the high margin, secret sauce that is Amazon Web Services as more businesses turn to the cloud. As filled with creative destruction as those two businesses are, it looks like Amazon is poised to offer further disruption in the healthcare and financial services business given conversations with JPMorgan (JPM), Berkshire Hathaway (BRK.A), Capital One (COF) and others.
I've raised our price target several times on AMZN shares, and it increasingly looks like that will have to happen again and then some depending on how soon these new layers of disruption materialize.
Our price target on Amazon (AMZN) shares remains $1,750.
Starbucks (SBUX), Guilty Pleasure
Year to date, Starbucks shares are essentially unchanged compared to where they were trading as we exited 2017. And the same is true if we look at the shares over the last year – they are up modestly. What we are dealing with here is a company that is once again in transition as it looks to invigorate its domestic business while growing its presence in still underserved markets outside the US like China and Italy. One of the central strategies in both areas is to leverage its high-end Reserve Roastery concept, which keeps the company very much in tune with our Guilty Pleasure investing theme.
Historically speaking, Starbucks has been a company that has been able to successfully pivot its business when it has stumbled, and in our view, that merits some patience with the shares. Helping fuel that patience is the knowledge that Starbucks intends to return $15 billion to shareholders over the next three years in the form of dividends and buybacks.
Our price target on Starbucks (SBUX) shares remains $68
Disney (DIS), Content is King
Disney shares have traded off some 3% thus far in 2018, which is not unsurprising given we are in the seasonally weakest part of the year for the company. That said, the latest Marvel film, The Black Panther, is crushing it at the box office and ups the ante for the next Avengers film that will hit theaters in a few months. Disney continues to leverage these and other characters as it revamps its theme parks and hotels, which should drive attendance despite yet another round of price increases.
The big "wait and see" for Disney over the coming months will be its move into its own streaming services for both ESPN and eventually a Disney content-centric service. While I see this as Disney making the right moves to address the chord cutting headwind that is part of our Connected Society investing theme, to paraphrase the great film Bull Durham, just because Disney builds it doesn't mean people will stream it. In a positive move, Disney installed James Pitaro as the new president of ESPN. Mr. Pitaro's background as chairman of Disney Consumer Products and Interactive Media, as well as the head of Yahoo! Media, sends investors the signal that getting the streaming services in place will be a top priority going forward for ESPN.
The next catalyst to be had for Disney will be spring break and then the summer movie season. Between now and then, I expect Disney will continue to put its massive buyback program to work.
Our price target on Disney (DIS) shares remains $125
United Parcel Service, Connected Society
Our UPS shares were hard hit earlier in the year given renewed concerns that Amazon would expand its own logistics offering. At the time, my view was this was an overblown concern, and it still is. This week, we saw Stifel Nicolaus warm up to the shares, upping them to a Buy rating with a $121 price target given what it sees as a "strong underlying package and freight businesses."
Each month in the Retail Sales report we see the share gains had at non-store retailers, and we know companies ranging from Costco and Walmart (WMT) to Nike (NKE) and many others are embracing the Direct to Consumer (D2C) business model. All of this bodes well for UPS shares over the coming year.
The one potential hiccup to watch will be negotiations with the Teamsters Union this summer. If that brings the shares near or below our Select List entry point, I'll look to scale into this position ahead of the seasonally strong second half of the year.
Our price target on United Parcel Service (UPS) shares remains $130.