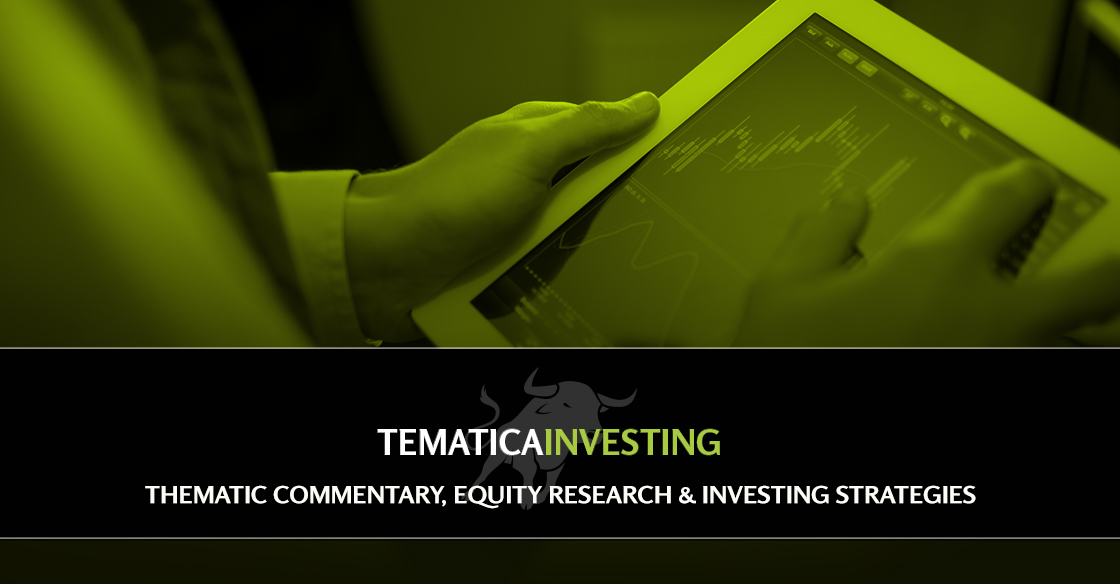 Key points inside this issue
Did you notice the June quarter GDP depended on the consumer?
Earnings, earnings, earnings and what it may mean for the market
Waiting on the Fed and what Powell says about what's ahead
Did you notice the June quarter GDP depended on the consumer?
While last week's corporate earnings included the usual mix of better-than-expected and weaker-than-expected results, we also saw mismatched economic data. The IHS Markit July Flash US manufacturing index hit a reading of 50.0, while the initial second-quarter GDP print came in warmer than anticipated at 2.1% vs. expectations for 1.8% – 2.0% it was down from 3.1% in the first quarter. Parsing the GDP data, the quarter was all about the consumer, with personal consumption expenditures rising 4.3% (annual rate), the strongest performance in six quarters.
Given rising debt levels, I continue to have concerns over the consumer's ability to spend at such a vigorous rate given rising debt levels. We've seen rising delinquency rates reported by American Express (AXP)and Capital One Financial Corp (COF). If you're thinking this meshes with our Middle-Class Squeeze investing theme that has propelled the shares of Middle-Class Squeeze Leader Costco Wholesale (COST) by more than 37% this year (head and shoulders above all the major market indices), you would be right.  And the fact that personal consumer expenditures contributed 2.85 percentage points to the initial GDP print of 2.1% isn't lost on us here at Tematica.
The upcoming economic data will be critical to assessing the vector and velocity of the domestic economy, in part because it will tell us if the consumer is able to sustain the economy at a time when it relies most on him and her – the year-end shopping season.  In the very near term, however, the market will be fixated on the Fed and the degree to which it uses monetary policy to attempt a "Goldilocks" move for the U.S. economy. Once we are past today's expected Fed rate cut, odds are investor will get back to business breaking down economic and other data. We hear at Tematica will continue to do that as well as ferret out the latest signals for our investing themes.
Earnings, earnings, earnings and what it may mean for the market
Coming into this week, 220 or 44% of the S&P 500 group of companies had reported their earnings for the second calendar quarter, and among those more than 1,050 reports coming at us this week will be another 168 S&P 500 companies. When the stock market closes on out this week, 78% of the S&P 500 will have reported.
From a statistically significant perspective, this gives us a very hard look at how the second half of 2019 is shaping up from an earnings expectations perspective. As of Friday, July 26 afternoon this is what the picture looked like: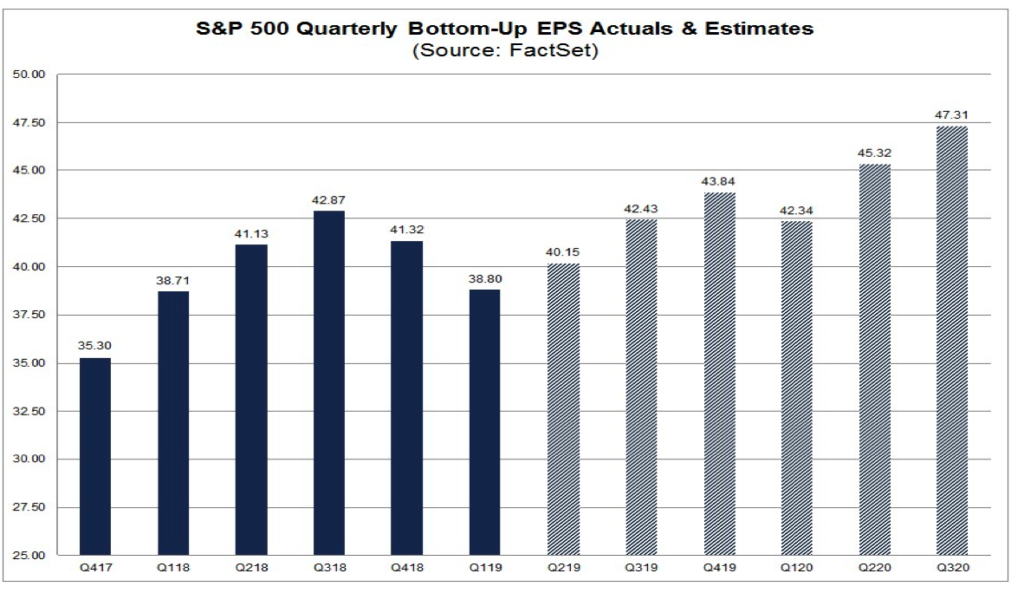 You'll notice there really isn't any earnings growth year over year for the first three quarters of 2019, leaving all of the expected over year 2019E PS growth for the S&P 500 that now stands at just 2.6% to come during the December quarter.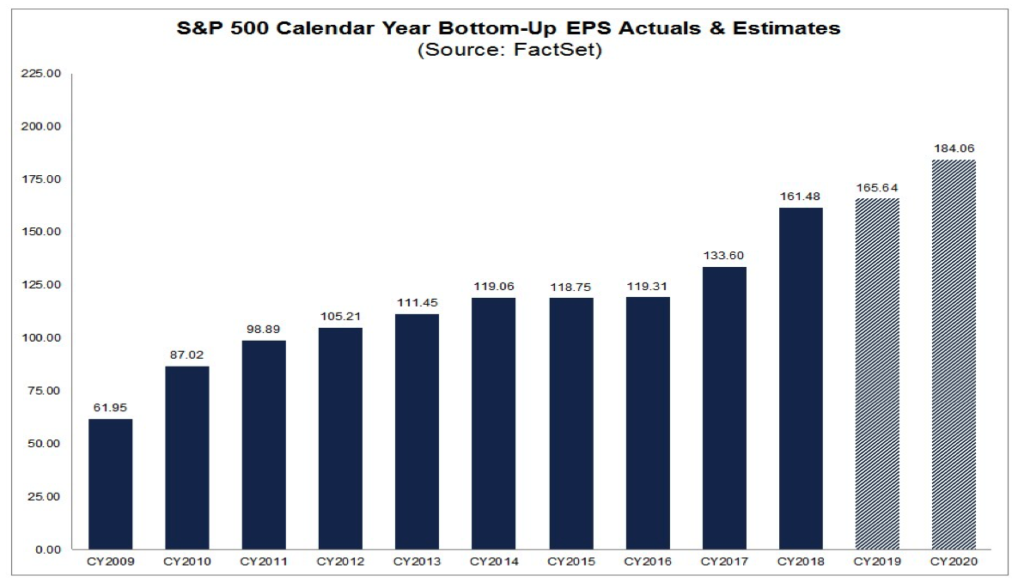 And if you're thinking like me that expected 11% EPS growth forecast for the S&P 500 group of companies in 2020 looks a little bit much, well, here's some perspective: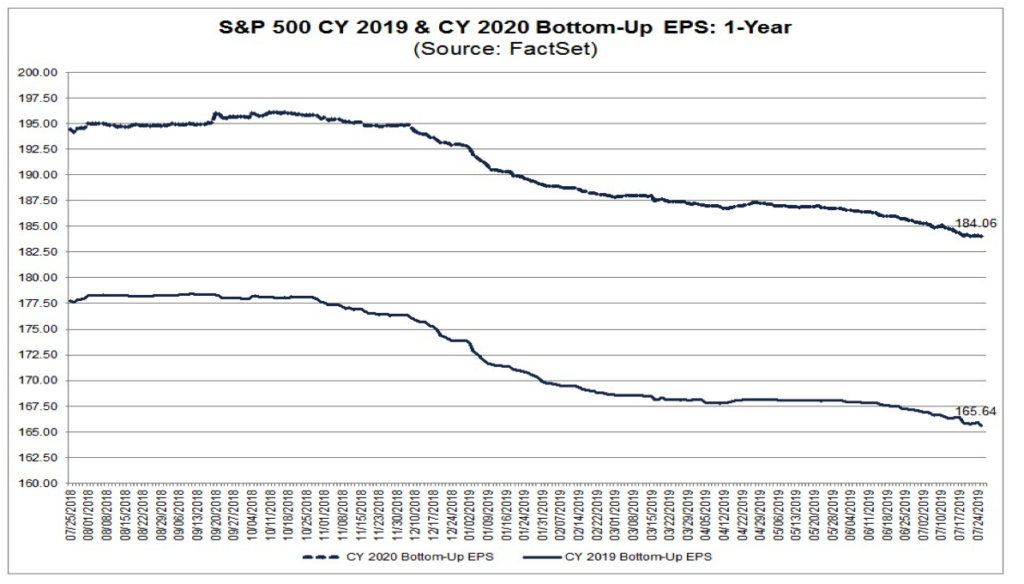 The point to that last graph is that for some reason the investing herd seems to start out with a +10% or more EPS growth assumption for the coming year. I'm not sure why that is, I merely comment on the data being presented. Given the vector and velocity of the global economy today, it seems that forecast is more likely to move lower than higher. And odds are rather high we're not going to see yet another tax cut like we did exiting 2017 that goosed corporate EPS in 2018.
The last time we saw back to back years of little to no earnings growth for the S&P 500 was 2015-2016, and the S&P 500 peaked around 18.4x earnings. If 2020 EPS expectations for the S&P 500 continue to fall toward 2019 levels near $165 per share, it could mean we are seeing a market ceiling near the 3,040-3,060 range for the S&P 500.
No doubt there are some moving pieces in that analysis, but I find it is a smart move to keep a bead on how real earnings expectations are as well as their likely directionality vis a vis the global economy when charting what to do next with one's investments.
Again, this is not a snapshot kind of a thing, but rather an evolving story. Yeah, I may sound like the Fed hear, but it shouldn't come as a surprise the evolving nature of the market. So… I guess this means more on this as the story continues.
Waiting on the Fed and what Powell says about what lies ahead
Just after 2 p.m. ET today, we'll hear from the Federal Reserve following its much-anticipated July FOMC meeting and the prevailing expectation is for a 25-basis-point rate cut. We do not expect an update to the Fed's June economic projection materials, but what Jerome Powell says during the press conference will likely set expectations for the Fed's three remaining monetary policy meetings in September, October and December. Odds are the central bank will remain on message, saying it will continue to be data dependent.